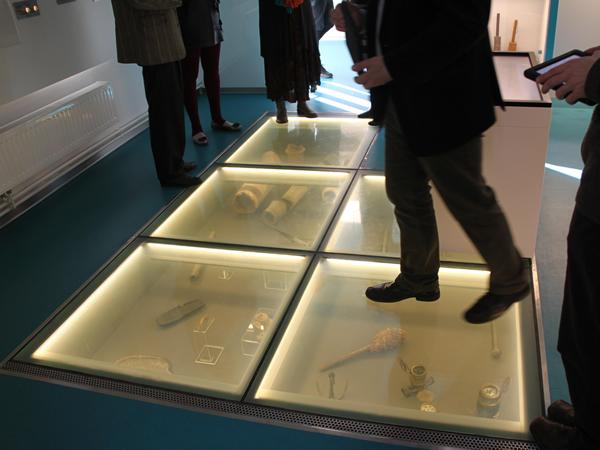 Photo source
intelligentglass.net
Have greater control over the visual delivery of your attractions with switchable glass floors. Perfect as part of a glass staircase or a museum attraction.
The applications for switchable glass are constantly surprising even us. With all the amazing ways you can use this technology, there have been few better uses of the phrase 'the only limit is your imagination.'
We are fortunate enough to be able to offer our switchable smart glass to some of the most creative and innovative applications of this technology possible, everything from switchable glass stairs, to switchable glass aquariums.
Perfect for unveiling, privacy or even projection, there are so many uses for switchable glass that you may not have even thought of. One of the most creative uses of switchable glass we've seen sees this remarkable technology used as a floor.
Switchable glass floors may sound like an unconventional use of such technology, however, when used in the right way, it can be done with huge effect. This article will examine a number of ways switchable glass can be used as part of a floor installation, helping your space achieve the ultimate wow factor, from top to bottom.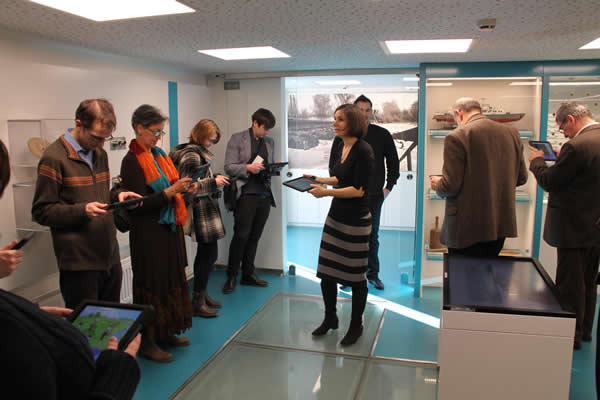 Visitor Attraction Switchable Glass Floors
A popular application of a switchable glass floor usually sees it integrated as part of a visitor attraction. Keeping the floor frosted and unveiling what is underneath by switching its state to opaque, you can have maximum impact with your attraction.
Ideal for historical museums, this application is perfect for showing visitors a world underneath their feet, where you may have artefacts positioned as archaeologists found them to bring the ultimate sense of realism to your museum.
This application has all kinds of benefits, from utilising off-limits areas that visitors would not be able to see normally, to protecting some of your most valuable artefacts, you are given greater control over the visual delivery of your attractions.
This enables you to heighten anticipation, or even highlight the value and importance of the hidden artefacts, so your captivated visitors understand that this is a main attraction.
Lift / Elevator Floors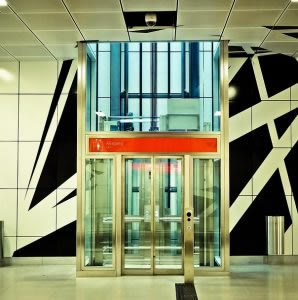 The empty void of an elevator shaft can intrigue even the hardest to impress person. Offering a glance into the behind-the-scenes of an elevator is a cutting-edge finishing touch which is sure to provide your customers with a thrilling experience whilst changing floors.
Watching as the ground moves further away as you climb floors, or even as it draws closer, faster than you may realise, switchable glass floors enable you to help turn a normal activity into an exhilarating experience, sure to leave an impact in visitor's minds.
With the rapid development of automated technology in recent years, this application can benefit from automation, allowing you adjust when the floor switches from opaque to clear.
The temptation for demonstrating your creative showmanship would just be too great! Automating this incredible technology gives you the control to determine when you should 'unveil' the 'special' floor.
In recent years, we have seen videos of such visitor's experiences go viral online, where, for example, visitors are halfway through the elevator ride when the floor suddenly disappears from underneath them, giving them initial shock and awe at how they are not falling.
For a more conservative application, you could set the floor to turn opaque upon arrival, helping to hide the often-unsightly brickwork or concrete floors that are inevitably found in elevator shafts.
Roofs, Balconies & Basements
Glass ceilings are a popular premium style choice for buildings that span over multiple floors. Used to showcase visually impressive scenes underfoot, a 2nd story glass floor also doubles up as a glass ceiling for the visitors on the ground. It is not always necessary, however, for a glass ceiling to require a 2nd story.
A glass roof offers its own benefits. Serving as both the roof's floor and a ceiling, a glass roof can offer the ultimate in incredible views.
Usually, these views do not come without a compromise, however, and whilst it may be nice to have a ceiling that shows you the same views that you get from the great outdoors, you also have to deal with the loss of privacy that comes with it.
This is where switchable technology comes in.
One of the primary functions of switchable glass sees it meeting privacy concerns head on. A switchable roof would serve to offer the best of both worlds- instant privacy or a stunning view of the sky- all at the press of a button.
The applications do not stop there. With this amazingly versatile technology, switchable glass can be used in a similar fashion for balconies, granting access to some incredible views underfoot and above on the floor below.
However, as with any kind of glass floor which can be viewed from underneath, there are privacy concerns involved, making switchable glass the perfect solution, allowing you to maintain your preferred style choice without compromising anyone's privacy.
Staircases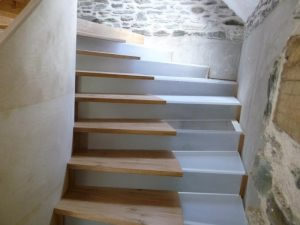 One of our most recent applications has seen switchable glass used as part of a 'floating' staircase. This genius concept sees switchable technology combined with glass steps, allowing you to wow unsuspecting visitors.
Combined with automated technology, this application can be taken to the next level by being programmed to impress. Setting to switch on each step as the user climbs the stairs, or even switching in its entirety as the user approaches the staircase, the stairs can change back to transparent as the user walks away- in style.
With privacy as less of a concern with this application, you can get really creative with the uses of switchable technology, for example, by projecting a floor 'texture' onto the steps, you can help to transport visitors to a chosen destination which sees them walking through space, on water, or though grass for example.
To really impress your visitors, you could even project 'alternative views', such as a bird's eye view of a city to create the illusion you are walking through the sky.
Walkways
A glass walkway is a fantastic style choice for any commercial or residential application, used to connect buildings, on bridges or even just integrated as part of an internal walkway for things like catwalks.
As with any kind of suspended glass floor, privacy is an issue, however, with switchable technology providing a privacy solution for this application, we are granted a useful way to use glass as part of a walkway without compromising.
As with switchable stairs, the possible creative uses of facilitating automation offers an amazing chance to not only be practical, but also impressive. Controlling the walkway to switch the state of certain panels as someone walks across creates a striking journey along the walkway, sure to see your investment is noticed.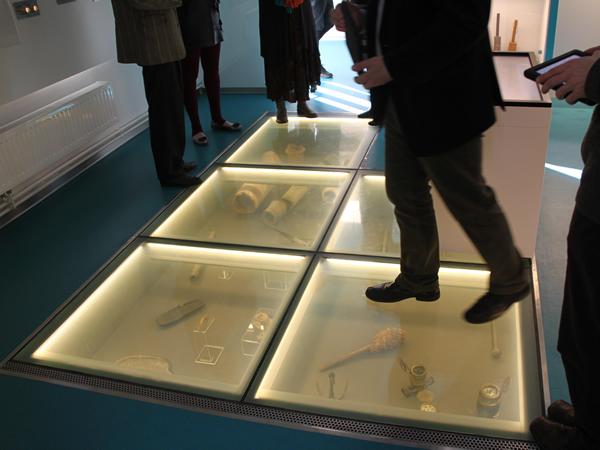 600
450
intelligentglass.net
2017-04-21T08:10:00
Intelligent Glass | Switchable Glass Floors
glassonweb.com