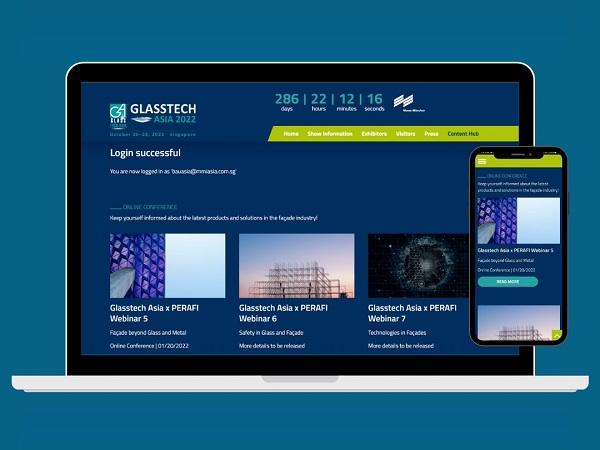 Photo source
glasstechasia.com.sg
The 6th webinar of the Glasstech Asia x PERAFI series was successfully held on 21 April 2022.
Glasstech Asia x PERAFI Webinar took a deep dive into the issues surrounding the use of glass in façades, understood the risks associated with it and studied the factors on how to ensure its safety.
Here is a discussion summary, just in case you missed attending the webinar:
#GlasstechAsiaxPERAFI Highlights

This webinar was moderated by Gan Pay Yap, Director, VJF Systems Pte Ltd, and the esteemed panellists included:
Neesha Gopal, Head of Façades – Integrated Solutions - Europe, Lendlease
Jayrold Bautista, Associate TS&D Scientist, Dow Performance Silicones
Valerie Hayez, Global Façade Engineering & Architectural Design Engineer, Dow Performance Silicones
Dr Huang Chengde, Technical Director of Architectural Glass Division, CSG
Malvinder Singh Rooprai, Senior Technical Program Manager, Kuraray Asia Pacific
Neesha Gopal, Head of Façades (Europe), from Lendlease, commenced the webinar with the topic on "Realistic Glass", diving into the challenges of glass usage in buildings and introducing safety glass and its application. Her presentation touched on the glass quality requirements and issues with risk assessment that affects performance and aesthetics. These ties in nicely with Lendlease's "Mission Zero" 2025 sustainability roadmap.
An analytical perspective regarding the application consideration of low E-glass products in building was presented by Dr Huang Chengde, Technical Director of Architectural Glass Division, CSG. Dr Huang elaborated on the energy efficiency of low E-glass components factoring into the limitations, calculated formulas, performance, and comparison data, along with its application considerations.
Emphasising on the devastating consequences of glass shattering and causing more damage, Malvinder Rooprai, Senior Technical Program manager of Kuraray Asia Pacific introduced the various type of safety glass – from annealed, to tempered and laminated glass. with Kuraray's example, he explained how particular glass products provided feasible solution to the different applications that required the use of safety glass, structural glazing, weathering behaviour, security glazing, bulletproof resistance, bird friendly glazing, and decorative considerations.
Jayrold Bautista, Associate TS&D Scientist, and Valérie Hayez, Global Façade Engineering & Architectural Design Engineer from Dow Performance Silicones introduced the safety of silicone bonded façades. They emphasised its ability to withstand earthquakes, its capacity to sustain seismic load damage, and its applications on the main and side structural designs for façade buildings. Further insights included the construction of a 4-sided structural Sealand glazed curtain wall system, as well as an evaluation test to better understand and combat the seismic performance.
Wrapping up the webinar, the speakers discussed the effects of low e-glass combination on aesthetics and distortions of the glass facade, frame structure involving safety films to replace laminated glass, the thickness of sentry glass, bulletproof glass, and the relations of panel and structure sealant behaviour compared to the use of gutter splices.
Access on-demand content with the brand-new Content Hub on Glasstech Asia website!
Stay updated with upcoming events
Watch recorded webinars and presentations at your own time
Learn more about the latest innovations with the downloadable speakers' slides
View all issues of Glasstech Asia monthly newsletters
Sign up to be the first to know when the latest content is up!
600
450
glasstechasia.com.sg
2022-04-26T06:00:00
Glasstech Asia x PERAFI Webinar recap: Safety in Glass and Façade Applications
glassonweb.com