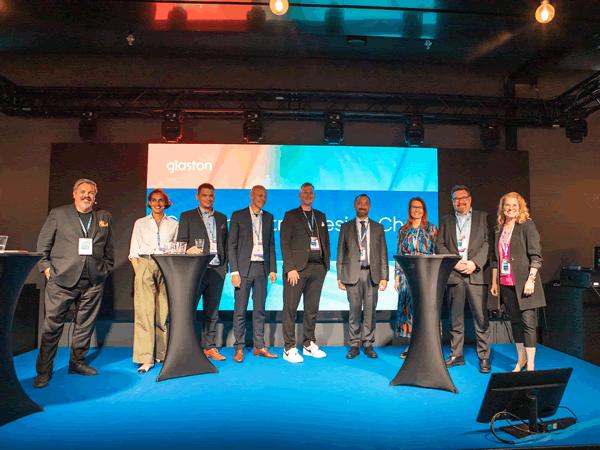 Photo source
Glaston Corporation
On June 14, just before the official Glass Performance Days 2023 Opening Ceremony in Tampere, Finland, Glaston hosted a Fireside Chat.
At the forum, the distinguished GPD 2023 keynote speakers discussed with participants how to reach sustainable growth.
The event was divided into three topics key to the industry today as it redefines the role of glass in a sustainable world. Participants ranged from international and local industry thought leaders to academic and societal influencers.
Glaston's Pia Posio, VP, Communications, Marketing & IR, warmly welcomed everyone, underscoring how wonderful it was to meet again in person at GPD after four long years.
The first topic, facilitated by Päivi Lindqvist, CFO at Glaston, focused on glass industry possibilities in the architectural sector.
According to Bertrand Cazes, Secretary General, Glass for Europe, the times ahead are bright and exciting. "We need solutions and products to address sustainability and climate change. We need innovations to minimize CO2 when producing glass. The commitment and effort from the industry is there," he said.
Christoph Timm, Principal, Skidmore, Owings & Merrill (SOM) Architects, continued, "We live in a crisis-ridden time. We need to come together and ask ourselves what products we really need and how can we create these products with the least amount of energy. A crisis is full of opportunities. Who talked about carbon only five years ago? Today, it's on everyone's agenda."
Christoph went on to say that carbon-capture technologies need to be upscaled. Reducing components in buildings is important. Whatever we build, the components we use should be working harder – maybe having a dual use or generating energy.
When Päivi asked the speakers how fast changes can happen, both speakers agreed that change should not happen too fast. "Let's slow down and make the right changes. We don't want to go the wrong direction; we need to be realistic. If we want good buildings, it takes time to get the right things done," Christoph added.
The second topic, facilitated by Marko Mökkönen, Director, Industry & Stakeholder Relations, Glaston, looked at innovations impacting societies and their people.
Alf Rehn, Professor of Innovation, Design & Management at the University of Southern Denmark, feels there are countless challenges in today's glass business, but some need to be addressed quickly. "We don't need fancier facades if they are just fancier facades. We only need them if they can also help us save energy," he said.
Yasmin Al-Ani Spence, Director at WilkinsonEyre Architects in London, agreed. "We all have the mindset that everything new is the best. My idea has always been to do less. Go backward to look forward. Reusing a building can also be very exciting. It's not an easy task, but it's very efficient and much more sustainable."
"So, what needs to be done?" Marko asked the panel.
"It's not architecture that needs to evolve, but the whole value chain. It's important to come together through dialogue to create better architecture," Alf said.  
"We've come from an era where there were star buildings – stunning but not efficient," Yasmin said. "Today, we really need to make our buildings work harder. No building should stand idle; this costs our environment a lot. Do less, refurbish more!"
She went on to say that it's also important to design for where you build, design with local materials, design for what is needed in that environment. Don't just go with the trends. The more diverse we are, the better we become.
"Different and diverse input is indeed essential," Alf agreed. "We should not cut off people who offer a diverse perspective. We need leaders who dare to think differently, think in a longer span – and not just look at trends. We need humility to listen to others to achieve our sustainability goals."
The final topic, facilitated by Pia Posio, discussed how to embed technology innovations into the business. She asked the speakers to discuss concrete actions.
Tyler Leighton Moersch, Ph.D. Lead Specialist in Advanced Material Technology, VELUX began, "We need to understand our customers. How do you really create a magical experience that gives people happiness and joy – and at the same time saves the planet? At VELUX, our role is to enable those dreams."
Sasu Koivumäki, Chief Sales Officer, Glaston, went on, "Our role as machine manufacturers is to enable other people's dreams. Energy is a big trend that impacts the industry. We need to create solutions that save energy. Automation improves yield and saves materials and money. Glass is a wonderful material to enable our dreams."
"Is the pace of technology transition fast enough?" Pia asked the group.
Tylor replied, "People who have been in the industry longer are more conservative. Startup people are literally sprinting. You need to find a balance between the two."
Bringing both groups together is vital. "We are lucky to be hosting Step Change Base Camp at GPD. Its goal is to connect the right people from startups and scaleups to the right industry people. Even the name of "Step Change" implies that we need to be moving faster within the industry. Cooperation is the cornerstone," Sasu said.
"At VELUX, we can identify promising technologies and even promising teams," Tyler went on. "But we need help from the broader industry to support these new companies, and Step Change is just the right place for that. We can't do it alone. It takes a village to do things. There's nothing hard in building castles in the sky. The challenge is building foundations under them."
Glaston in brief
Glaston is the glass processing industry's innovative technology leader supplying equipment, services and solutions to the architectural, automotive, solar and display industries. The company also supports the development of new technologies integrating intelligence to glass.
Glaston is committed to providing its clients with both the best know-how and the latest technologies in glass processing, with the purpose of building a better tomorrow through safer, smarter, and more energy efficient glass solutions. Glaston operates globally with manufacturing, services and sales offices in nine countries and its shares (GLA1V) are listed on NASDAQ Helsinki Ltd. For more information visit glaston.net.
Fireside Chat Jun14 organized by Glaston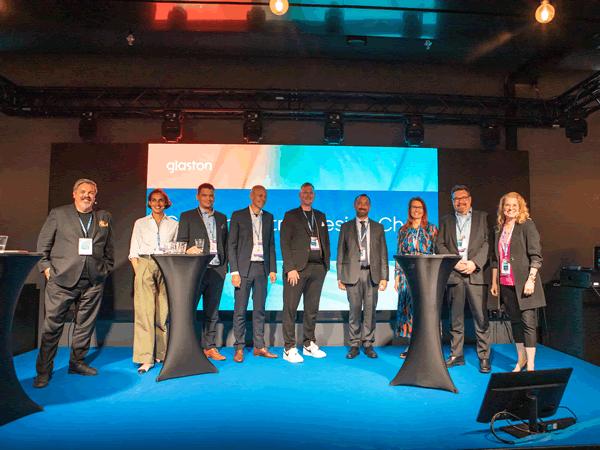 600
450
Glaston Corporation
2023-06-19T10:00:00
Glass Industry Fireside Chat - The way to sustainable growth
glassonweb.com