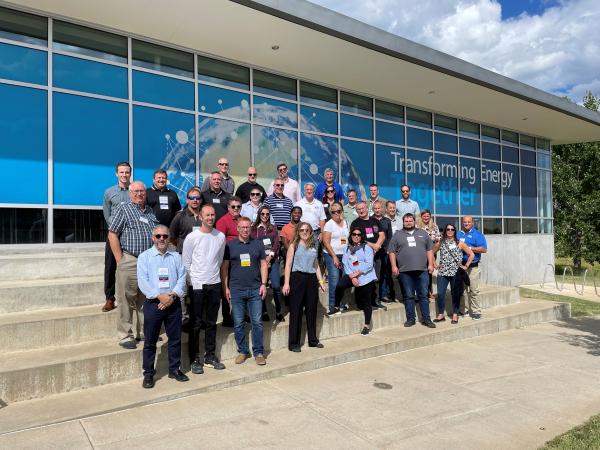 Photo source
FGIAonline.org
Around 40 participants at the FGIA Fall Conference had the opportunity to tour the 327-acre National Renewable Energy Laboratory campus in Golden, CO.
This facility houses research laboratories and the lab's administrative office. Reflecting NREL's commitment to sustainable operations, the main campus boasts several LEED Platinum-rated buildings, along with multiple on-site renewable energy installations.
 
"This is not just an office space but also a teaching building," said Robert Tenent, researcher and one of the tour's guides. At NREL, Dr. Tenent's research has focused on the development of cost-effective, manufacturing-friendly methods for the production of materials for both energy generation and efficiency.
 
As witnessed during the tour, the NREL campus also features technology like electro chromatic windows on its balconies and photovoltaic (PV) glass in its cafeteria. Other energy efficient attributes include daylighting, natural ventilation, a next-generation data center and a rooftop PV system. Reused and recycled materials are used throughout, including beetle kill bark repurposed inside as décor and the materials recycled to make the facility's outdoor furniture. Rocks from the construction process are also used as décor outside. Additionally, the campus offers electric vehicle charging stations (https://www.nrel.gov/about/ev-charging-stations.html) for both staff and visitor use.
 
NREL researches energy and develops and deploys renewable energy and energy efficiency technologies. Those working there seek to advance the science and engineering of energy efficiency, sustainable transportation, and renewable power technologies and to provide the knowledge to integrate and optimize energy systems.
Completed in 2010, NREL's ultra-high-efficiency Research Support Facility (RSF) serves as a model for new office building construction and as a living laboratory for sustainability. Per NREL, the RSF was awarded LEED Platinum status by the U.S. Green Building Council (USGBC, https://www.usgbc.org) for its energy performance and widespread use of recycled and repurposed materials.
 
In addition to hosting a tour, two representatives from NREL, including Tenent, gave a presentation at the conference for those unable to see the facility in person. Tenent was joined by Alliston Watts, fellow researcher at NREL, in presenting, "Transforming Energy | NREL Fenestration and Durability Research." At NREL, Watts' work focuses on the durability of emerging fenestration products.
 
Tenent encouraged manufacturers to reach out to NREL to support their work in fenestration. "A lot of what we do is thanks to private sector partnerships," he said. "There is still work that needs to be done. Fenestration usage and research is something NREL supports."
 
Tenent pointed to NREL's research on PV windows, which showed these products cut energy use and carbon dioxide emissions by 40 percent in highly glazed buildings. "NREL conducts field validation studies of early-stage window technology performance to confirm energy savings to the consumer," he said.
 
Watts also shared some research on fenestration durability, calling for products to be able to withstand extreme climates. "I worked in the fenestration field for 10 years before NREL," Watts said. "Global weather patterns are showing an increase in extreme conditions. We need to make sure windows are durable."
 
For more information about FGIA and its activities, visit FGIAonline.org.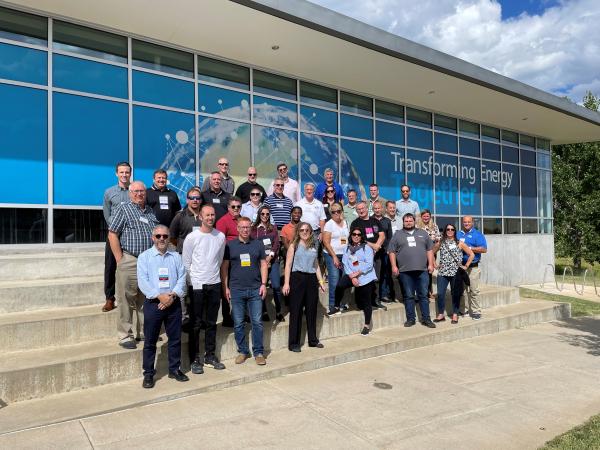 600
450
FGIAonline.org
2023-09-28T07:30:00
FGIA Participants Tour NREL, Hear Research Update at 2023 Fall Conference
glassonweb.com