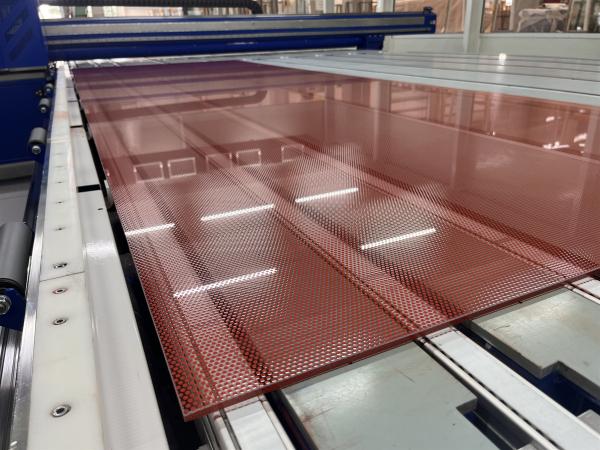 Photo source
Dot design backbone of the Camyapi project | Photo: Tecglass
Camyapi has formed an alliance with Tecglass to equip their factory with the latest digital printing technology.
CAMYAPI was established at the end of 1999 in Istanbul to produce architectural glass in an 800 m2 closed area with 12 employees. Following its establishment, it made regular investments by following the innovations in the glass industry. With the investment made in Dilovası Factory in 2012, it was the first facility in Turkey that can process Jumbo size glass, and has also become one of the best glass processing facilities in Europe. As a company that has a turnover of 40 million USD with approximately 350 employees as of today, it continues its production in its factory with a closed area of 27.000 m2 in Dilovası Industrial Zone, and in its new factory in İzmir Bergama Industrial Zone, of which the 1st stage of 25.000 m2 closed area has already been completed.
The construction of the 2nd Stage of the Izmir Bergama investment (which will be consisting of 4 stages in total) has already been started. When all the stages are completed, it will be one of the largest glass processing facilities in the world with a total closed area of 100.000 m2.  In this context, CAMYAPI continues to aim to be the leading company in its field in cooperation with the world's leading glass producers.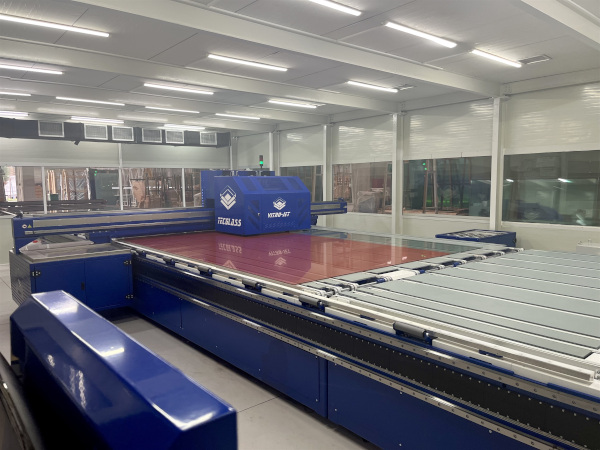 Digital printing with ceramic inks on flat glass has been one of the relevant activities of the Turkish company, and the future ahead to cover these high -demand markets with excellent quality requirements is assured thanks to the new alliance established between CAMYAPI and TECGLASS - world leader in industrial digital printing solutions - with the latest addition of a digital printing line of Vitro-Jet FS Type for processing sizes up to 3,300 x 9,000 meters.
After few months since the consolidation of this partnership and the effective installation of the digital printing system , we have had the opportunity to talk with Mr. Ufuk Akülker – Deputy General Manager - and Mr. Yüksel Arslan – Factory Manager – who are sharing their experiences handling this new printing system in-house and what this new partnership with TECGLASS have implied for their activities.
"Digital printing has always been an important part of our production as it opens a new world of possibilities, pushing the limits of creativity with what you can do with glass "– says Mr. Ufuk Akülker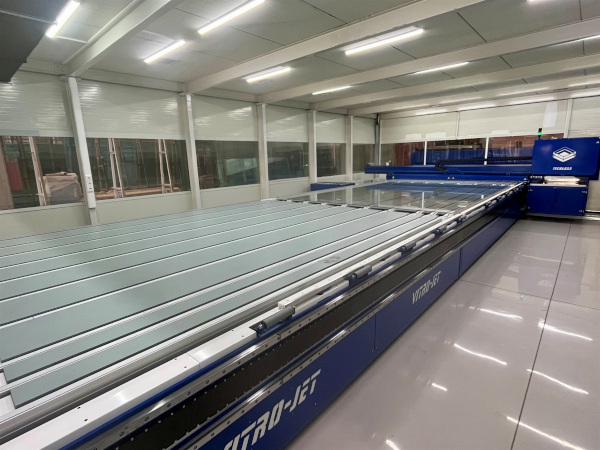 "That's why in our latest digital printing purchase process, we have done intense research on the market, asking as many questions as possible, before making the purchase decision of the right partner. Tecglass team made great efforts in answering all our technical questions in detail, having an excellent response time and communication of their staff since the validation phase of the technology began to get underway.
For us, major important parameters that we looked for were quality, speed, and color range gamut, and this were definitely a strong influence on our decision to choose Tecglass.
Important part of the purchasing process, was heavily influenced by a high-volume project we were about to sign, that required a dot pattern with bright red color, which could be achieved by their unique Ultra ink range. This ink color was not available from other suppliers, which made Tecglass stand out among many other reasons. We were able to secure the project with Tecglass prints and have been successfully using the digital printer Vitro-Jet FS type in production since.
In addition, since this high-volume project is mainly consisted of jumbo sizes, the speed of the machine supplied by Tecglass with its exclusive patented SIDE KINETIX technology, was another key-point since provided very good printing quality at required lead times of this particular project, to meet our customer's manufacturing deadlines.
In short, we are fully satisfied with how the machine performs. It is simply just as promised. We are involved in many of the high-quality projects around the world and we are commitment to provide our best quality and definitely we have found in Tecglass the perfect business partner for that"- assures Mr. Ufuk Akülker
Mr. Yüksel Arslan – Factory Manager at Camyapi – has also played an essential role in the decision to incorporate Tecglass digital printing technology for the continuous improvement of its processes and final product: "First of all, the quality and speed of the machine is simply amazing. Even with big sized units, it can finish printing in a very short time so that we can continue with the other processes. It is a relief that the speed is very fast without even compromising from the quality.
To comment from a production and maintenance point of view, we are very pleased with the Tecglass technical team. Their support team are really fast in responding to our questions having the ability to immediately take action and start the discussions with our team, whenever any doubt arises at our end.
With the help of our chat group, we are able to easily communicate and get help with quick exchange of pictures and videos and also easily connect to the computers when necessary. This is what we exactly look for, when there is an issue that needs solution in our machineries, and Tecglass definitely is providing a solid and fast customer service" – states Mr. Yüksel Arslan
Mr. Gustavo Lázara – Tecglass Europe Area Manager – and Mr. Esat Suvareirol from Flat Glass International – official Tecglass agent in Turkey – showed their satisfaction for the formalization of this project and new partnership with Camyapi, which reinforces the position of Tecglass as a reference in jumbo digital printing solutions.
"We are really pleased with the way the project has been developed from start to finish. We had no doubts about the capabilities and features of our technology and thanks to intense teamwork we were able to convey to the customer with purely technical reasons, why we were the right partner. We have done a really good job with the help of our agent Flat Glass International, and proof of this is to see our customer's feedback and that our digital technology lives up to expectations. As Mr. Ufuk Akülker rightly said - It is simply just as promised – and we have no other way to establish alliances and work hand in hand with our customers than this" - says Gustavo Lázara.

Article References:
CAMYAPI CAM : https://camyapi.com.tr/
TECGLASS : https://www.tecglassdigital.com/
FLAT GLASS INTERNATIONAL : http://www.fgias.com/
VITRO-JET FS TYPE BRIEF : https://www.tecglassdigital.com/en/f-type-side-kinetix
 VITRO-JET FS TYPE VIDEO : https://www.youtube.com/watch?v=rey-lkf-0u4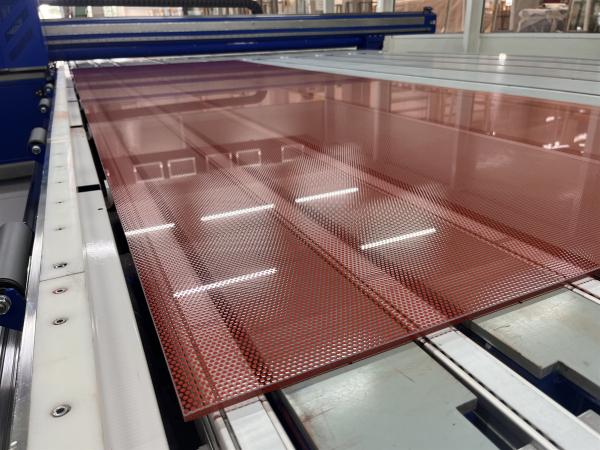 600
450
Tecglass
2023-04-04T10:00:00
Camyapi and Tecglass New Partnership
glassonweb.com