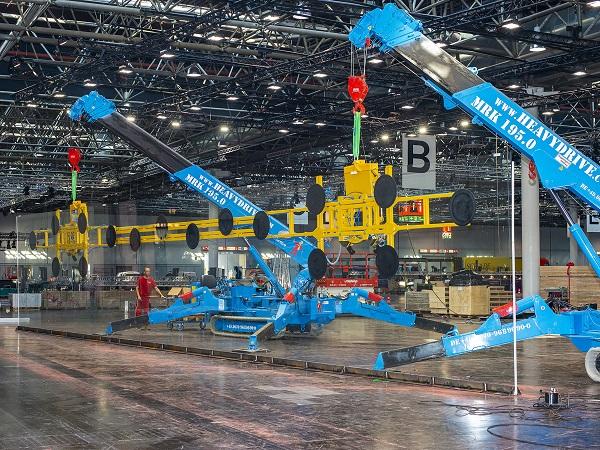 Photo source
Heavydrive MRK 195.0 and the VSG 3500 K MH in use at glasstec in Düsseldorf - Image rights: Heavydrive GmbH
Heavydrive systems fit 18m-long, record-breaking pane at Düsseldorf exhibition centre.
For the first time, glasstec 2018 in Düsseldorf showcases the world's largest pane of pre-stressed laminated safety glass, weighing 4 tonnes. Heavydrive, with its special devices for extremely large and heavy panes, was consulted for the assembly of the record-breaking pane. 
This gigantic pane, measuring 18m long, 3.2m tall and 4 tonnes in weight (including steel girders), had to be unloaded in Hall 11 and placed into position at Stand A42 by the Heavydrive experts. After a period of intensive planning for this challenging project, the specialists decided to use two VSG 3500 K MH vacuum suction systems, each with a capacity of up to 3.5 tonnes, along with two indoor-suitable MRK 195.0 assembly cranes, each with a capacity of up to 6 tonnes.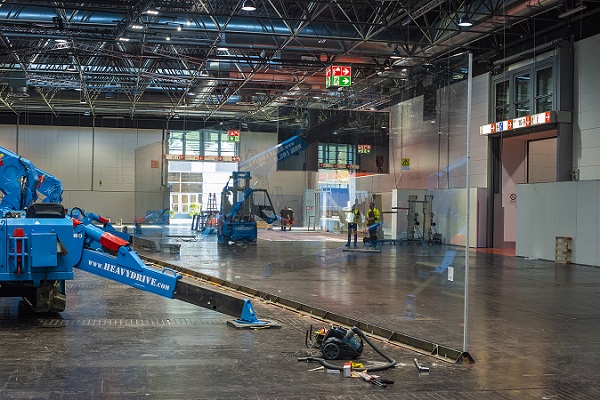 Challenging assembly in Hall 11
The suction systems and cranes were used simultaneously. A total of 28 suction pads, each with a capacity of 400kg, securely gripped the 18m-long pane. The suction pads can be adjusted individually and the suction frames can be freely adapted. This allowed the Heavydrive systems to be adapted to fit the extra-large pane.
The VSG 3500 K MH can be tilted hydraulically by 90 degrees and rotated 360 degrees by motor, and runs on a secure 4-circuit system. Remote control allows one single operator to manoeuvre every action with precision.  
The suction systems were attached to two MRK 195.0 assembly cranes. With an operating radius of 18.6m and a hook height of up to 19.5m, the Heavydrive cranes transported the gigantic pane safely into its end position. Within just a few hours, the 4-tonne glass pane had been safely placed and screwed in at Stand 11/A42.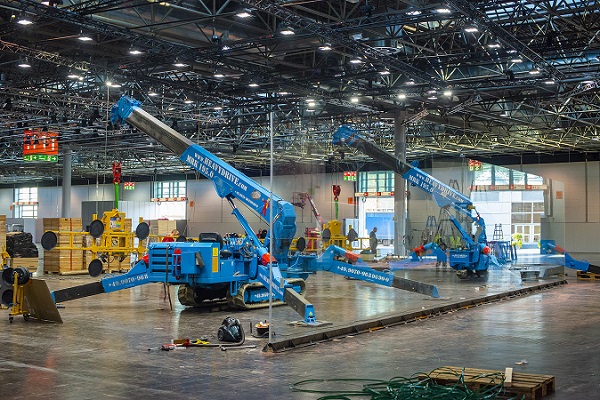 A standout glass pane
The world's largest pane of pre-stressed laminated safety glass was manufactured by Thiele Glas. The glass comes from St. Gobain. Internationally-recognised firm Eastman Chemical Company BVBA was a customer of Heavydrive GmbH.
The record-breaking pane was on show from 23-26 October at glasstec 2018 in Düsseldorf. More than 1,250 exhibitors from over 50 countries present their new products and devices at the leading trade show for the glass industry.  
Tapfheim-based company Heavydrive GmbH specialises in assembly solutions for very large and heavy panes. Heavydrive's glass assembly equipment has a lifting capacity of up to 7 tonnes and is used worldwide, for example in the construction of the Lakhta Tower in St. Petersburg, the Burj Khalifa in Dubai and the Mormon headquarters in Salt Lake City.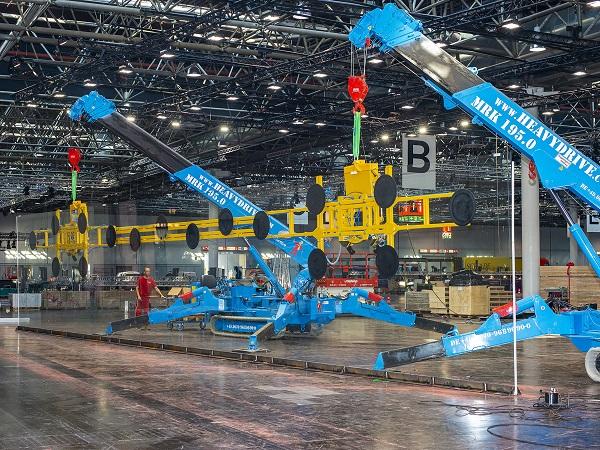 600
450
www.heavydrive.com
2018-11-19T09:00:00
Assembly of the world's largest pane of pre-stressed laminated safety glass at glasstec 2018
glassonweb.com