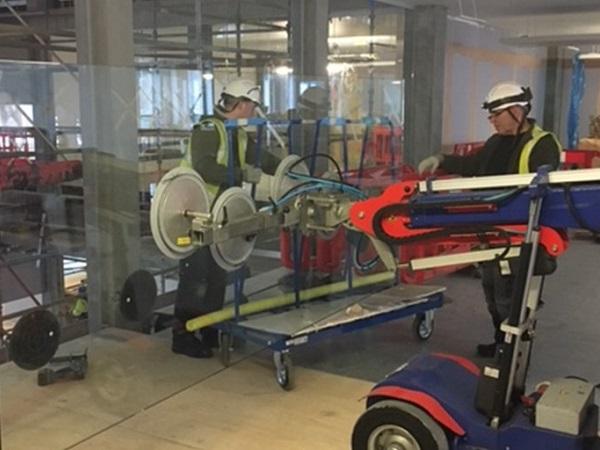 Photo source
www.indeglas.co.uk
Indeglas relies on OSCAR to grip, lift and precision-fit giant glass interior panels at University of Edinburgh's DTI build.
Indeglas, the Cumbernauld-based business recognised as a world-class supplier of interior glass solutions, is taking the heavy lifting out of interior installations with new robot OSCAR 600, a familiar sight on the DTI (Data Technology Institute) build at the University of Edinburgh.
With the ability to lift as much as 20 people and fit through gaps of less than a metre, the purpose-built Optimum Strength Compact Articulated Robot (OSCAR), has been a firm favourite with the installers.
Derek Johnston, Operations Director at Indeglas, said: "The versatility and lifting power of OSCAR has been of tangible benefit to our installers. Being able to manoeuvre the robot into tight spaces with the 600kg lifting power has been a real force multiplier for our teams.
"We were able to deploy the technology on the DTI build and it was so successful, we plan to use it more often. At Indeglas, we believe in technological precision coupled with the human understanding of light in human spaces."
With a width of 780mm and a safe working load of 600kg for the main jib, the robot is able to fit into spaces where the equivalent number of human lifters would not, allowing more complex and precise visions of interior glass to be realised.
The head of the robot has six suction cups secured by a dual vacuum circuit to ensure safety. With a fully loaded weight of 1052kg, the base remains stable and secure to provide a safe working environment.
OSCAR is provided by family-run GGR Group in Blantyre and provides a more comprehensive lifting platform than the previous Glassboy 500 – a manual crane - and MRT4 – a vacuum sealed grip for glass – combination. The precision controls of the robot allow for pinpoint accuracy in placement and fitting.
Derek said: "The investment made in the specialist training required for four of our experienced installers to operate OSCAR reflects our commitment to embracing advanced technology. That, and the cost of hiring the robot is great value for the additional ease and safety that it provides in realising our vision for the perfect glass solution for our customers."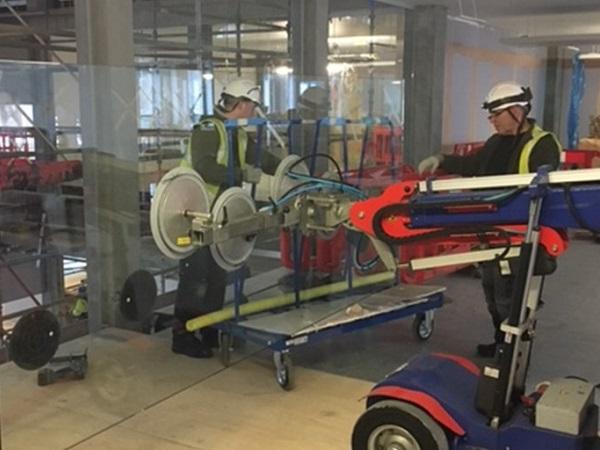 600
450
www.indeglas.co.uk
2018-10-05T09:00:00
And the OSCAR for interior glass solutions goes to…
glassonweb.com