Glazing features prominently in modern architecture, with designers keen to make the most of the benefits that come naturally with glass. A sense of light and space as well as a sleek and clean style go hand in hand with architectural glass.
Glass doors are certainly worth considering when planning an interior design project.
Benefits of glass doors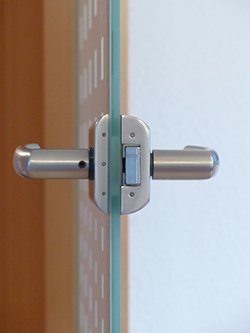 One of the main benefits of internal glass doors is the increased amount of natural light they allow to flow into a room. This will make a space feel more open, while maintaining sound privacy and heat and draught insulation.
In fact, glass doors can be an excellent choice for acoustic insulation. Depending on their thickness, glass doors can provide noise reduction of up to 45dB (Rw).
Because of the extra light flowing in, a glass door can make a space feel much larger, so is the perfect choice for smaller rooms. A lack of natural light can make areas such as hallways feel enclosed and gloomy, so again, a glass door would be the perfect solution.
Glass doors, in particular frameless glass doors, look ultra-modern and sleek, with clean lines and contemporary fittings and fixtures.
They are ideal for a professional and up-to-the-minute office environment. In a commercial space, an added benefit is the option to include a company logo or colours in your glass door, with frosted or painted glass.
Considerations when installing glass doors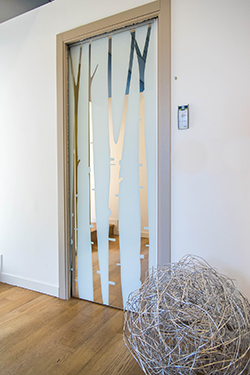 The primary consideration when installing any kind of architectural glass should always be safety. Interior glass doors should be made of tempered or toughened glass, ensuring their increased strength and durability.
In the unlikely event that toughened glass is broken, the resultant pebbles of broken glass are far safer than the razor-sharp shards that would be left with standard annealed glass.
Another consideration is whether you require optical privacy in a room. While clear glass doors may not be suitable for every room (you'd certainly want to think twice before installing a clear glass door on the bathroom!) there is the option of frosted or painted glass doors.
This means you gain the privacy of an opaque door, while still enjoying many of the benefits of clear glass doors, such as a contemporary look and increased light.