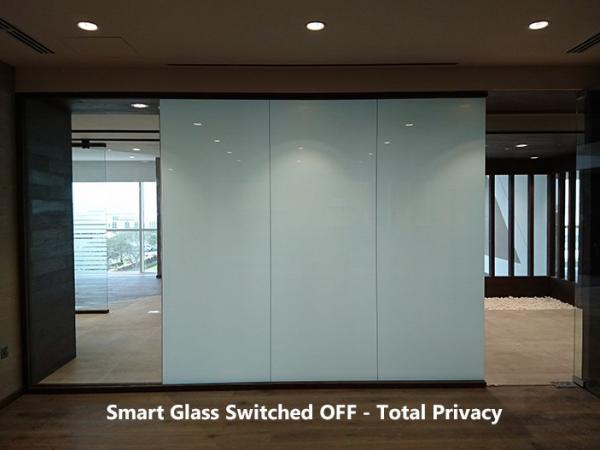 This video below shows the exceptional clarity that our smart glass (also called Privacy Glass) can provide, making it indistinguishable compared to the standard clear glazing next to it.
Haze factor and 'blurry' vision is the main performance concern of this type of glazing, however our product is definitely at the highest end on the market and with increasing numbers of projects being completed around the UAE we can offer full scope project installations.This image shows the Smart Glass in the ON position (low voltage).As you can see, there is almost no difference between the technology and the regular glass panel to the side.
When the Smart Glass is switched OFF it maintains it's privacy state, comparable to frosted glass film, this is ideal for meeting rooms, control rooms, or areas which need to have instant privacy at the flick of a switch. 
This project has a wireless remote to control the ON/OFF function and also is wired to a physical switch on the wall next to the light switch. The technology is simple to integrate into existing systems - with such items as sensors, door closing and room occupation.
For more information about our Smart Glass / Switchable Glazing please contact gavin@pentagon-intl.com.  050 157 8460.
Gavin Bannerman
Pentagon Filmtek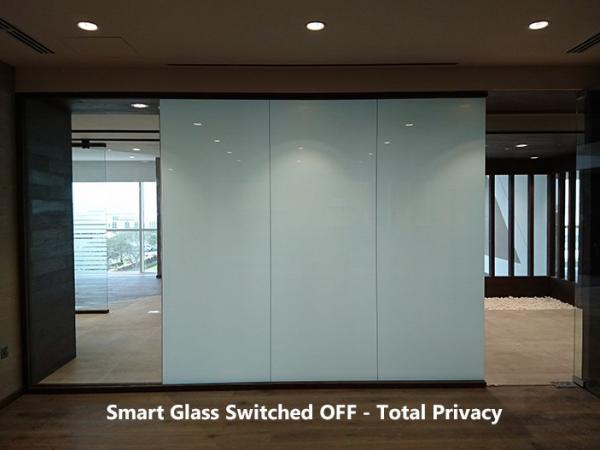 600
450
Pentagon Filmtek
2016-04-04T13:00:00
Switchable Smart Glass Project in Dubai
glassonweb.com