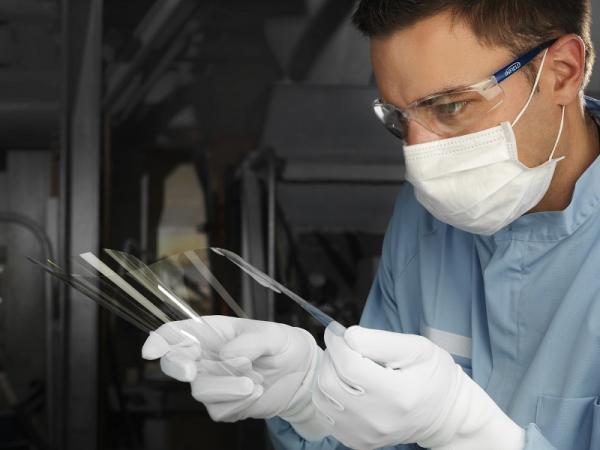 Photo source
www.schott.com
Technology group receives award for its ultra-thin glass in the category large companies Thinner than a human hair and yet so flexible that it can be wrapped around your little finger.  It is flexible like plastic, but asstable as glass.
Ultra-thin glass serves as the basis for product innovations in the electronics and semiconductor industries, where it enables faster, more energy-efficient and thinner devices. This success story of ultra-thin glass as a pioneer for innovation ultimately convinced the jury. SCHOTT, a true expert inthe area of specialty glass, has won this year's German Industry Innovation Award in the category large companies.
The Chairman of the Board of Management of SCHOTT, Dr. Frank Heinricht, receivedthe award from EU Commissioner Guenther H. Oettinger and Nobel Laureate in Physics Prof. Dr. Klaus von Klitzing at a gala event held in Darmstadt on April 16. "This award is a special honor for SCHOTT and confirmation of our intensive ongoing work on this visionary topic. The awardunderscores that we have succeeded in bringing a trailblazer for new applications to market with our material innovation ultra-thin glass. Through our close cooperation with national institutes and companies, we are alsohelping to secure Germany's position as a site for research and technology," Heinricht noted.
The jury praised the innovative power of SCHOTT, which hasagain manifested itself in the example of ultra-thin glass. With this very special material, the company that is positioned at the very beginning of the value chain makes an instrumental contribution to tapping intoa relevant global market from Germany. The fact that SCHOTT is already generating sales with its ultra-thin glass and that it is already being used in a few initial applications also deserves mention.
Dr. Frank Heinricht, Chairman of the Board of Management of SCHOTT AG, accepts the German Industry Innovation Award in the category large companies from and Nobel Laureate in Physics Prof. Dr. Klaus von Klitzing. The company was honored for its ultra-thin glass as a precursor to the miniaturization of the electronics of the future. Jan Hofer, Master of Ceremony at the Gala, Prof. Dr. Klaus von Klitzing, Nobel Laureate of Physics, and Dr. Frank Heinricht, CEO SCHOTT. Photo: SCHOTT
Ultra-thin glass for the electronics of the future
Ultra-thin glass from SCHOTT is robust and flexible for use in a variety of high-tech applications. The company produces ultra-thin glasses for innovative functions in the smartphones of tomorrow: from high-strength cover glasses to substrates for bendable OLED displays and "wearables", for camera systems, novel micro batteries and advanced packaging of micro-electronics, as well as fingerprint and biosensors.
Thanks to a wide variety of high-quality glass types and proprietary down-draw technology, SCHOTT can reliably produce a portfolio of ultra-thin glasses down to a minimum thickness of 25 micrometers which equals 0.025 millimeters (by comparison, a human hair is 50 micrometers"thick"), and yet offers the most unbreakable glass on the market. These products offer many advantages over other materials because they are more stable than plastic and significantly more economical compared to silicon.
Securing Germany's future as a site for business
Besidesthe traditional semiconductor industry, this material is also of importanceto the field of organic electronics. SCHOTT works with a number of German development partners on building a production infrastructure for industrial processing. The Fraunhofer Institutes FEP (Institute of Organic Electronics, Electron Beam and Plasma Technology) in Dresden and IZM (Institute for Reliability and Microintegration) in Berlin are important innovation centers.
For instance, advancements from SCHOTT and several of its partners are being funded by the Federal Ministry of Education and Research (BMBF) to be able to provide ultra-thin glass on a roll for use in organic electronics. Examples of such applications include touch sensors, flexible displays, lighting components, organic solar cells and intelligent labels. These elements, in turn, enable pioneering innovations in consumer electronics, packaging, household appliances and the automotive industry and thus open up access to the world market.
For more information, please visit: http://www.schott.com/innovation/en/ultrathinglass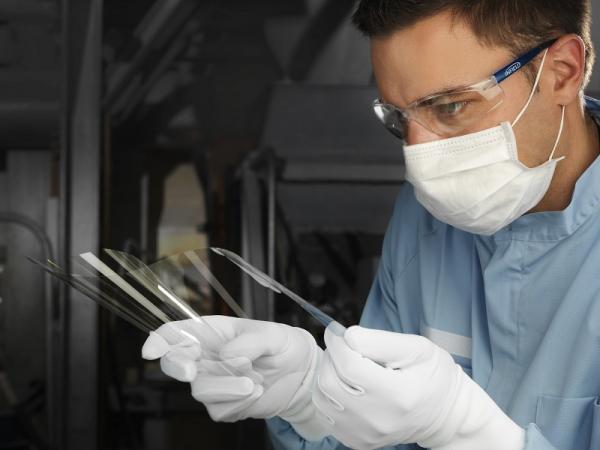 600
450
www.schott.com
2016-04-19T13:00:00
SCHOTT wins 2016 German Industry Innovation Award
glassonweb.com