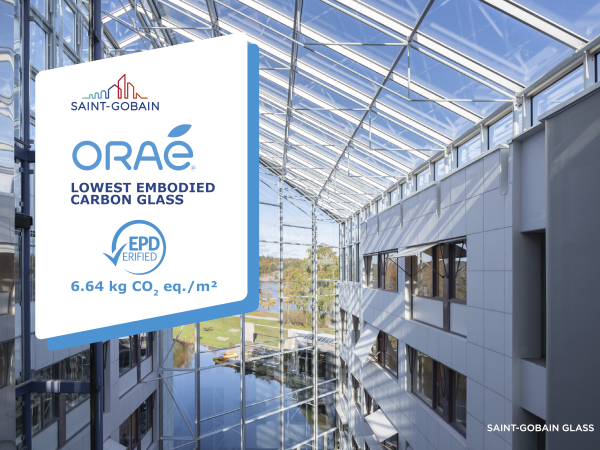 Photo source
© Saint-Gobain Glass
A third-party verified confirmation of ORAÉ®'s environmental performance
Thanks to a verified EPD*, ORAÉ® - the very first low carbon glass on the market launched last September by Saint-Gobain - is now confirmed as the glass with the world's lowest carbon footprint, setting a new standard at 6.64kg CO2 eq./m² (from Cradle to Grave for a 4mm substrate).
This is a reduction of 42% compared to Saint-Gobain Glass European baseline for clear glass thanks to a remarkably high amount of recycled content and with no compromise on the technical, quality or aesthetic performances.
Regarding the French market, the environmental and sanitary declaration called FDES has also been validated at 6.64kg CO2 eq./m² and is already available on the INIES data base.
*An EPD is an Environmental Product Declaration, a third-party verified document that indicates the environmental impact of a product during its life cycle.
ORAÉ® combined with Saint-Gobain's most advanced coating technologies
Saint-Gobain Glass has integrated ORAÉ® in its portfolio: the solution COOL-LITE® XTREME ORAÉ® offers performance and sustainability, reducing both operational (cooling, heating and lighting when using a building) and embodied carbon in buildings' façades.
Real Estate pioneers leading the way towards more sustainable constructions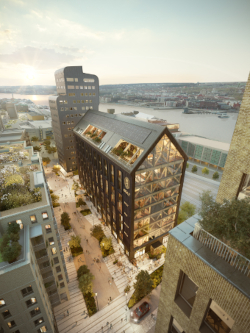 As a sign of the market's enthusiasm for this major innovation, several major real estate partners have chosen Saint-Gobain Glass to reduce the carbon footprint of some of their pioneer projects.
The latest one to have chosen COOL-LITE® XTREME ORAÉ® for a new project being the Swedish developer NCC for the Habitat 7 building located in Gothenburg (Sweden), in collaboration with the facade maker Fasadglas.
This attests to the key role that ORAÉ® plays towards a more sustainable industry and in accelerating the development of the circular and low carbon economy.
ORAÉ® now available in Calumen® to help calculating the footprint of projects
Thanks to the detailed environmental data available, ORAÉ® is now integrated in Calumen®, Saint-Gobain's all-in-one glazing digital configuration tool. Building professionals, regardless of their level of expertise, can now evaluate the impact of ORAÉ® on the carbon footprint of their architectural projects. 
A window of new opportunities
Thanks to its impressive results, ORAÉ® is now also available for the windows market associated with the best low emissivity coatings in the Saint-Gobain Glass range like ECLAZ® and PLANISTAR®. The offer is already available in Spain and in France, and soon in other countries.
These achievements are in line with Saint-Gobain's commitment to reach carbon neutrality by 2050 and ambition to be the worldwide leader in light and sustainable construction.
To learn more about this product go to www.saint-gobain-glass.com/products/ORAE
and follow us on LinkedIn @glass-facade-saint-gobain.
To get the EPD: https://www.environdec.com/library/epd8970
To get the FDES: https://www.base-inies.fr/iniesV4/dist/consultation.html?id=33840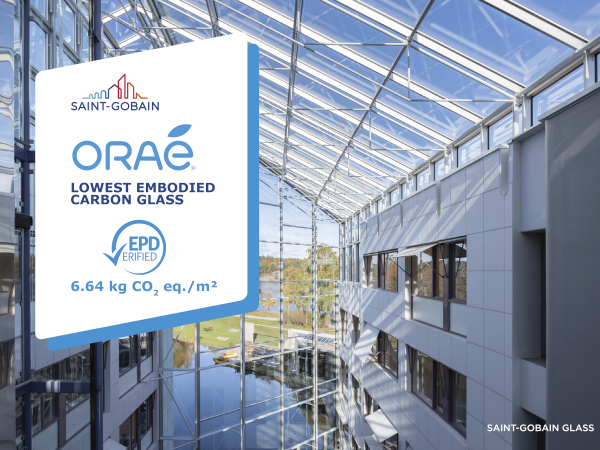 600
450
Saint-Gobain Glass
2023-04-27T08:45:00
Saint-Gobain Confirms ORAÉ® as the World's Lowest Carbon Glass on the Market
glassonweb.com