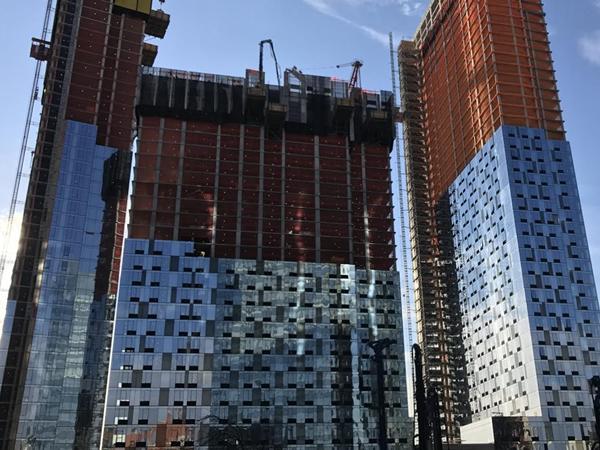 Photo source
www.wwglass.com
The professionals at W&W Glass chose Sotawall® Hybrid-Wall®, a high performance unitized wall system that is specially designed for hi-rise residential buildings.
With a long rich heritage that is documented back to the early 1900s, the area known as Long Island City has an up and coming neighborhood called Queens Plaza.
This area is sprouting a small metropolis worth of skyscrapers, ushering in thousands of new residents, hundreds of hotel rooms, and a few hundred thousand square feet of office space.
Once the site of the 18th-century village Dutch Kills, Queens Plaza straddles the western end of Queens Boulevard in Long Island City, Queens, between 21st Street and Jackson Avenue and is surrounded by elevated subway tracks and the Queensboro Bridge.
With the neighborhood's quick access to Midtown and now massive developments at Hudson Yards and Manhattan West, it's no mystery why the plaza is turning into Manhattan's trendy bedroom community.
This project is just one of more than 30 new projects underway in the district. Owned by Tishman Speyer, the newest residents of Queens Plaza will get to call a trio of buildings their new home. The large scale glassy structures will sport over 1,800 new apartments.
Along with AJLP Consulting, the architecture team of Goldstein, Hill and West and Mack Scogin of Elam Architects designed the projects to act as part of a central master plan, eventhough, three different construction companies are building each tower separately – Turner Construction (Building A), Hudson Meridian (Building B1), and Triton Construction (Building B2).
W&W Glass was chosen by the Owner to supply the glazing systems for all three towers due to their vast experience with coordination and installation of glass curtain wall dominated towers.
These towers are higher than average for Long Island City with Building "A" rising up 48 stories while Building B1 and B2 rise 57 and 47 stories respectively.
The professionals at W&W Glass chose Sotawall® Hybrid-Wall®, a high performance unitized wall system that is specially designed for hi-rise residential buildings.
Viracon insulated glass was chosen as the ideal glass choice, as they are a company well-known for their high quality and capability to produce the high-volume required on a project this size.
The unitized glass panels were approximately 5-foot wide by 10-foot tall for floor to ceiling views and utilized integrated zero sight line awning windows and a thin spandrel glass band area between floors.
The overall project was massive, requiring 700,000 square feet of curtain wall panels to skin all three buildings at once.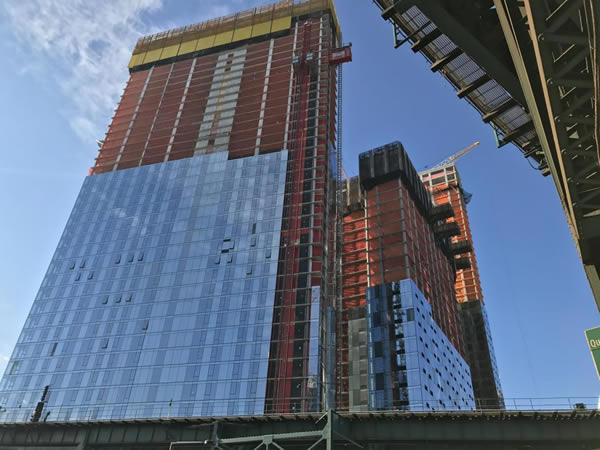 The glass towers are officially located at 28-34 Jackson Avenue, 28-10 Jackson Avenue and 30-02 Queens Boulevard. Besides the new apartments, the $875 million trio will contain roughly 3,000 square feet of retail space and a 2.5-acre central park.
The checkerboarding effect of different darker and lighter colored glass bands gives a pixelated effect to the development by design.
The new buildings are directly adjacent to two-towers that are earmarked for commercial space as WeWork and Macys have committed to locating there.
Tishman was prepared to build the complex on spec, but ended up pre-leasing nearly half of the $700 million development, or more than 800,000 square feet–250,000 to WeWork Cos. and 550,000 to Macy's Inc.
To learn more on the progress of these buildings, click here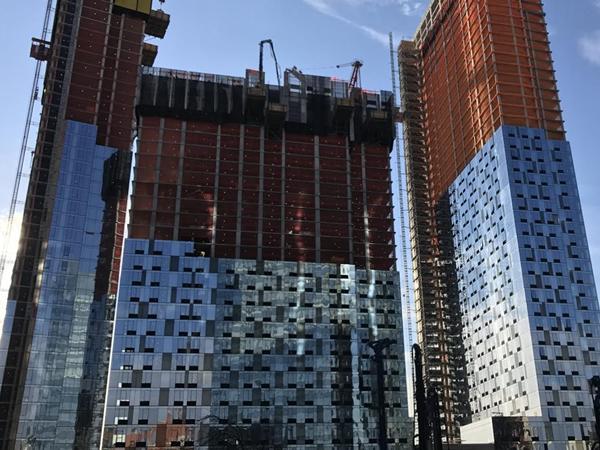 600
450
www.wwglass.com
2017-02-24T13:20:00
Queens Plaza Rising and Renewing A Neighborhood
glassonweb.com