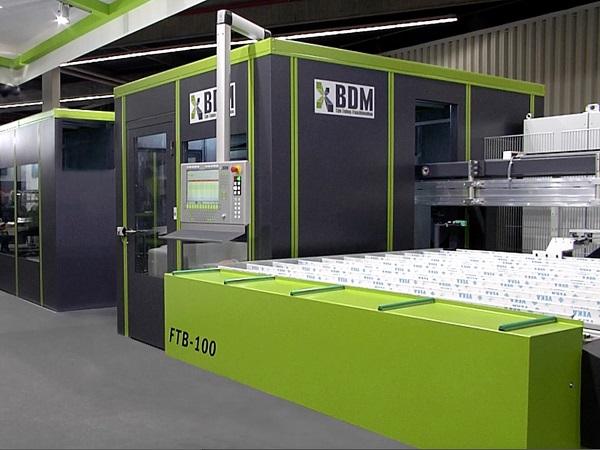 Photo source
promac.co.uk
The FTB-100 EVO Cutting & Machining Centre is Promac's high volume cutting and machining platform.
"Cutting and machining capacity is key to your overall productivity", says Lee Marriott, Promac. "Welding, corner cleaning – they're clearly important but If you're cutting and machining platform can't keep up with the flow through the factory, the impact is felt right through your production process, it's critical to your efficiency and yield."
The FTB-100 EVO Cutting & Machining Centre is Promac's high volume cutting and machining platform. Pitched as a solution for volume fabrication (700-800 frames and up), it combines precision manufacture with rapid processing of profile using a unique eight-axis machining module.
"What's unique about the BDM FTB-100 is that it uses two four-axis turrets with automatic and interchangeable 5mm and 8mm bits to machine the profile simultaneously along two sides and across 8 axes. In effect it gives the machining turrets 360° access to the profile.
"This gives the FTB-100 an incredibly high yield. It's a quick, reliable and an incredibly stable platform, producing a cut sash in as little as every seven seconds and a prepped sash every nine seconds", says Lee.
The FTB-100 EVO is supplied by Promac Group as a modular solution. The core platform is built around a 12-position infeed loading magazine, which is capable of handling bar lengths of up to 6.5m.
It feeds the 8-axis CNC module which automatically adjusts to profile dimensions, using two servo driven control modules and automatically interchangeable Ø 5mm and 8mm router tools, guaranteeing optimum performance and high speed precision.
The FTB-100 EVO cutting centre features three 550mm saws, two opposing 45° units and one 90° unit with automatic waste extraction. Typical cycle times are 11 seconds per cut to size angular pieces and 25 per second per end milled mullion or transom averaging at 13.5 seconds per piece.
The BDM FTB-100 can also be specified with automatic reinforcement insertion station featuring single or dual bolt stations and 2 or 3 axis reinforcement processing centre; v-notching and recess milling modules.
"For me it's about running this machine like billy-o", continues Lee. "Yes, it can do a lot of different things but the more you ask it to do it, for example additional milling or automatic reinforcement insertion it by definition, slows things down – when the BDM FTB-100 is really about speed and high yield."
Production modelling by Promac makes a clear argument for going with a 'streamlined' specification. The FTB-100 can machine and cut a complete frame in 48 seconds and sash in 34 seconds.  "If you work on a principle that on an average window, the ratio between a frame and sash is roughly 60:40, you could cut and machine around 250 windows a day on a 7.5hour shift", argues Lee.
In addition to the FTB-100 EVO, Promac also supplies the Graf Fab Cut F1. Automatically optimising bar length without operator input, it delivers high precision machining while lowering production costs and maximising output – all on a smaller footprint.
"Graf has had a huge influence on the PVC-U manufacture with the SL4FF and the impact of seamless welding. It's cutting and machining offer is less high profile but brings the same precision and quality which defines FOM-GS Group machinery", says Lee.
He continues: "It's not as fast as the BDM FTB-100 but then that's reflected in where its pitched in the market and its cost. It's a very accessible platform and can deliver some great efficiency savings, particularly where you're moving from electric saws and manual processing, releasing manpower and significantly increasing precision and efficiencies."
Graf Synergy and FOM announced the formation of the new FOM-GS Group at the end of last year. It brings two global leaders in PVC-U and aluminium manufacturing technologies together and with it, the resource to accelerate the delivery of next generation innovations.
Pitched by Promac Group primarily as a solution for fabricators manufacturing 400 plus windows, the Graf Fab Cut F1, like the BDM FTB-100, can process bar length of up to 6.5m in a 10-bar loading magazine. With the ability to cut at -45°, 90°, and +45° the Ø 500 disc blade combined with horizontal and vertical clamps, brings exceptional precision to manufacture.
"We tend to promote the Graf Fab Cut F1 as a cutting centre for fabricators doing around 400 frames but if you have the space and can accommodate the footprint of two machining and cutting centres, the Fab Cut F1, can be a really good solution for fabricators doing larger volumes.
"You may need two if you're doing 800 squares a week but you get two platforms. If can't accommodate the footprint but need the higher volume then it's the BDM FTB-100.
"These are platforms which sit at the right levels in the market, either affordable market entry in the Graf Fab Cut F1, which delivers all of the benefits in increased yield and precision that go with transition from manual to automated processing or the BDM FTB-100 for ultra-high yield and precision volume machining and cutting."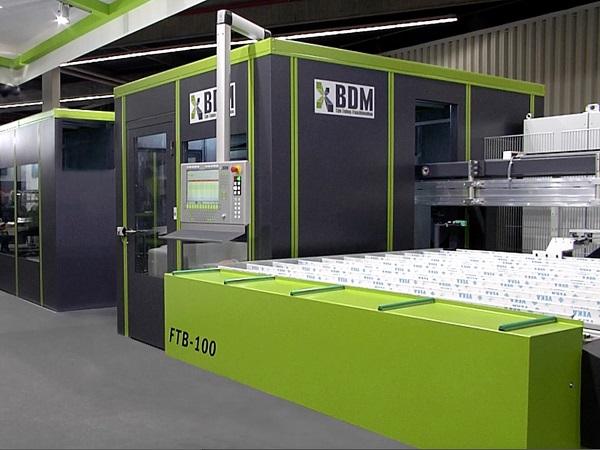 600
450
promac.co.uk
2018-01-25T09:30:00
Promac: High volume machining
glassonweb.com