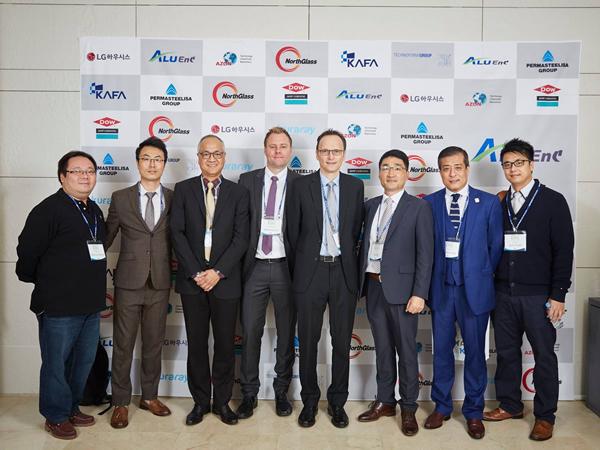 Photo source
www.permasteelisagroup.com
Permasteelisa has accepted an invitation by the Korean Architectural Façade Association to attend the International Facade Technology Seminar 2017 held at the K-Hotel in Seoul, South Korea being a Bronze Sponsor of the event.
The seminar was attended by a wide range of representatives across the building industry, architects, facade consultants and engineers, structural engineers, researchers related to building technology, a wide range of material and technology suppliers and of course most notably facade companies with Permasteelisa being the only foreign facade company attending.
We have been on the speaker list giving a presentation about mfree-SCCF as a new Facade Technology in line with the growing demands for green building solutions in order to create more environment friendly buildings for the future. Green building technologies are the contribution of the construction industry to reduce and hopefully also reverse global warming.
By maintaining the traditional facade depth of a single skin facade there are no deductions for the Client with regard to usable floor area. In many jurisdictions the approved gross floor area is calculated from the outer edge of the glass considering the typical depth of a single skin facade as an exemption zone for the approvable office space to be leased and occupied.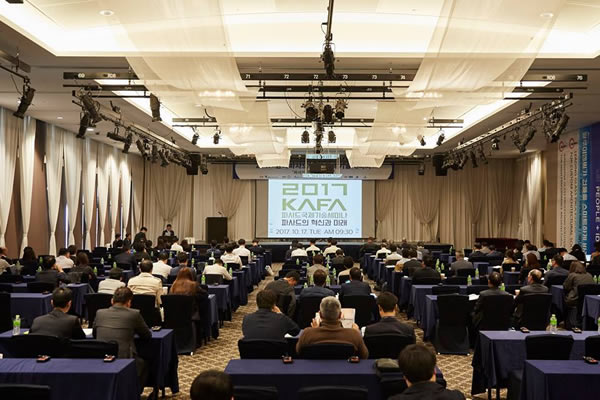 For many developers maintaining the maximum leasable floor space is a key criteria to go ahead taking a new facade type and technology into consideration.
Other Clients are very concerned about their public image, so their headquarter and key office buildings are supposed to reflect positivity and openness; there is no better way to do so by creating a very transparent building envelope with mfree-SCCF, so the passerby can actually see the employees and occupants at work.
In many warm and humid climates and/or in areas with many sun hours per year, the city skylines are dominated by dark buildings with obscure facades creating an unwelcoming and confining impression. Nowadays Architects want to find solutions to change this creating transparent buildings, to be different and outstanding, and mfree-SCCF is an ideal solution to achieve it.
The second part of our presentation has focused on selected reference projects completed and in progress starting from the first mfree-SCCF project, Fraunhofer's inHouse Centre in Duisburg/Germany, Allianz Headquarters in Wallisellen/Switzerland , Roche Building 1 in Basel/Switzerland, the tallest building in Switzerland, 200 George Street in Sydney/Australia, the building which has set a new benchmark for Grade A Office Buildings in Australia and, just to name a few, 22 Bishopsgate in London/UK, with 70,000sqm the biggest mfree-SCCF project of the Permasteelisa Group so far.
Our seminar participation has also included our own booth where we have met many participants and visitors who wanted to know more about Permasteelisa and our facade solutions.
Five boxes of company books and brochures have been amazingly given out by the end of the lunch break.
The internationally most known speaker of the day was Mr James O'Callaghan from Eckersley O'Callaghan who has shared with the audience a whole range of Apple projects starting from 2002 to the presence focusing on glass solutions creating an ever increasing transparency.
As Mr Callaghan has requested at the beginning of the presentation there was no photo taking allowed during his presentation to protect the design solutions developed with and for Apple.
Interestingly, as explained with a big smile, Mr Callaghan has started his facade engineer career being stationed in Seoul 20 years ago to help to deliver the Samsung Jong-ro Tower in the Centre of the South Korean Capital which is still one of most recognizable buildings of the city.
He has seen it for the first time since completion on the day of the seminar pointing out that it has aged very well fulfilling a very important goal for all players in the facade industry: sustainability.
Date: October 17, 2017
Location: K-Hotel, Seoul
Organized by: Korean Architectural Façade Association
600
450
www.permasteelisagroup.com
2017-10-27T08:41:21
Permasteelisa at KAFA International Facade Technology Seminar 2017
glassonweb.com