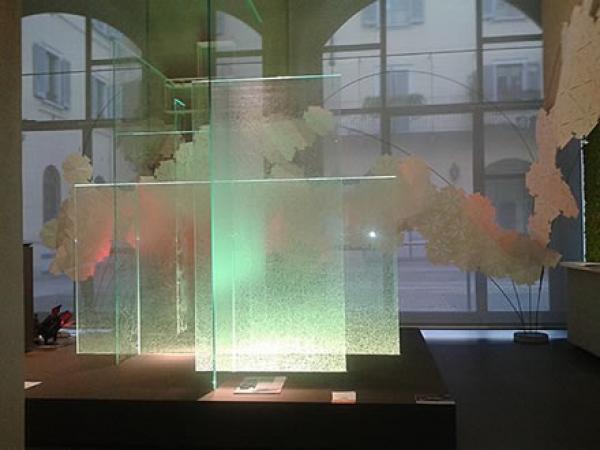 Photo source
@Vitrealspecchi | Twitter
Madras® glass is the star in Metropolis, an installation created by architect Silvio De Ponte for Vitrealspecchi within the framework of Connessioni/Connections: forms, transparencies, reflections and tricks of perspective simulate the skyline of an imaginative crystalline city.
The installation develops across three islands, three stylistically different worlds whose individual components interact and aggregate: the island of geometries, where lines on both sides and tiny pinpoints light up in the matter-non-matter of glass; the island of patterns and décor, which glass translates into tactile and visual sensations; and lastly the evocative and illusionistic island-cloud dedicated to the latest effects added to the creative portfolio of Madras® glass.
Madras® glass is manufactured by Vitrealspecchi, the Italian company with the longest experience in the chemical processing of flat glass on a industrial level. Fifty of its over seventy years in business have in fact been devoted to developing the potential of this processing technique, which finds application – with the products in the Madras® Architecture and Design range – in sectors such as furnishings and interior design, doors and windows and construction.
01.Madras® anti-slip glass for Expo 2015.
Designed by Studio Italo Rota in Milan, the Wine Pavilion is a journey through emotion and the five senses, through history and the world and future of wine.
Madras® Flooring glass contributed to the grandiosity of this truly exceptional project (it's the first time in the history of the Universal Expositions that a whole pavilion has been dedicated to wine). The product made it possible to create spectacularly luminous flooring over a wide area of the Pavilion's ground floor whilst guaranteeing safety for the public with its formidable performance characteristics: anti-slip, resistance to abrasion and ease of maintenance.
Pixel Flooring, the model chosen by the architects, is in fact certified not only in terms of dynamic friction but also surface abrasion, delivering excellent results.
This installation features the extraclear version of the glass, laminated with milk-white PVB and back-lit to cover the underlying floor and illuminate the scene to great effect. Madras® glass thus provided a fitting stage for thousands of visitors.
Photo: D. Brenna
 
02. Blue Madras® glass brise-soleils in the Ville Lumière.
The glass that was chosen to make the special brise-soleils characterizing the façade of the Europ Assistance building in Gennevilliers (Paris) is Madras®, and in particular its Punto xl-n Cristalli model, extra-clear and 8 mm thick.
Thanks to the regular pattern of tiny points across its surface, light from the LEDs along the edges of the glass is evenly diffused across the entire surface.
To obtain the blue colour, in line with the organization's corporate identity, the extra-clear glass was laminated with coloured transparent PVB. Only the use of a high quality base glass with perfectly regular etching and faultless lamination employing special techniques could ensure excellent results from both a technical and aesthetical viewpoint.
In daylight, the blue of the brise-soleils and other glass elements stands out against the white of the façade but it's at night that its luminosity comes to life.
Producer of Madras® Punto xl-n Cristalli light transmitting glass: Vitrealspecchi/Italy
Lamination: Isolglas, Vestone (BS) Italy
Photos 01-03:  Isolglas
 
03. A glass balaustrade: double face plays of perspective.
A glass balustrade can give defining character to an important public place, as in the case of the one designed by Smith Group JJR, Washington DC/USA, for the Genesis Cancer Care Center, Zanesville, OH/USA, and built by McGrory Glass, Inc., Paulsboro, NJ/USA.
The structure accompanies the staircases and opens out at the top to delimit the landing that accesses the doctors' offices. The glass used is Madras®, the glass with the widest range of textures and finishes for architecture and design produced by the Italian Vitrealspecchi.
To obtain the desired effect the choice of model fell on Fili Maté double face, which is particularly suitable here because of its large pattern with long and narrow satin-finish bands resembling huge stylized blades of grass on a transparent background, on both sides of the balustrade.
This creates an interesting play of superimpositions: dynamic, intriguing, visible from all angles and changing as the observer moves. Light, delicacy, design.
Madras® Fili Maté double face is the fruit of Vitrealspecchi's experience in satin-finishing and chemical etching of flat glass, and a byword for all-Italian quality.
Quality that's common to all models in the Madras® collections in terms of style, production and also maintenance. The silky and compact texture is permanent, is not altered by use or exposure to sunlight and is more resistant to fingerprints than glass that's apparently similar but produced by completely different processes, such as sandblasting and painting.
Madras® Fili Maté double face is available with the pattern parallel to either the short side of the plate (2,250 mm) or the long side (3,210 mm). It also comes in a non-double face version and also with a total satin-finish that blocks vision. It is suitable for a wide range of applications.
Externally, thanks to its large size pattern which can also be seen from a long way off, it's used for façades, perimeter openings (as in the church of Notre Dame de Bonsecours in Le Havre, France), balconies, shelters, balustrades, etc., and internally for partition walls, all-glass doors, shower cabins, etc. Interesting horizontal applications include tables and other all-glass work or display surfaces.
It is available on a monolithic float base to UNI EN 572 1-2, 2012 (temperable and laminatable) and also on float glass already laminated to UNI EN 12543: 2000.
In Europe it is supplied by a wide-reaching network of glass distributors and select glass processors. Full details can be found on the producer's website: www.vitrealspecchi.co.uk.
In the USA it is distributed exclusively by McGrory Glass, Paulsboro NJ, a leading flat glass fabricator since 1984 and a consultant to the Architectural Glass industry in the USA.
Genesis Cancer Care Center, Zanesville, OH, USA: balustrade in Madras® mod. Fili Maté double face glass, 10 mm, tempered and laminated.
Design: Smith Group JJR (Washington, DC/USA).
Construction: McGrory Glass, Paulsboro, NJ/USA.
04. Madras® Nuvola
The glass with a progressive satin finish
Imagine a wall as light as a cloud. You're imagining Madras® Nuvola, the exclusive new solution from Vitrealspecchi.
Where there's a need for screening, Madras® Nuvola offers all the opacity of a satin finish, and where the eye needs to see, it ensures glass of perfect transparency. But with the huge plus of a progressive transition from the satin finish to transparency, putting the product significantly ahead of traditional glass screened in bands.
This characteristic gives Nuvola a unique aesthetic that provides the visual lightness preferred by contemporary architecture and design. As well as simplicity of installation: its progressive screening, in fact, makes it far easier to fit together the panels of a partition wall, because there's no need to align patterns or bands.
And again, Nuvola's exclusive production technique also puts it a step ahead of frosted glass made by traditional sanding. Perfectly smooth to the touch, it ensures high resistance to fingerprints and scratches and is easy to clean.
Madras® Nuvola can be tempered, laminated and used in double glazing, so it lends itself to a range of applications both indoors and out: modular and partition walls, sliding, framed and all-glass doors, wardrobe doors and, in the bathroom, highly elegant and functional shower enclosures. Outdoors, it's ideal for parapets and balconies, shelters, façade elements and windows.
Wherever maximum privacy and maximum transparency are both required, whether in private or public spaces, the lightest solution is a Nuvola.
Technical characteristics
•    Base glass: float monolithic glass to UNI EN 572-1,2: 2004;
•    Plate size: 2250 x 3210 mm
•    Standard thicknesses: 12 mm max
•    Standard colour: clear
•    Weight: 2.5 kg/sqm/mm thickness
•    All mechanical and heat processes (cutting, tempering, bending, laminating, silvering, varnishing, etc.) are supported.
•    It can also be supplied, on request, with the satin finish area in a customized position or simply fading out from one end to the other.
Vitrealspecchi Headquarters: partition walls.
Madras® glass, mod. Nuvola, 5 mm, extra-clear, laminated with acoustic PVB and 5 mm extra-clear float.
Design: Ivo Pellegri
Walls: Unifor
Photos 03-05: Mattia Aquila
For further information on the technical characteristics of all Madras® glass products, please go to www.vitrealspecchi.co.uk
Madras® is produced by:
VITREALSPECCHI S.p.A.
Via 4 Novembre 95
22066 Mariano Comense (CO)
Italy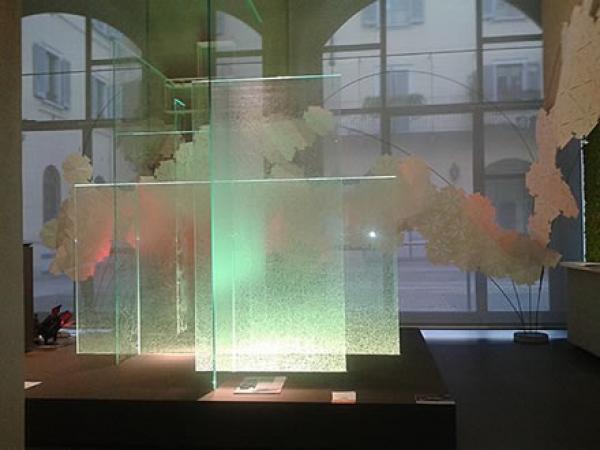 600
450
www.vitrealspecchi.co.uk
2016-04-11T13:00:00
Metropolis, imaginative skyline in Madras® glass.
glassonweb.com