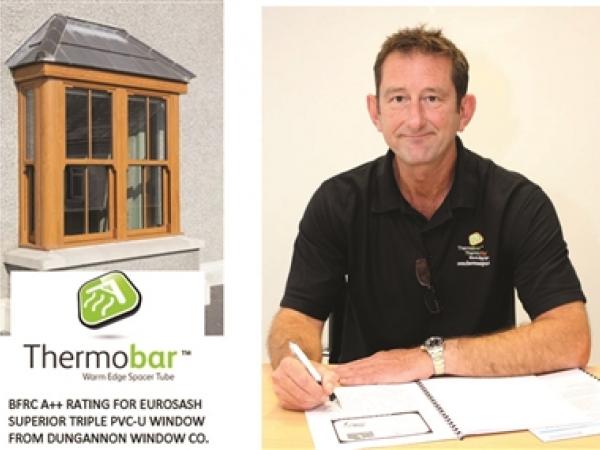 Photo source
www.thermosealgroup.com
Thermobar Warm Edge Spacer Tube from Thermoseal Group, has been specified by specialist trade fabricator, Dungannon Window Company Limited and subsequently awarded the UK's first-ever BFRC A++ rating for a PVC-U Vertical Slider.
This system has also achieved the lowest ever U-Value for the style at 1.0 W/m²K.
The new Eurosash superior triple 1.0 PVC-U window is triple glazed and utilises highest performance Thermobar Warm Edge Spacer in combination with Krypton gas. The achievement means that the ever-more popular vertical slider style can now be used without compromising energy efficiency, and the low U-Value will even allow the window to be used in Passive House buildings.
The outstanding thermal performance of Thermobar means it is ideal for achieving the best energy ratings in all types of window systems. It has a Bundesverband Flachglas thermal value of 0.14 W/mK and is Passive House approved and rated phA+ when used in conjunction with hot melt secondary sealant.
Sales Director at Thermoseal Group, Mark Hickox, said: "It has been an excellent year for us at Thermoseal Group and this A++ BFRC rating with Thermobar by Eurosash is yet another indication that our warm edge spacer tubes are best in the industry for many reasons.
"We are proud to offer a UK-engineered product which is supported by our own UK-based innovation centre pioneered by UK industry specialists to ensure that our products are industry-leading in performance, aesthetics and manufacturability.
"With over 35 years' experience supplying to IG manufacturers, we have recently been awarded two UK Glass and Glazing industry G15-Awards including Component Supplier of the Year and Training and Development Initiative of the Year. It is our business to understand how each component performs within the lifetime of an IG unit. This ensures that the components we manufacture and supply are second-to-none."
To find out about Thermoseal Group and its comprehensive range of IG components (including highest performance Thermobar and Thermoflex Warm Edge Spacers) and machinery for glazing manufacture, call +44(0)121 331 3950 or visit www.thermosealgroup.com.
For further information in relation to the Eurosash superior triple, see: http://www.the-glazine.com/WeeklyFolders/glazine12april2016/trade_fabricator_dungannon.htm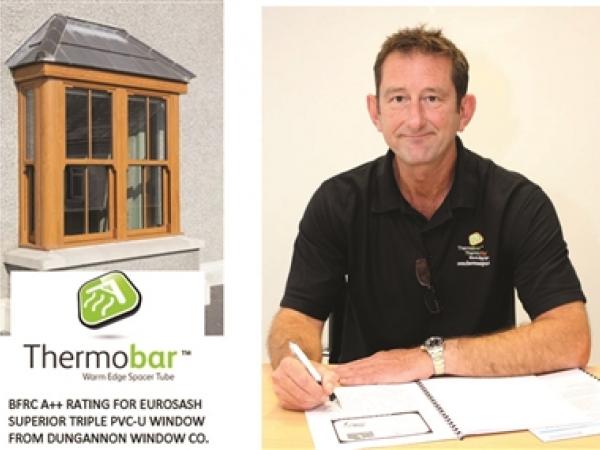 600
450
www.thermosealgroup.com
2016-05-12T13:00:00
Leading UK-manufactured spacer specified in the UK's first-ever BFRC A++ Rating for a vertical slider achieving U-value 1.0 W/m²K
glassonweb.com