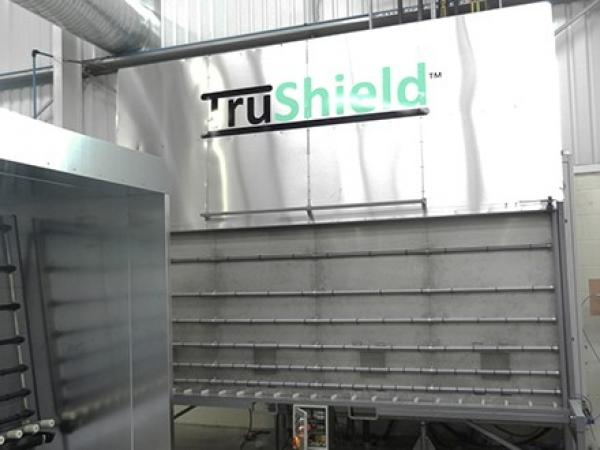 The first volume production line for TruShield® glass protection system from Edgetech UK, the leading voice for energy efficient glazing, is up and running at Double R Glass & Roofing Systems.
The Wellingborough-based glass unit manufacturer has added the new equipment within its decorative glass facility.
The line incorporates a spray booth, oven and easels to make application of TruShield to IGUs quick, easy and cost effective. The three step process prepares the glass and applies a fine layer of TruShield before the coating is cured in a specially designed oven which reduces production time significantly. TruShield protects glass to maintain its original performance and saves time, effort and money for end users by creating easy-clean glass.
Ian Sims, Managing Director at Double R says: "We have been using Edgetech's Super Spacer® for many years so we saw TruShield when it was launched. We knew immediately that we wanted to offer it to customers.
"Investing in new machinery means we can offer a far superior product and the personalised marketing support helps our customers differentiate themselves from their competitors. TruShield is extremely durable and resistant to all types of dirt which gives it the edge over alternative glass coatings."
Charlotte Davies, Marketing Manager for Edgetech adds: "We worked closely with Double R developing the volume production line for TruShield and their expertise in unit manufacture has been invaluable. This is the first set up of its kind in the UK and fills a gap in the market for a semi-automated system that enables high volume coated glass output without the need for large upfront investment. It's great too that Double R's customers are using our marketing support to demonstrate the benefits of TruShield."
Edgetech's marketing suite for TruShield includes plenty of support for installation companies. There are kits with samples of glass half with TruShield applied and half left untreated to demonstrate the difference when mud is applied. Consumer focused leaflets are available that can be personalised for companies using TruShield, and a DVD explaining the benefits of TruShield as well.
Edgetech is creating a national network of TruShield Approved Applicators. If you are an IGU Manufacturer or Fabricator interested in adding value to your offering with TruShield contact Edgetech today on: 02476 639931 or visit: www.trushield-glass.com.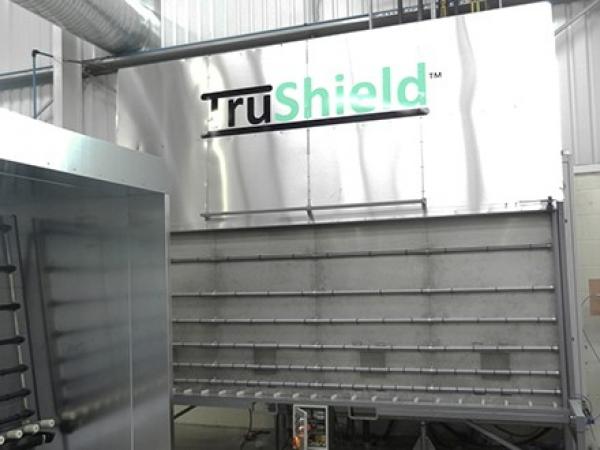 600
450
www.edgetechig.co.uk
2016-02-04T12:00:00
Double R installs the first volume TruShield IGU production line
glassonweb.com