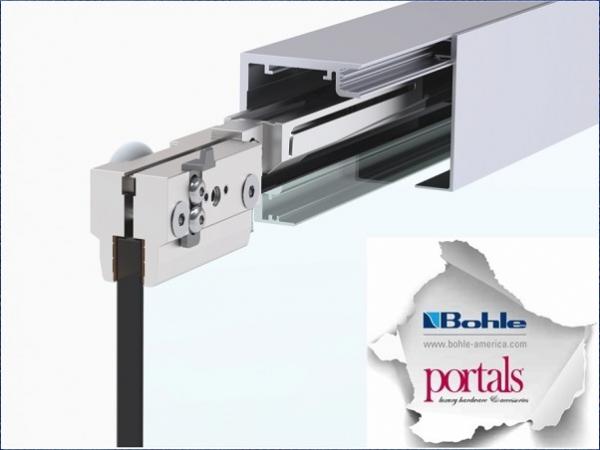 Photo source
bohle-america.com
With a busy fall show season approaching, both Bohle America and Portals Hardware are excited to make an impact with new products to display.
Bohle America and Portals Luxury Hardware will be appearing at the two premier trade shows this fall- GlassBuild America in Las Vegas, NV in September and glasstec in Dusseldorf, Germany in October.  At these events, Bohle America and Portals will have their lines of products on display and will be debuting their latest technology.
From Bohle America- MasterTrack FT
This high-tech complete solution for sliding door systems impresses with a revolutionary operation and noticeable ease of movement. Traditional sliders require a pushing effort to open and close a door. Not so with the new Bohle MasterTrack FT sliding system. The carriages run exceptionally quiet and give the feeling as if the glass door is floating when opening and closing. In addition, the entire assembly requires only a few steps.
The installation is correspondingly fast, intuitive and therefore cost-saving. To mount the glass in the clamping mechanism no measurement is required. The clamp is simply placed flush with the edge of the glass. Special clamping inserts provide a secure and firm hold of the disc.
This revolutionary sliding door system works with the same profile in every weight category. So even with high weight classes up to 150 kg, the narrow & elegant appearance of the track profile is maintained.
From Portals Luxury Hardware- Taiga Ultra Heavy Duty Adjustable Hinge
We are proud to introduce our new hinge that supports doors weighing up to 160 lbs. and up to 40" wide. We know your customers keep asking for larger doors and wider clear openings. On top of handling these larger doors, our hinge is also adjustable! Adjustable hinge allows you to set zero point of the hinge after installation and adjust for any irregular wall conditions
Hinges can be set toe in or out up to 30° without replacing the spindle.

Designed with ease of installation and the greatest flexibility in mind

Brass hinge leaves & back plates designed with square edges
Visit the Bohle America and Portals locations
GlassBuild America- Booth #617
Glasstec- Hall 9- A42
See us online for immediate details.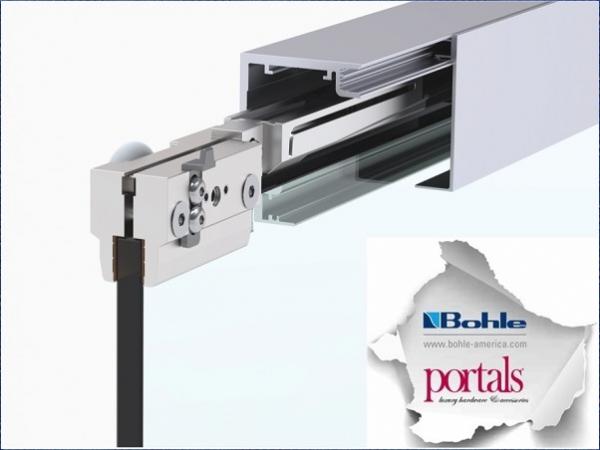 600
450
Bohle America
2018-07-30T11:20:00
Bohle America, Portals Hardware to Launch New Products at Upcoming Shows
glassonweb.com