Photo source
www.discoverair.co.uk
aïr privacy and insect screens are the ideal choice to complete your widespan door feature.
When the summer weather makes a much-anticipated appearance in Britain, we love it. It's a well-known fact that we live for the summer – the long days, warm weather, glistening sunlight, garden fun and gentle breeze.
We want to make the most of the summer, and widespan doors such as bifold and sliding doors are the perfect way for us to do this.
They allow us to open up our homes in captivating style, creating seamless connections to the outdoors and letting the natural light and summer air dance into our living space.
Widespan aluminium doors are a feature in themselves, which often makes the decision on how to dress them difficult. You don't want to ruin the illusion of an extended living space or hide the beauty of the sleek frames and walls of glass and block out the boundless sunlight. However, you do want to have some level of privacy and protect your home from any unwanted lodgers with wings or 8 legs from entering your home.
This is where aïr privacy and insect screens are the ideal choice to complete your widespan door feature.
aïr screens work in unison with aluminium widespan doors
aïr privacy and insect screens work as they are installed over bifold or sliding doors and have been designed to be opened and closed effortlessly in a concertina style.
They feature slim sightlines and a sleek style to perfectly complement the design of the most impressive bifold and sliding doors that aïr offers.
The mesh design of aïr screens means they offer a minimalistic style that complements any interior and colour scheme.
Let the fresh air in, keep the insects out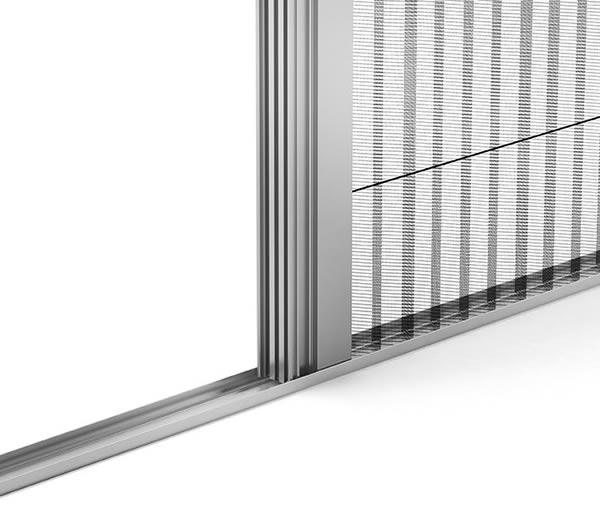 We know that you want to keep your bifold or sliding doors flung open all summer so the fresh summer air can flow through your living space.
But nothing is worse than when you're relaxing in the sun with an ice cold drink or fresh fruit when you're rudely interrupted by a loud buzz and the screams of everyone else in the room.
What you need is to be able to keep your doors wide open all day every day without worrying about any flies, wasps or other insects getting in.
With aïr privacy and insect screens, you can enjoy a clear connection to the outdoors while keeping any unwanted creatures out.
Keep your living space private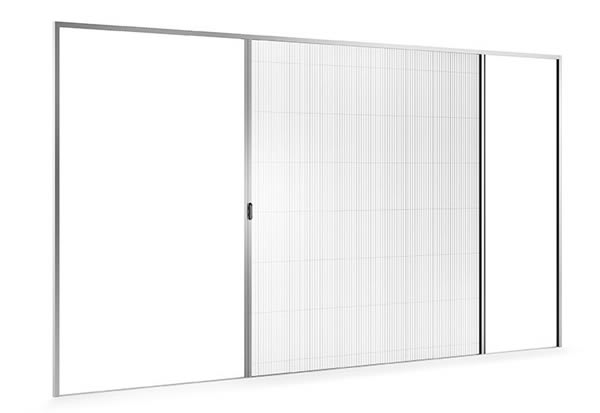 The walls of glass that bifold doors and sliding doors bring leaves you with an illuminated living space with stunning outdoor views.
However, this can sometimes leave you feeling exposed, for example when you aren't in the house or late at night.
To give you the right amount of privacy, aïr screens are the best choice.
The sleek style of the widespan door screens mean that they still allow you to enjoy your glazing feature and the impression of an open plan living space while keeping your home closed off from any intruding eyes.
The mesh design and slim sightlines also means that even when the screens are closed, they allow the natural light to shine through.
aïr privacy and insect screens are the perfect way to complete our aïr 800 bifold doors and aïr 500LS and 600LS lift & slide doors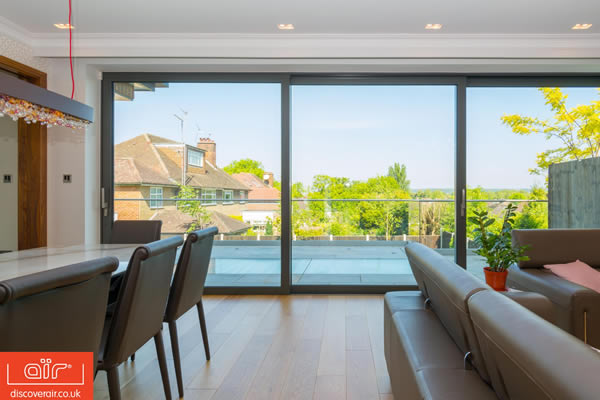 If you're interested in adding the wow-factor to your home with aïr 800 bifold doors and aïr 500LS and 600LS lift & slide doors, complete your feature with aïr privacy and insect screens.
Like our aluminium doors, the widespan door screens are available exclusively from our network of aïr Accredited Retailers.
aïr Accredited Retailers are experts in designing impressive home improvement projects and know all there is to know about the aïr range.
You can find your nearest aïr Accredited Retailer here, or get in touch with us directly here.
600
450
www.discoverair.co.uk
2019-07-03T07:00:00
aïr privacy and insect screens for bifold and sliding doors
glassonweb.com