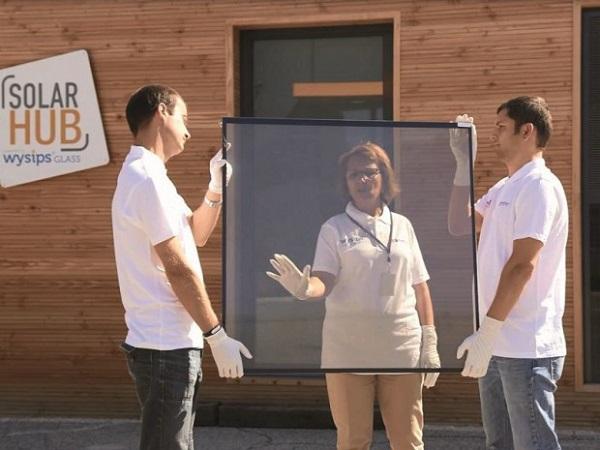 Photo source
sunpartnertechnologies.com
Solar has become the driving force behind the boom in renewable energies and solar capacities are growing rapidly. The trend now is to integrate solar cells into building facades and vehicles, mainly their glass surfaces.
Labs and startups are in a race to solve the final technical challenges. Their goal: the massive development of see-through photovoltaics.
Rapid expansion and record-low production costs, sometimes as low as USD$30 USD per megawatt hour in India, the United Arab Emirates, Mexico, and Chile: those are the conclusions for photovoltaic electricity in 2016 drawn up by the International Energy Agency (IEA).
In this report, Renewables 2017, the agency explained this success by the combined impact of public policies and lower costs for renewable energies (RE) in general and solar PV in particular.
Solar Power Driving Change
With connections about 165 GW worldwide, including Chinese solar electric trains, REs made up the bulk of the new energy capacity that came online in 2016.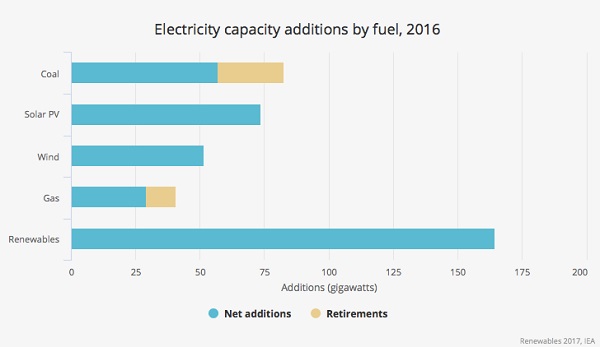 Photovoltaics lead the way: 74 GW of new capacity in 2016, nearly half of that in China. By 2022, the IEA expects that 920 GW of capacity will be added for renewables — an increase of 43%. This growth will be largely driven by photovoltaics, which are "entering a new era," says the IEA.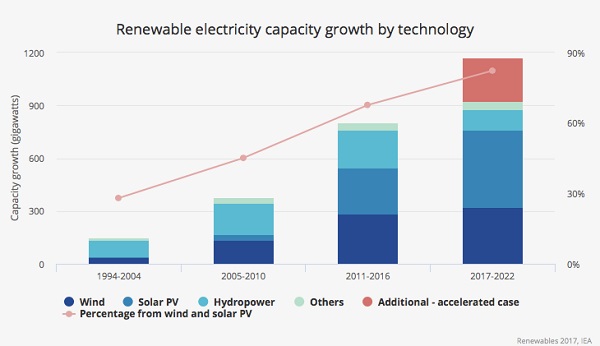 These trends coincide with other major developments. For example, since the majority of the Earth's population is concentrated in cities, energy will have to be produced closer to the demand. In addition, new technologies such as self-consumption will accelerate the growth of distributed energy generation.
In addition, European directives stipulate that starting in 2020, all new building must be "almost net zero" energy. In France, to obtain the newest building certification, Energie + Carbone –, new construction must produce 40kWh/m2 at ground level of renewable energy for commercial and 20kwh for residential so that they achieve a high level of energy performance.
To meet these requirements, solar has considerable advantages over other kinds of renewable energy. For example, how could a methanizer be installed near a building? Or wind turbines on the roof? With the existing state of technology, these other options are not possible.
Untapped Potential
Another argument for solar: the PV potential of cities is largely under-exploited. With all the roofs, tiles, facades, and windows, the opportunities for harvesting solar energy are immense.
A team of American researchers has calculated this potential in an article in the journal Nature Energy. Two of the authors, Christopher Traverse and Richard Lunt, are researchers at Michigan State University's Department of Chemical Engineering and Materials Science while the others, Richa Pandey and Miles Barr, work for a US company, which Richart Lunt also co-founded.
They found that a solar facility covering 20% ​​of the state of Nevada would provide all the electricity needed for the United States of America. Yet they also note that conventional PVs would only meet a small percentage of the planet's energy needs, far behind what fossil fuels can provide today.
Building Integrated Photovoltaics
We have long known of the benefits of transforming surfaces to capture and store light energy. Recent advances have also enabled PVs to retain aesthetics without compromising basic functions. Researchers are now focusing on maximising the power generated and certain other technical challenges need to be overcome.
According to this research team, the solution is photovoltaics that are applied on, or better yet, integrated into, buildings: BAPVs and BIPVs.
The boom in BIPVs is indisputable: the market was $ 3 billion in 2015 and promises strong growth for the coming years. However, there is room for improvement in the energy generated by BIPVs, as their output cannot yet provide the planet's total electricity needs.
Putting Windows and Facades to Work
These researchers believe that providing the energy needed to meet all demands would require a massive effort. To quantify this, they first calculated the surface area of all the roofs in the US that could produce solar energy: over 8 billion m2.
Of this total, only 16% meet the conditions for satisfactory generation, which would generate 1,400 TWh annually, or 40% of the USA's electricity demand. However, this area could be doubled if the other spaces contributed, such as windows and facades. If these surfaces are added, the US will be energy neutral, at least on paper.
To do this, researchers believe that transparent photovoltaic technology is the key. Two types of solutions exist: i) non-selective solar, which absorbs the entire spectrum of light but have a transparency of 0 to 50%; and 2) selective PVs, which generate energy from part of the spectrum (ultraviolet and/or near-infrared) and let visible light pass, reaching transparency of 50 to 90%.
Labs and Startups Hard at Work
Whether in development or already available on the market, these solar solutions have to address certain challenges, such as wear resistance due to exposure to the elements (air, storms).
According to these researchers, when exposed electronic equipment has a lifespan of ten years, less than the buildings they are installed on. As these technical challenges are being solved, a world of possibilities has opened up for transparent photovoltaics: building surfaces, windows, electronic displays and vehicles.
These challenges have sparked the interest of laboratories and startups around the world. The Michigan State University researchers mentioned above are working on transparent solar windows and display screens, as well as devices for the Internet of Things, by transforming the energy of certain light wavelengths into electricity.
The Smart Solar Mobility Project
Sunpartner Technologies also has expertise in this field. In addition to its photovoltaic surfaces and smart glazing for buildings and IoT using Wysips® technology, Sunpartner has just started a solar project for the transportation sector.
The Smart Solar Mobility Project brings together companies working to provide flexible photovoltaics for the automotive, railway, aeronautical and shipping industries.
A German company also offers flexible organic films that integrate directly into existing buildings. The company has recently equipped the roof of a French school, enabling it to generate 15% of its electricity needs.
Solar Power and the Future of Humanity
Another team from the National Renewable Energy Laboratory of Colorado (NREL) has developed a "reversible" window. Through a complex chemical reaction, this window switches from a transparent state, letting light into a building, to an opaque state to intercept photons and transform them into electrons.
In Tokyo, researchers at the Institute of Industrial Science have developed a window that filters out red and blue light, using it to generate electricity, while allowing green components of light, essential for human vision, to pass.
All these advances confirm the ideas of another researcher: Richard Perez, a well-known specialist on solar energy and professor at the State University of New York (Albany). According to him, solar can provide 100% of the planet's energy needs. He proves his argument with a diagram showing ​​the largely unexploited potential of solar power.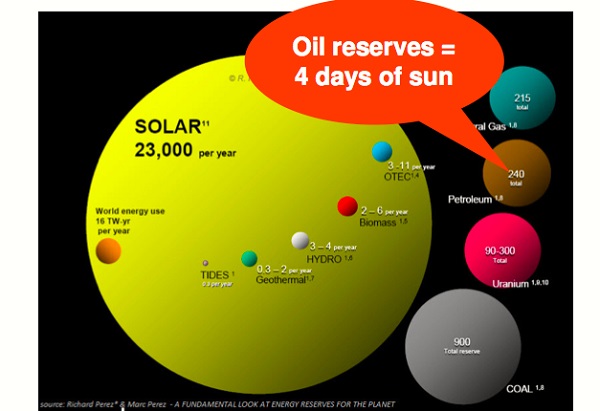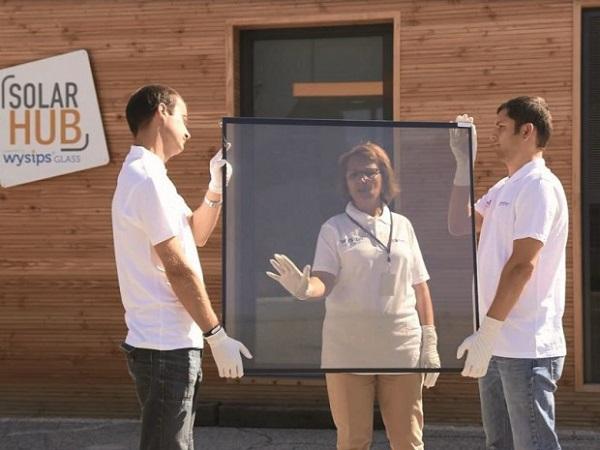 600
450
sunpartnertechnologies.com
2018-01-25T08:30:00
When Solar Panels Become Transparent | SUNPARTNER Technologies
glassonweb.com