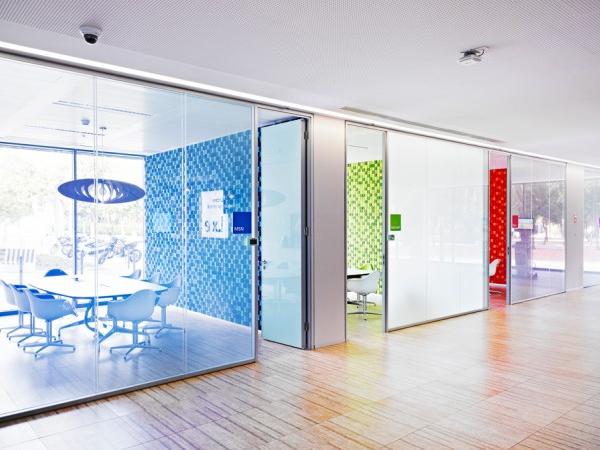 Photo source
smartglassinternational.com
Modern architectural designers are always seeking new ways to keep the world out but let the light in. The trend is relying increasingly on the innovative use of privacy glass to create fluid, bright spaces in both residential and commercial buildings.
Unlike traditional structural walls, glass privacy walls maximise available light and instantly establish a sleek, ultra-modern aesthetic.
Professionals are turning to privacy glass to provide a timeless solution to a modern problem, offering clients a versatile element that enhances not only their interior but also their lifestyle, often in unexpected ways.
1. Office Design
Modern commercial design is experiencing a shift toward open spaces that encourage productivity but maintain privacy. With privacy glass, employees can effortlessly and instantly toggle between reversible states of transparency without compromising the light level.
On one hand, offices can capitalise on the ergonomic benefits of natural sunlight to create a bright, spacious interior that stimulates productivity and ingenuity. On the other, workers can go into opaque mode for total privacy in meetings that require professional discretion. It's a space for all and a space for all things.
For an office with a spectacular view, privacy smart glass offers a seamless way for everyone to enjoy the sight. In opaque mode, the glass doubles as a presentation surface for HD projection. Privacy glass also eliminates the need for cumbersome curtains or blinds, allowing maximum light to radiate throughout and creating the sense of a spacious office.
For a wide-open floor plan, made-to-order privacy glass panels are a creative way to subdivide the space and encourage collaboration and teamwork, while still providing an outlet for closed-door meetings. From brainstorms to client meetings and confidential briefings, office privacy glass delivers total versatility for the demanding modern office in an incredibly attractive package.
2. Bar and Restaurant Design
Bar and restaurant owners must design a unique and memorable experience for each guest. Privacy glass walls can transform a large, basic space into a perfectly defined bar, dining area or velvet-rope VIP section with just a touch.
The ability to create an intimate and private space in turn creates an opportunity for venues to host VIPs and other high-end clientele who require discretion. By maximising square footage with an inviting modern design, owners can create the kind of impression that keeps guests coming back.
3. Bathroom Design
Nowhere is functionality and versatility more appreciated than in residential bathrooms, a traditionally tiny space that can often feel overlooked. A simple, elegant privacy glass wall can add an unexpected and thoughtful design element: by installing a privacy glass panel between the shower and the toilet or dressing area, homeowners can have a bathroom that can be used by multiple people while maintaining individual privacy.
Once privacy is no longer needed, a flip of a switch converts the privacy glass back to full transparency, drawing in as much natural light as possible and making the space feel bigger and brighter.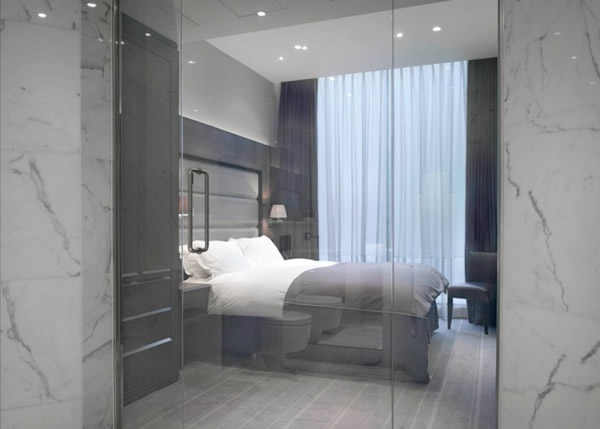 4. Bedroom Design
In both hotel and home design, designers are finding innovative ways to subdivide space in the bedroom while maintaining a cosy, inviting atmosphere. Particularly in modern and chic boutique hotels, privacy glass offers an innovative solution. As a transparent glass panel, it creates a surprising spaciousness with uninterrupted sight lines, and as an opaque divider, it still allows diffused light to fill the room.
Forward-thinking hotels are using privacy glass walls to separate the bathroom from the rest of the suite in a clever, high-tech way, enabling guests to transform the bathroom into a fully private space at will using an electronic switch.
In other cases, privacy glass panels have replaced standard partition walls or bulky electronic curtain systems. Offering both high durability and low maintenance costs, privacy glass is a cost-effective alternative for both hotel and residential builders. Practical and playful, switchable privacy glass gives users the joy of being able to customise their environment in literally a second.
Occasionally travellers fall in love with privacy glass while on holiday, then choose to install it in their own homes. Residential privacy glass can be used to open up the flow of a room, define en-suite bathrooms or partition study areas that can become quiet and private at the flick of a switch.
5. Living Room Design
Modern interior design is dominated by open spaces. Fluid layouts are replacing the partitioned floor plans of the past. Architects are using new design tools like privacy glass panels to create the feeling of separation without limiting views or sacrificing sunlight. These electric panels can open up both living and dining room spaces, while still offering privacy on demand.
In smaller homes or builds with open floorplans, this creative solution makes it possible to "add a room" only when needed, such as a formal dining room. For the savvy homeowner, the flexibility to define their space on a day-to-day basis offers truly modern living.
In both residential and commercial design, switchable smart glass is opening up traditional spaces to new ways of thinking. Whether in the office, home or a home-away-from-home, privacy glass walls maximise light and space while offering full privacy on demand.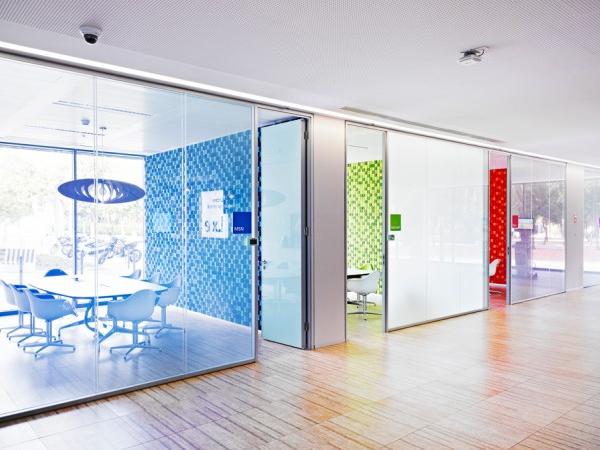 600
450
smartglassinternational.com
2017-02-23T09:30:00
Privacy Glass Walls: An Innovative Approach to Internal Partitions
glassonweb.com