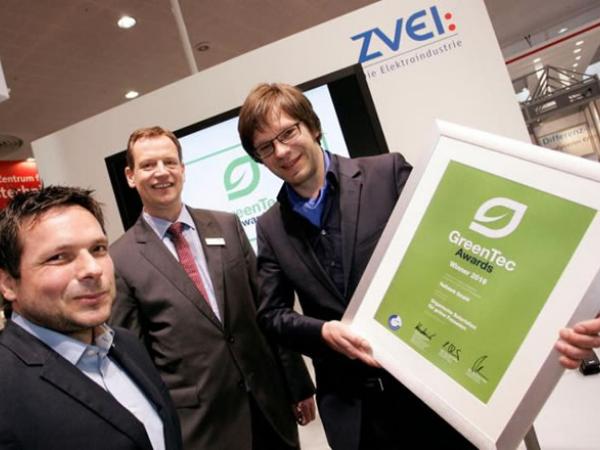 Heliatek has won the GreenTec Award in the "Production" category. The Dresden- and Ulm-based technology company won the award for its innovative, vacuum roll-to-roll pro­duction process used to manufacture HeliaFilm®, an organic solar film applied mainly on building façades.
The award was received by Dr.Ralph Wichtendahl, Vice President Operations of Heliatek during the Hannover Messe.
Hosting party of the ceremony was the ZVEI, Zentralverband Elektrotechnik- und Elektroin­dustrie, and the Managing Director of the ZVEI Automation division, Gunther Koschnick.
The prize recognizes the technological success of Heliatek as a leader in vacuum roll-to-roll organic semiconductor production.
"We are delighted to receive this GreenTec Award. It supports our vision for an environmentally friendly production process. It also recognizes our HeliaFilm® technology as a clean and green source of electricity, which plays a key role in distributed energy generation," commented Thibaud Le Séguillon, CEO of Heliatek GmbH.
Heliatek is currently undergoing market entry using a small industrial manufacturing line with the aim to mass produce and sell flexible solar film, using the same type of process on a larger scale.
The GreenTec Awards are among the most important European environmental and business prizes. Since 2008, innovative products and technologies with a focus towards a more environmentally friendly future have been selected and recognized in several categories. This year's festive award ceremony will take place on May 29 in Munich, Germany.
The GreenTec Awards' high-ranking jury recognized Heliatek for its innovative vacuum roll-to-roll production process. It offers many advantages: high throughput, high yield and low costs. For example, only one gram of organic material is necessary for one square meter of active HeliaFilm®. The low power consumption of the production process is a key feature next to the organic materials that lead to a uniquely short energy payback time of less than three months.
About Heliatek:
Heliatek is a leader in the field of Organic Electronics Energy, holding the world record efficiency of 13.2%. Through both its leading edge material development and its proven capability for volume manufacturing, Heliatek is the first company to begin commercialization of large area OPV solar film. Its business model is to supply the custom-designed HeliaFilm® to partners in industries such as building and construction materials, automotive and light architectural structures. Heliatek maintains a total staff of some 85 specialists at its facilities in Dresden and Ulm, Germany. Investors in Heliatek include leading industrial and financial companies such as BASF, Innogy Venture Capital, Wellington Partners, eCapital and Aqton SE. Research and development work, as well as the installation of production technology, have been funded by the Free State of Saxony, the Federal Republic of Germany and the European Union.
For further information on Heliatek please contact: Cornelia Jahnel / Heliatek GmbH / Treidlerstr. 3, 01139 Dresden Tel: +49 351 213 034 421; cornelia.jahnel@heliatek.com; www.heliatek.com
HeliaFilm is a registered trademark of Heliatek GmbH
About GreenTec Awards:
The GreenTec Awards were founded in 2008 by engineers Marco Voigt and Sven Krüger. The honoring of innovative green projects and products that lead the way towards a more eco-friendly future occupies center stage of the GreenTec Awards. The environmental prize is thus supposed to provide a platform for green innovations and technologies. Among the applicants for the highly coveted environmental award are established major enterprises as well as numerous young heads with innovative ideas. The awards are supported by well-established media partners like Frankfurter Allgemeine Zeitung, Newsgreen, ProSieben, and WirtschaftsWoche. With the special prizes Start-up or Galileo Wissenspreis, they specifically want to encourage small and newly founded companies or private persons and their green projects. Further information under: www.greentec-awards.com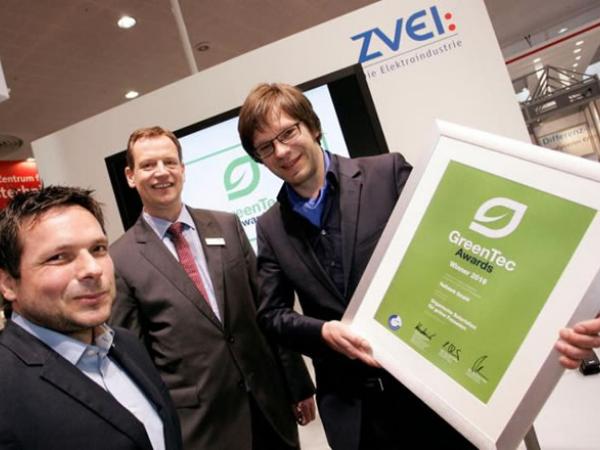 600
450
www.heliatek.com
2016-04-29T13:00:00
Heliatek wins GreenTec "Production" Award
glassonweb.com