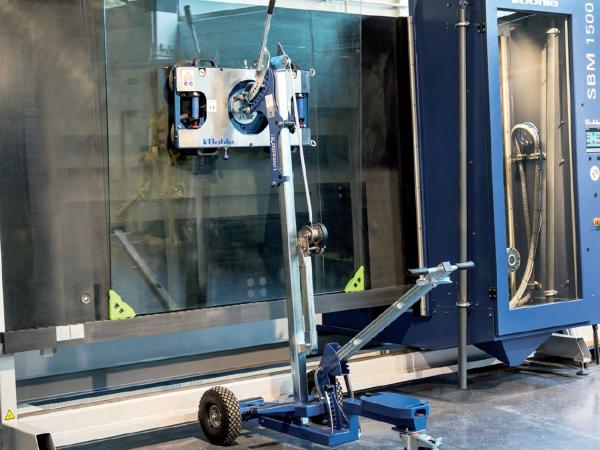 A cutting head developed specially for thin glass with constant and consistent pressure on the glass, a driverless transport system, a space-saving system for treating process water and a machine for the simple and fast transportation and installation of glass panes.
According to the German Machinery and Plant Manufacturers' Association (VDMA), these are just some of the highlights showcased by Germany's glass machine manufacturers from 20th to 23rd of September 2016 at glasstec in Düsseldorf.Ralf Ackermann is Sales Director at Bohle AG. "We've been a manufacturing company for nearly 95 years now," he says. "Although we've also developed a comprehensive retail range, we are continuing to develop and manufacture everything ourselves – right where we are, here in Germany." The company is a world leader in glass processing tools, but has also attained a remarkable position in machinery and equipment for the trade sector and increasingly also for the glass industry.
At glasstec Bohle AG presents its latest products and services in Hall 9, on about 1,000 square metres. This includes the Sedimentor 1.0, a system for the treatment of process water. It has a throughput of about 150 litres per minute, a load capacity of 1,000 litres and a cleaning capacity of up to 3.5 kilograms per hour.
Compared with the previous model, says Ackermann, the system is more compact and therefore saves space: "We've reduced the required space by around 30 per cent." While keeping the machine equally efficient and simple to handle, the company has apparently also succeeded in reducing manufacturing costs. This reduction, he says, can now be "passed on to the customer in the form of lower prices".
Moreover, Bohle Sedimentors are available in three different sizes and can serve quite a wide range of applications. They can be connected to the water tanks of glass processing machines and indeed entire production lines, and they are suitable for CNC machines, screen printers with the use of ceramic colours and even scraper conveyors. The water stays clean at all times, which reduces corrosion in processing machines and ensures longer tool lives and ultimately greater productivity. Also, there is no need to keep cleaning the tanks.
"On average, the cost of the system," says Ackermann, "pays off within about nine months, which is when the customer starts benefiting financially."
Liftmaster makes the work much easier
As well as the Sedimentor 1.0, Bohle AG is also showcasing its Liftmaster B1 for the extremely easy manual transportation and installation of glass units with diagonals up to 3.5 metres and weights of 180 kilograms. The Liftmaster is 1.2 metres long and, when its axes are retracted, only 80 centimetres wide, so that it will fit through almost any door.
To increase stability, the width can be extended to a maximum of 1.1 metres. The vacuum lifter, which is attached to a mast (also extendable), is supplied as standard, though, if required, it can also be purchased separately for use on a crane. All that is needed is an optional lifting arm on which the system is attached and suspended. Another benefit of the Liftmaster is that it only has five components which can be conveniently transported in almost any estate car. Moreover, with a bit of practice, it only takes just over three minutes to assemble and disassemble the device. "The machine," says Ackermann, "is flexible in its application and mak--es the work much easier, particularly with heavy and bulky glass units."
New cutting head ensures the right pressure at all times
While Bohle AG displays its products in Hall 9, the glass equipment manufacturer Grenzebach showcases its innovations in Hall 15. They include, in particular, a brand-new cutting head which has been specially developed for thin glass. What is so innovative about this machine is that its pressure on the glass is kept continually and consistently at a set value – thanks to a resistive wire strain attached to the cutting head. Working in real time, it registers the exact pressure at which the cutting head works. If the pressure does not match the set value, then the necessary adjustments are made by the CFC (Cutting Force Controller) – another new development.
Werner Rührer, Sales Manager for Float Glass, points out that the data provided by the wire strain ensure constant cutting pressure even for corrugated glass. The benefits, he says, are obvious: as the machine works at a consistent pressure, it produces "far fewer rejects" compared with conventional methods.
This improves the cutting quality and also the quality of the subsequent breaking process. Furthermore, the process values provided by the cutting head can be compiled in a database and, upon appropriate analysis, can be used for control optimisation.
"If," says Rührer, "the data tells you, for instance, that the pressure has continually been readjusted either up or down, then this may indicate that the glass thickness has been set incorrectly." The cutting head can be used for equipping not only new, but also existing Grenzebach systems. It is suitable for all glass units, particularly thin glass with thicknesses between 0.1 and 1.2 millimetres.
Driverless transport right into an intermediate warehouse
Another highlight presented by Grenzebach at the trade fair is a driverless transport system. "We want to automate the distribution of individual glass packages," says Markus Gruber whose responsibilities include new business. Although Grenzebach sells entire production lines, automation only goes as far as the stacking of glass units on the rack. Any transport to the distribution station or the intermediate warehouse and, from there, to the trucks is usually handled by forklift trucks.
Drivers work round the clock in three shifts every day. Grenzebach has developed a system for taking racks automatically to the distribution stations. Depending on the requirements, each vehicle is designed differently and therefore operates "with contour navigation", says Roland Jenning, head of Research & Development. It familiarises itself with its environment via a laser scanner, so that it can find its bearings all on its own. It is a totally new self-learning system and can be used at a plant without the need for structural alterations.
Grenzebach presents the system in the form of the L1200S, a futuristic-looking vehicle that can carry loads of up to 1,200 kilograms. "We can build transport vehicles with capacities of up to five tonnes," says Roland Jenning. The design apparently depends on the requirements.
But automatic transport from the forklift truck to the distribution station is only the beginning for Grenzebach. One further step will be to automate the journey from the distribution station to the truck. "We reckon we'll achieve that in the foreseeable future," says Gruber.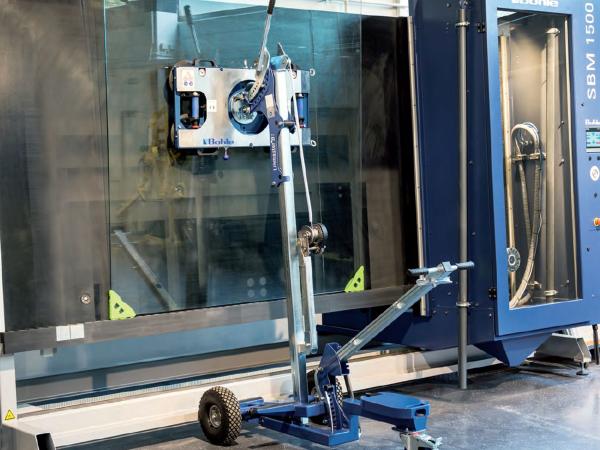 600
450
Glas.vdma.org
2016-07-12T13:00:00
At glasstec: German manufacturers are represented with many highlights
glassonweb.com