Photo source
www.clearvuepv.com
ClearVue to integrate Zurreal's imaging with its clear solar PV glass for architectural glass applications and long-term outdoor and indoor advertising applications.
Smart building material company ClearVue Technologies Limited has entered into a Memorandum of Understanding (MOU), with Limastar Pty Ltd (ABN 12 076 588 219) trading as Zurreal ("Zurreal").
Zurreal has over a number of years developed a proprietary high-resolution imaging technique for the application of high-definition artwork, images and advertising onto surfaces including glass.
ClearVue and Zurreal have been working together over the past two years to demonstrate a version of the ClearVue solar PV window and integrated glazing unit (IGU) that incorporates high resolution artwork and imagery to create a version of the ClearVue productsfor use in high-value applicationssuch as permanent inactive indoor and outdoor advertising and for custom designed building facades and curtain wall spandrels. ClearVue have called this add-on to its product mix ArtPV™.
ArtPV™ will combine the best features of the Zurreal artwork with the clear power generating features of ClearVue's solar windows to create grid-independent power generating art glass displays and inactive advertising panels.
Commenting on the signing of the MOU, ClearVue Executive Chairman Victor Rosenberg said:
"The MOU between ClearVue and Zurreal represents the first of many niche collaboration opportunities where ClearVue will be able to demonstrate the versatility of the ClearVue technology and products - in this case by combining our solar glass solution with Zurreal's very high definition artwork application process. ClearVue and Zurreal are both looking forward to seeing how architects and designers will use a combined solar glass and artwork product for specific architectural needs or for fixed inactive advertising display opportunities and for other outdoor and indoor applications."
ClearVue anticipates being able to implement the ArtPV™ product in different ways, including:
• As building façades - for example:
o in between floors (spandrels) in a high-rise building as part of a glass curtain wall solution;
o as whole sections or sides of buildings to provide visual interest to the structure and/or provide a more shaded solution for sections that might otherwise employ tinting to reduce visible light;
o façade art can take the form of high-definition textures, custom artwork, branding and logos, advertising or promotional content;
• Integrated into the built environment including for use on street furniture such as bus and tram shelters, train stations and highway/road barriers as self-powered lighted see-through art and advertising;
• As indoor or outdoor backlit advertising panels, signage and billboards;
• In applications where stained-glass windows (whether backlit or not) might be used including as artwork or for religious icons and artwork, or for schools and other public buildings; and
• Anywhere else that high-definition art glass is desired that needs to be backlit or the application otherwise requires localised grid-independent power.
The ArtPV product concept was demonstrated to the market at recent trade shows- firstly Fenestration 2018 in Port Douglas, Queensland and then at Glasstec in Dusseldorf, Germany - to gauge customer interest and industry feedback, which was positive.
The MOU, amongst other things, provides the basis upon which ClearVue and Zurreal will work together including that:
1. The Parties exclusively collaborate in regard to development of ClearVue solar window and solar curtain wall designs incorporating high definition images created using the Zurreal proprietary imaging methods for building facades and spandrels and indoor and outdoor advertising applications;
2. Zurreal agrees to enter into an exclusive license agreement (or other exclusive agreement) with ClearVue to supply Zurreal's artwork for specific applications and projects (the full terms of which are to be agreed as soon as reasonably practical but only after Zurreal has satisfied ClearVue as to the viability of its method of imaging for use with ClearVue's solar PV windows and IGUs and subject to ClearVue being satisfied as to market demand for the ArtPV products;
3. Under this arrangement, ClearVue to become exclusive global distributor (including through its own licensed manufacturers and distributor network) for ClearVue products employing the Zurreal imaging method including for the ArtPV products;
4. Zurreal to become a non-exclusive distributor of ClearVue products and technology for supply for ClearVue's solar PV glazing solutions but only when sold in a combined product format that integrates the Zurreal artwork (and excluding for building facades which will be exclusive to ClearVue and its licensees); and
5. An agreed referral process and pricing structure for both parties when selling the other parties' products and any profit split arrangement for advertising applications that employ the Zurreal artwork in combination with the ClearVue solar PV glazing solutions.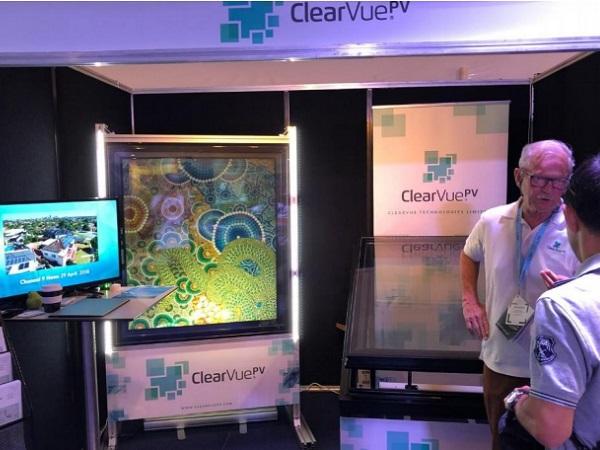 600
450
www.clearvuepv.com
2018-11-15T07:30:00
ClearVue signs MOU with art glass supplier Zurreal
glassonweb.com