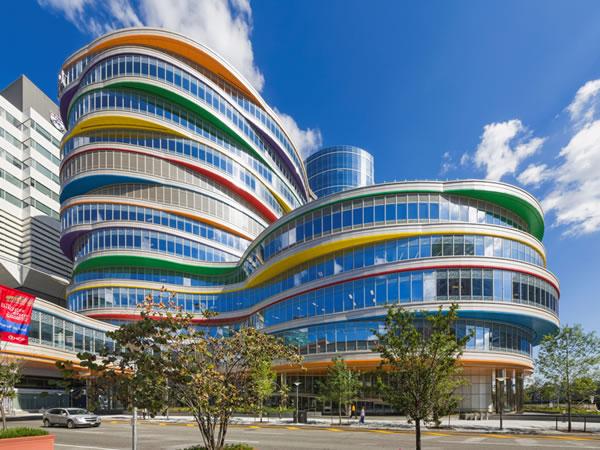 In July 2015, the Buerger Center for Advanced Pediatric Care opened as the newest addition to The Children's Hospital of Philadelphia (CHOP) campus, which serves more than 200,000 patients each year.
Designed by Pelli Clarke Pelli Architects and FKP Architects, the 12-story, 700,000-square-foot ambulatory care center is the focus of the new South Campus.Its curving curtainwall systems feature Valspar's high-performance Fluropon® coating systems in nine bold colors selected by the architects to give the exterior a vibrant, welcoming appearance.
Working with the architect and general contractor Turner Construction Company on the $425 million project, Baker Metal Products Inc. designed and manufactured the curtainwall and Enclos Corp. managed the installation. Five types of unitized curtainwall systems were customized for CHOP's Buerger Center. It included 4,219 shop-assembled and -glazed units, encompassing 151,000 square feet and incorporating segmented radius layouts. Texas Finishing Company painted all of the aluminum framing in Valspar's 70 percent PVDF resin-based Fluropon coatings to meet the strict requirements of the project and provide long-lasting performance and color retention.
"Stacked to create an undulating form, the building's floors vary in area and shape according to their function," describes Pelli Clarke Pelli Architects. "Toward the clinical spaces, the main wing's eight floors are aligned with a rectilinear spine. Along the waiting areas, floors are offset to create light-filled public spaces. The undersides of the floors are exposed, each revealing a single bright color."
"Using brightly colored Fluropon coatings, a horizontal accent band smoothly blends the complex connection between curtainwall and soffits," explains Jeff Alexander, vice president of sales for Valspar's global coil and extrusion businesses. "The colors change at each floor, alternating between orange, blue, red, yellow, green and purple. The primary colors match the child-friendly atmosphere further expressed with the handprints in the glass' frit pattern. It all adds up to create a cheerful welcome for the patients, staff and visitors."
Texas Finishing applied Valspar's coatings to the building components one floor at a time, and would encounter up to six color changes in a single day to fulfill the requirements of final assembly in fabrication. The remainder of the metal framing on CHOP's Buerger Center is finished in Fluropon Silver Pearl using a four-coat system on the exterior building components and a three-coat system on the interior building components.
"The colors applied very well without any issues," says Ken Martin, general manager of Texas Finishing. "It was an honor for us to be involved in such a unique project consisting of nine different colors, including some vibrant pigments accenting the building, which creates an inviting campus for children and their parents. We are confident that these colors will last for decades to come based on the superior coatings provided by Valspar."
Durable finishes contribute to the project's longevity and reduce the need for maintenance throughout its life cycle. Valspar's Fluropon coatings meet or exceed the American Architectural Manufacturers Association's stringent standard, AAMA 2605 high-performance exterior specification. Fluropon demonstrates reliable performance including resistance to harmful ultraviolet rays, chemical degradation, abrasions and humidity. These attributes also support green building goals as the project seeks LEED® Silver certification.
**
Buerger Center for Advanced Pediatric Care, Children's Hospital of Philadelphia (CHOP);
Civic Center Blvd. and East Service Drive, Philadelphia, PA 19104; http://CHOPbuildinghope.org
* Design architect: Pelli Clarke Pelli Architects; New Haven, Connecticut; http://pcparch.com
* Architect of record: FKP Architects; Houston; http://www.fkp.com
* General contractor: Turner Construction Company; Philadelphia office; http://www.turnerconstruction.com/office-network/philadelphia
* Glazing contractor: Enclos Corp.; Eagan, Minnesota; http://www.enclos.com
* Curtainwall systems, manufacturer: Baker Metal Products Inc.; Dallas
* Coatings applicator: Texas Finishing Company; Carrollton, Texas; http://texasfinishing.com
* Coatings provider: The Valspar Corporation; Minneapolis; http://www.valsparinspireme.com
* Photos by: ©Jeff Goldberg/Esto
Valspar: If it matters, we're on it.®
Valspar is a global leader in the coatings industry providing customers with innovative, high-quality products and value-added services. Our 10,800 employees worldwide deliver advanced coatings solutions with best-in-class appearance, performance, protection and sustainability to customers in more than 100 countries. Valspar offers a broad range of superior coatings products for the consumer market, and highly engineered solutions for the construction, industrial, packaging and transportation markets. Founded in 1806, Valspar is headquartered in Minneapolis. Valspar's reported net sales in fiscal 2014 were $4.5 billion and its shares are traded on the New York Stock Exchange (symbol:VAL). For more information, visit http://www.valspar.com and follow @valspar on Twitter.
Valspar news releases and other investor information are available at http://www.valsparglobal.com/investors.
###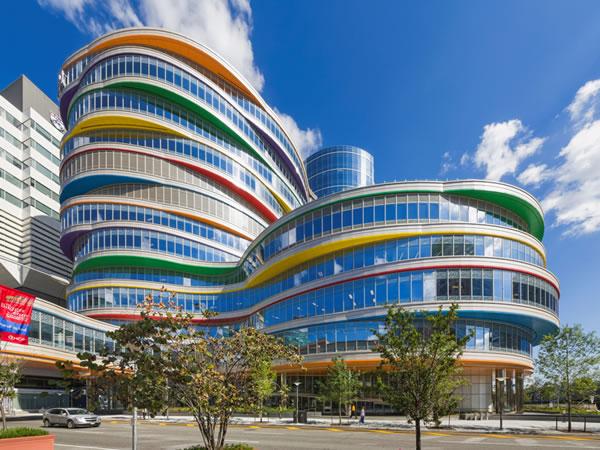 600
450
The Valspar Corporation
2016-02-29T12:00:00
The Children's Hospital of Philadelphia addition features nine of Valspar's PVDF colors
glassonweb.com