Photo source
www.q-railing.com
Q-railing provided Easy Glass Pro glass balustrades for the project.
The Ayalto Integral architecture studio has created a strikingly modern campus for the University of Gibraltar by transforming a nineteenth-century fort that looks out over the sea towards Africa.
The design of the new university building emphasises transparency and openness while retaining the integrity of the historic structure. This innovative project received the 2015 Gibraltar Heritage Award.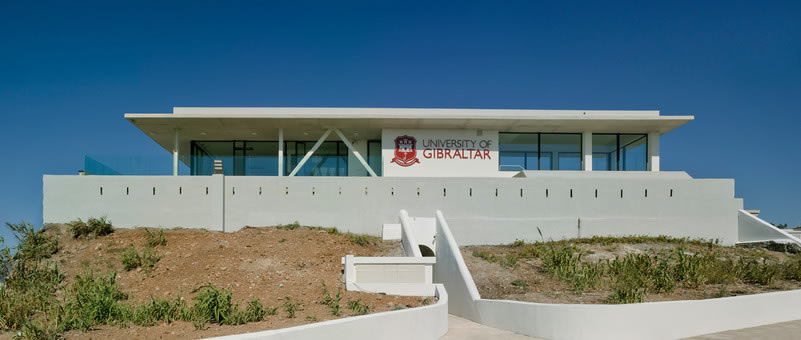 The first step was to renovate existing buildings and adapt them to the requirements of the university. Several new buildings were also constructed. A variety of 'in-between spaces', such as cloister gardens, integrate the new structures with the fabric of the old fort.
To provide an overall organising principle for this complex project, the architects created 2 main axes running through the site: north-south and east-west. The north-south axis is used to organise movement from the north entrance and courtyard through the main building to the former barracks.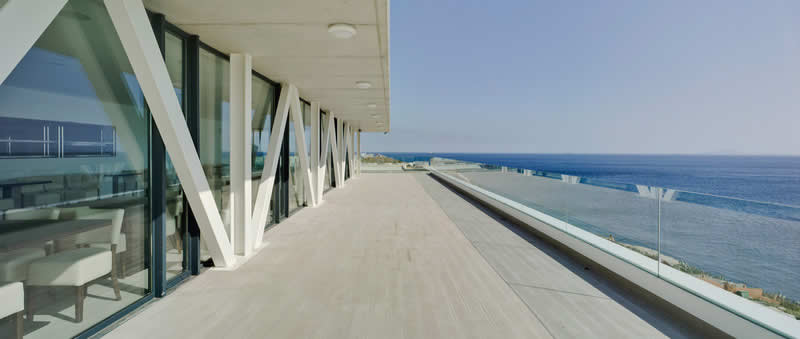 This structure has been renovated and provided with state of the art teaching spaces, offices and staff support facilities. Above the barracks is a new restaurant with expansive balconies and beautiful views.
At the crossing point of the 2 axes, there is a main reception, a new hall and a learning café. The whole of this central gathering area is enclosed in a white steel-frame structure. A covering of brise soleil elements allows filtered natural light to flood dramatically through the lofty interior spaces.
Throughout the university buildings, new meets old. In particular, glazed façades and glass balustrades are positioned in striking contrast with original structures such as brick vaults.

About the project
Fusing a historic fabric with modern design elements, such as glass balustrades, presented numerous challenges. It required close cooperation between product manufacturers, including Q-railing, and the project architect.
'For example, in all the glazed balustrade systems, we needed to achieve a demanding resistance parameter, in accordance with British Standards. Q-railing provided Easy Glass Pro glass balustrades for the project.
They also constructed and tested the solution, certifying values required by Building Control,' says principal architect Xavier Ozores Pardo.
For the architects, there were 2 key design goals: to create seamless transitions between materials, and to achieve maximum transparency, providing spectacular views.
'We wanted to enhance sea views, especially out towards Africa and the Estrecho, by making functional elements such as handrails disappear,' explains Ozores Pardo.
These goals are most fully realised in the university's new restaurant. Its totally glazed façades and all-glass balustrades allow for impressive, unobstructed views out across the sea towards Africa. This exemplifies the architect's sensitive design approach, and brings out the full potential of the site.
600
450
www.q-railing.com
2016-11-03T13:50:00
Outward-Looking Design by Q-railing
glassonweb.com