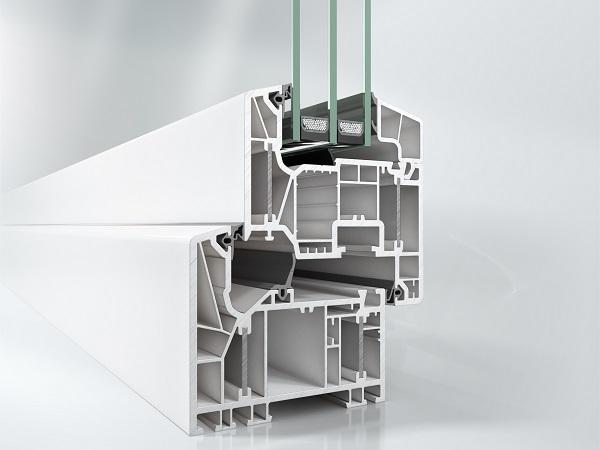 Photo source
Steel-free Schüco LivIng Alu Inside window system with patented aluminium profile rolling technology for the best thermal insulation efficiency (Uf value of 0.87 W/m²K) | Image: Schüco Polymer Technologies KG
The new Schüco LivIng Alu Inside PVC-U system allows steel-free windows suitable for passive houses to be produced economically on an industrial scale.
The weldable EPDM rubber gaskets rolled in the factory have excellent recovery properties, guaranteeing the best weathertightness and ensuring the windows have a long service life. Schüco is currently the only systems provider with this sealing technology, purchased in Germany from Semperit.
Patented aluminium profile rolling technology
Schüco LivIng Alu Inside does not require any steel reinforcement. Instead, the company uses its tried-and-tested and patented aluminium profile rolling technology, whereby continuous aluminium strips are simultaneously extruded into PVC-U profiles.
They provide the entire construction with a level of stability which almost rivals that of steel-reinforced profiles. It also has excellent heat reflection and can be easily recycled. Prior to welding, the aluminium insulating bars can be milled back simply and quickly using an insulating bar milling machine.
No time-consuming screw fixing for steel reinforcements is necessary. All other fabrication steps are carried out in the usual way and using conventional production facilities. The lack of steel reinforcement also has a positive effect on the unit assembly: the units are lighter and therefore easier to handle.
As this construction is part of the Schüco LivIng system range, fabricators can combine it in a variety of ways and make use of a number of identical main and accessory profiles as well as the matching range of aluminium cover caps.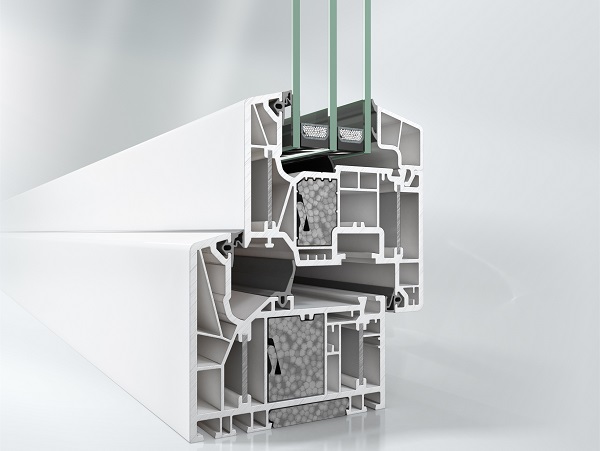 Weldable EPDM gasket
In close collaboration with Semperit, Schüco has developed and launched the first weldable EPDM gasket for window and door systems. Even after welding, the gasket remains elastic and soft in the otherwise critical corner area, creating a permanent sealing effect.
The fabrication of PVC-U profiles is also made considerably easier by the simultaneous welding of the gaskets. The EPDM gaskets, which are UV-resistant and stable in cold temperatures, provide permanent elasticity for all climate zones in temperatures ranging from -40 to +120°C. Semperit has been granted the patent for this technology.
Design details
The 7-chamber profile construction, the dispensation with steel reinforcement and the specific positioning of the aluminium hinges mean that Schüco LivIng Alu Inside has no thermal bridging.
The centre gasket system with three drainage levels, optimum division of the chambers and its large-volume additional insulation zones for the optimum accommodation of insulating blocks achieves excellent thermal insulation (Uf value of 0.87 W/m²K) – making it suitable for passive houses in accordance with Dr Feist (Uf value of 0.79 W/m²K).
The optimised rebate base geometry allows the optional use of additive adhesive technology. For special design requirements, the system is available with a solid-grey base material. The construction can be coloured with external Schüco TopAlu cover caps, the metallic colours of Schüco AutomotiveFinish and a wide range of foils. 
Energy-saving windows in the Schüco LivIng Alu Inside profile system range are 100% recyclable. The PVC-U and aluminium materials are recycled by Rewindo GmbH and used for the manufacture of new profile systems. 
The market launch of Schüco LivIng Alu is scheduled for September 2018.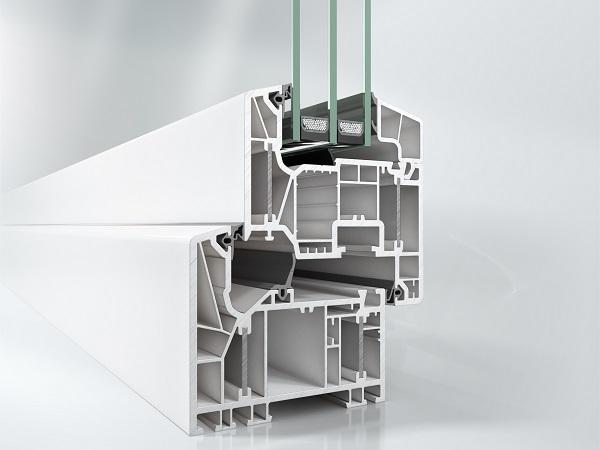 600
450
www.schueco.com
2018-03-30T08:00:00
New steel-free window system: Schüco LivIng Alu Inside
glassonweb.com