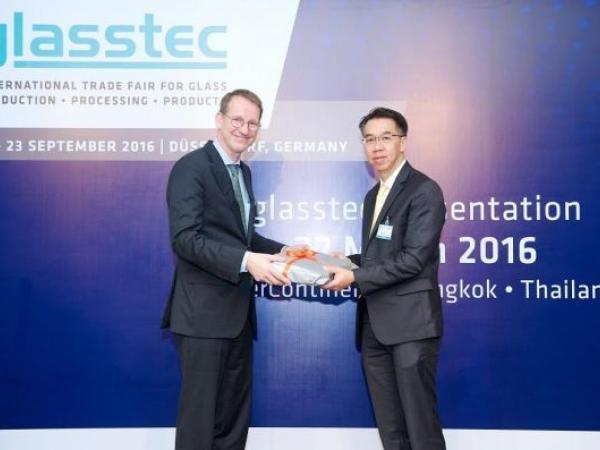 Photo source
www.thailand4.com
Messe Düsseldorf, one of the world's most successful trade fair organizers, is set to present the world's most important show for the glass industry - glasstec 2016. 
glasstec 2016 is the only event that will showcase the entire spectrum of glass materials – from production to processing and application, right up to recycling. The show is organized every two years and this year show will be held from 20-23 September 2016, in Düsseldorf, Germany.
Thailand's glass industry is one of the key industries in the nation, with the highest production volume in the ASEAN region, with an export value at 3.5 billion baht per year. There are over 200 factories, and the estimated growth per year is 20 to 30 per cent. With this high potential and continuous growth, Thailand has been selected for a glasstec 2016 presentation, to introduce and present the insights of this trade fair to the Thai professionals in the industry, which is taking place here in Bangkok yesterday.
glasstec 2016 will once again present a comprehensive bandwidth of all innovations, trends and solutions combined with a sound professional support program, featuring practical and scientific insights
"glasstec 2016 is a must for Thai professionals in architecture, building construction, window + façades, packaging, auto glass manufacturing, solar end products, glass processing & finishing, and glass manufacture / production technology. Its wide-ranging ancillary programmes include special shows and conferences that will certainly provide added value for Thai visitors," said Michael Degen, Executive Director of Messe Düsseldorf GmbH. "We will see again this year that glass is set to assume an even greater role in a wide variety of working and home environments – whether in architecture, engineering, or the automotive industry. Glass and innovation go hand-in-hand."
glasstec is a trendsetter in the industry, partly because of the unique range presented by the exhibitors, and partly through its special show, as well as many spectacular exhibits, innovative products and forward-looking solutions with relevance to the next 3-5 years. The special exhibition will feature a high-calibre industrial symposium with a variety of talks on a highly topical subject.
Mr. Viwat Supatham, Chairman of the Thai Glass Manufacturers Industry Club, The Federation of Thai Industries, said "This trade fair is significantly important to Thai professionals in the glass industry who should not miss such an important opportunity to learn about new technologies, techniques, and innovations, including trends in the industry and market, to develop their businesses. From the visitor record of glasstec 2014, almost 300 Thai traders attended, and this year even more Thai visitors attending glasstec 2016 are expected".
glasstec 2014 attracted a high-calibre international audience, with more than 1,200 exhibitors from over 50 countries. It was attended by some 43,000 international trade visitors. With over 1,200 exhibitors expected this year, glasstec 2016 will once again enable industry professionals from all over the world to come together in one place and find just about everything that would be of interest to them in their industry.
For more information and registration, please go to http://www.glasstec-online.com/ or contact Khun Kanokorn Kadun, Exposis Co., Ltd., representative of Messe Düsseldorf Asia in Thailand. Call 02 559 0856-8 or write to info@exposis.co.th
photo caption: (from left to right) Mr. Michael Degen, Executive Director of Messe Düsseldorf GmbH, 2.Mr. Timo Feuerbach, the Representative from German Engineering Association and Glass Technology Forum, Khun Viwat Supatham, Chairman of Thai Glass Manufacturers Industry Club, Khun Pairojana Meethawee Executive Director of Thai Packaging Association and Khun K. Chinwong Pongcharoensirikhun, Secretary General of Thai Formed Glass Dealers Association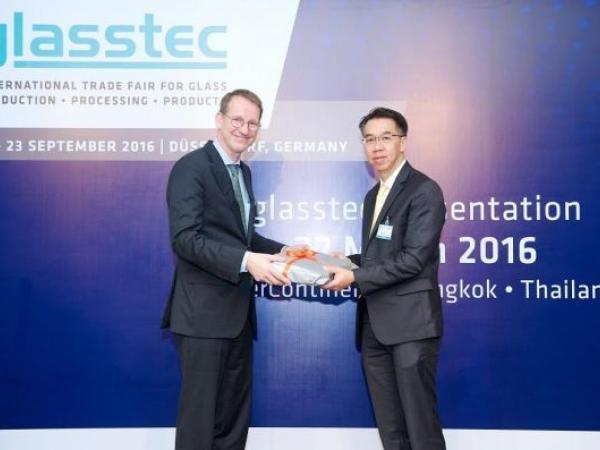 600
450
www.thailand4.com
2016-03-29T13:00:00
Messe Dusseldorf looks to strengthen Thailands glass industry with glasstec 2016, The worlds most important show for the glass industry
glassonweb.com