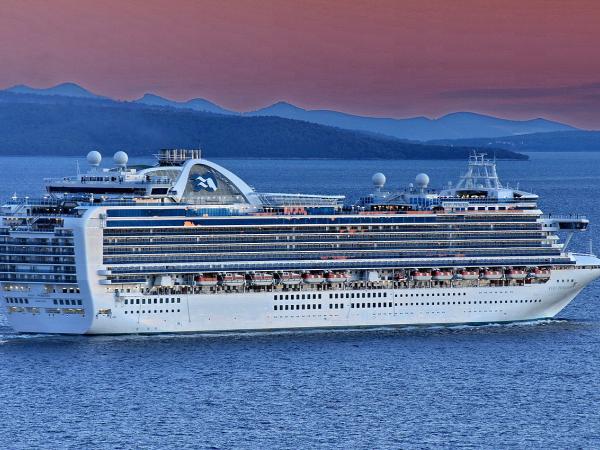 Photo source
Wikipedia.org
SentryGlas® interlayer used on the new Ruby Princess cruise ship
Over 5,000 square metres of tempered laminated glass with DuPont™ SentryGlas® interlayer is used to form the exterior glass balustrades and windscreens on the cruise ship Ruby Princess, the latest vessel to join the fleet of Princess Cruises.
The Italian ship builder Fincantieri adopted a new, light balustrade system from Somec Marine & Architectural Envelopes SRL (Italy), featuring the SentryGlas® laminate, in order to reduce weight while ensuring compatibility with new safety standards from Lloyd's Register.
Indeed, by using SentryGlas® laminates in Somec's light balustrade system on the Ruby Princess, a weight saving of approximately 50 tons has been gained versus the adoption of a standard laminate with a polyvinyl butyral (PVB) interlayer, as well as the benefits of enhanced structural performance, excellent post-glass breakage performance and high durability in the marine environment.
The Ruby Princess, built by Fincantieri at the Monfalcone yards near Trieste, Italy, was christened on the 6 November 2008 in Fort Lauderdale, Florida (US), and has spent its maiden season cruising the western Caribbean. The $400m ship has a displacement of 113,000 gross tons, an overall length of 290m, a width of 36m and a maximum speed of 23 knots.
There are a total of 1,549 cabins spread over its 19 decks, accommodating up to 4,800 passengers – guests and crew included. Glass balustrades form balconies on decks 8 to 15, and line the public areas on decks 14 to 18. They are also used as windscreens on decks 16 and 17.
As reflected in the design of many of today's cruise ships and super-yachts, the increased use of glass enhances the passengers' views, provides a sense of openness to the outside and brings in the natural light and beauty of the sea.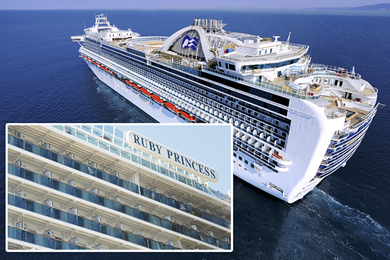 New Lloyd's Register standard poses weight challenge
Beyond their visual appeal, glass construction elements in the marine industry are required to withstand both human and wave impacts and harsh climates, thereby ensuring passenger safety. As a consequence, all glazing used on ships is subject to norms and standards developed by a national or international standards organisation (ISO, BS, EN) specific for marine applications. In addition, each cruise ship project is assigned to a marine classification society, such as Lloyd's, to ensure that the ship is built in accordance with approved plans and in full compliance with its classification rules.
In this instance, it was a change in Lloyd's Register's safety rules for exterior glass balustrades on ferries and passenger ships in 2005, requiring tempered monolithic glass to be replaced by tempered laminated glass for enhanced safety, that presented a significant challenge for the design of glass balustrades intended for the Ruby Princess.
"A change to standard laminated glass with a PVB interlayer brings with it a significant increase in weight," explains Valentina Gizzi, marine glazing segment leader at DuPont Glass Laminating Solutions "Whereas 10 mm tempered glass would have been previously used for a cruise ship balustrade, we calculate that the change to standard laminated glass would require an increase in thickness to 14 mm in order to ensure the same load-bearing capacity. This 4 mm increase in glass thickness represents a weight increase of approximately 10 kilograms per square meter."
 
A thinner, lighter and more durable laminate alternative
The change in safety rules, and consequent increase in weight for standard balustrade systems, prompted cooperation between Fincantieri and Somec Marine to find a new, lighter solution. "We were already familiar with the structural performance of laminates made with SentryGlas® interlayer," says Christian Sossai, engineer at Somec.
"Due to their much enhanced strength behaviour and reduced laminate deflection versus a conventional PVB laminate, we were able to develop and propose, in partnership with DuPont, a stronger and more secure balustrade system using a thinner laminate construction (6 mm tempered tinted glass + 1.52 mm SentryGlas® + 4 mm tempered tinted glass) of equivalent thickness and weight to the original monolithic tempered glass."
Part of the manufacturing process for Somec's new balustrade system was conducted in cooperation with Formator Safety Glass d.o.o. (www.formator.hr), specialists in the production of tempered, heat-strengthened and laminated glass.
The high stiffness of the DuPont interlayer, approximately 100 times that of PVB, means the glass laminate remains intact in the event of accidental breakage, while the dangerous glass fragments remain adhered to the interlayer. Accordingly, the potential danger to passengers is reduced and the structural capacity of the balustrade is retained. Additionally, SentryGlas® laminates show excellent durability performance in marine conditions.
Extensive product testing, including salt spray fog testing, during which glass panels with SentryGlas® are exposed to 500 consecutive hours of salt spray, has shown the laminated glass panels to remain unchanged in terms of their structural performance and their transparency. Thanks to their exceptional edge stability, no undesired changes such as delamination, caused by the humidity of the marine environment, occur.
In accordance with marine industry requirements, the new light balustrade system was extensively tested and approved at facilities belonging to Somec Marine and in the presence of Lloyd's Register. "Our testing verified the performance attributes of Somec's light balustrade system with SentryGlas® laminates at a reduced thickness versus standard PVB laminates," confirms Mario Croce, manager of the Trieste design support centre.
"I believe the adoption of SentryGlas® interlayers from DuPont will facilitate the replacement of tempered glass with tempered laminated glass in marine balustrades, bringing with it increased safety without compromising weight."
DuPont Glass Laminating Solutions provides materials, services and innovations to makers and specifiers of laminated glass. It helps create a better world by improving home protection and automotive safety, and enabling design of stronger, more energy-efficient buildings that let in more natural light.
DuPont is a science-based products and services company. Founded in 1802, DuPont puts science to work by creating sustainable solutions essential to a better, safer, healthier life for people everywhere. Operating in more than 70 countries, DuPont offers a wide range of innovative products and services for markets including agriculture and food; building and construction; communications; and transportation.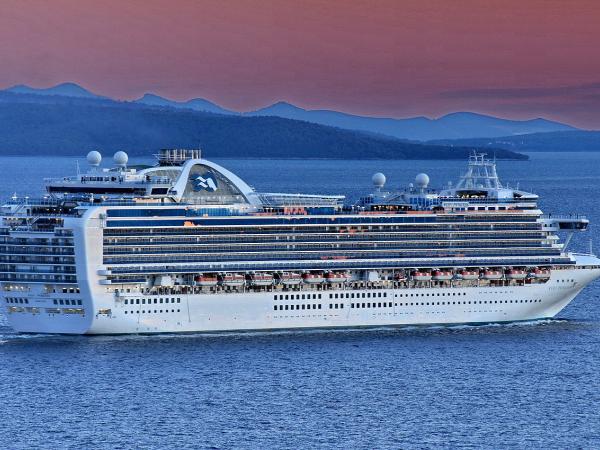 600
450
DuPont
2009-11-24T13:50:50
Lighter, safer laminated marine glazing with DuPont™
glassonweb.com