Over the last 15 years GPD pub has been organized in heart of Dusseldorf's Altstadt.  Renowned for being the leading after dinner meeting place, it remains the best for place for glass specialists to meet and network in a relaxed atmosphere.
The popularity of the pub stems from the fact that Glasstec participants may not be able to arrange dinners for every client, but can meet them at the pub before and after dinner. Visitors include glass industry experts, structural engineers, architects, academic professionals, GPD sponsors, speakers and supporters.
Timo Suomi, Ayrox has been sponsoring the GPD Pub event for many years and according to him, 'It is an excellent place to meet old and prospective customers. This year, with the addition of the VIP wine bar in the downstairs part of the pub, networking will be even more convenient due to the serene atmosphere of the wine bar area.'
Currently, GPD Pub 2016 has the following sponsors - AGC Interpane, Sparklike, Fenetech, Advanced Energy Industries ,Dow Corning, Frintrup, THIEME, Kramer & Best, Ayrox, Haldenwanger, Glass online and Glass Technology International. There is still room for more sponsors. If you are interested in becoming a sponsor, please contact Mr. Jorma Vitkala (Jorma.vitkalata@gpd.fi, +358 40 553 2042)
 
Mr. Jorma Vitkala
Chairman of the Organizing Committee
GPD Glass Performance Days
Vehmaistenkatu 5, 33730 Tampere, Finland
Tel. +358 10 500 6216
Mobile: +358 40 553 2042
E-Mail: jorma.vitkala@gpd.fi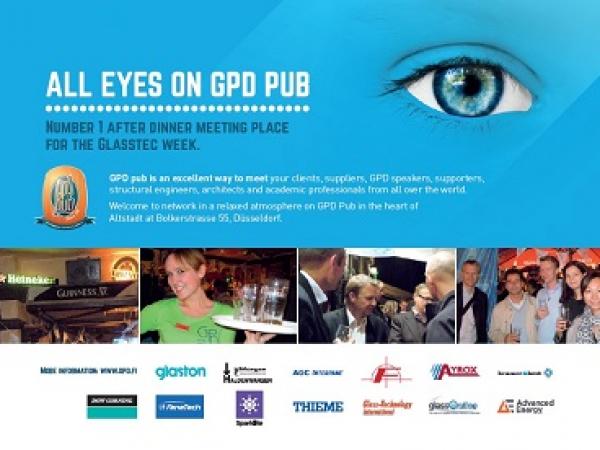 600
450
www.gpd.fi
2016-06-21T13:00:00
GPD Pub will once again be organized during the Glasstec 2016 week!
glassonweb.com