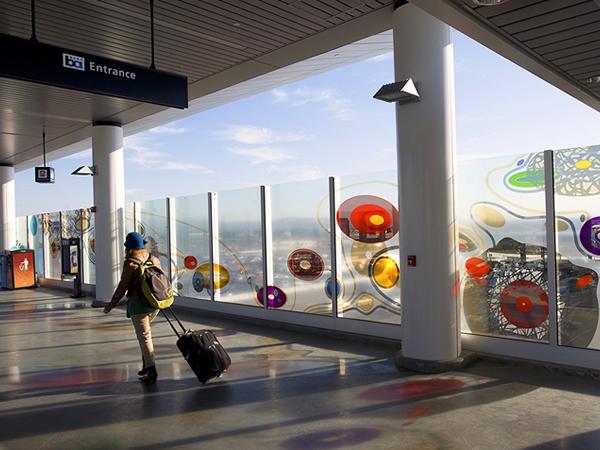 Photo source
www.pilkington.com
The shimmering art glass screen, which lines the new connector building between California's Oakland International Airport and the adjacent BART train terminus, is a marriage between art, science and industry.
The swirling patterns of colour, which wax and fade as the sunlight changes may appear to be pure fantasy. But in fact they are precisely calculated to harness the unique chemical properties of the glass itself.
The art glass wall's creator, Tom Patti, describes himself as an industrial artist who gains his inspiration from the complementary relationships between art and science.
The golden elements of the 250 feet long screen at Oakland Airport are Pilkington Eclipse™ Gold and Tom has paid tribute to the support he received in the project from Pilkington North America, in particular Key Account Manager Tom O'Day and Architectural and Technical Services Business Development Manager Dr Neil McSporran.
"What aroused my interest in this glass is its ability to reflect and transmit light in a particular way," said Tom. "At sunrise and sunset, in the long red wavelengths of light, the pyrolitic gold coating on the glass responds accordingly. With the daytime blue wavelength, it changes again. The additional feature of the Pilkington Eclipse™ Gold is its durability during fabrication."
But light reflections have to be handled critically in an airport environment. "I needed to create a combination of diffuse and scattered reflectance to avoid the danger of flash blindness," said Tom.
And this is where Pilkington NA's technical support came in. "They provided me with data from my sample studies to help with the light studies we generated to ensure my design complied with Federal Aviation Authority guidelines," he said.
He also needed technical information on the coating to ensure that it was compatible with the other materials and processes which he has developed to fuse the glass into the finished work.
"Pilkington made the project so much easier for me right from the start," he said. "It is often difficult to have a relationship between art and industry and it's satisfying when it works. I have used Pilkington glass throughout my career – it can be seen in my work at museums all over the world, although you probably wouldn't recognize it. Its high quality and unique coatings are very important for me; I cannot have any defects or inclusions."
"Tom O'Day keeps me up to date with all the new products and each one is an adventure. I received a small sample of the Pilkington Eclipse™ Gold from him, and look what it has grown into - I hope Pilkington is as proud of the finished art commission as I am."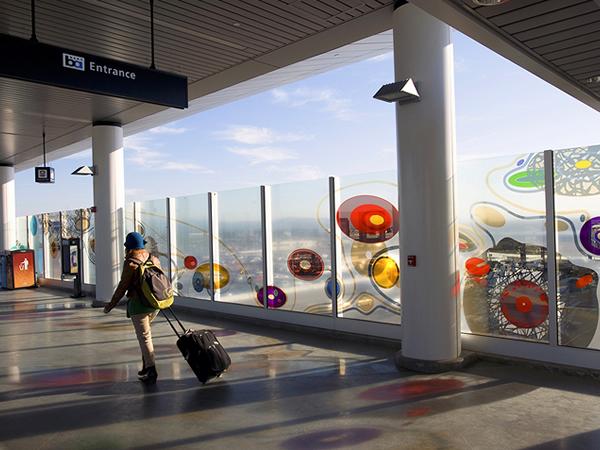 600
450
www.pilkington.com
2017-05-25T13:00:00
The golden touch - artist Tom Patti has chosen Pilkington Eclipse™ Gold for his latest major work
glassonweb.com