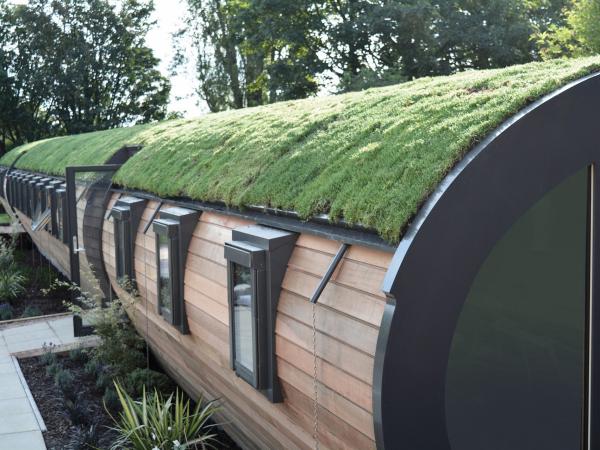 Photo source
www.fakro.com
Over the recent years FAKRO has supplied roof windows to multiple eco-projects, one of which was for The Green Unit® who provided a modular, single storey Passivhaus building that can be utilised for a variety of sectors.
This type of design and construction was finally accomplished after 3 years of prototyping and testing. These pods are carbon neutral and required a certain amount of natural daylight which was achieved by using the FAKRO FTP U5 window, which provides an installed U value of 0.97w/m2k, as well as being non-vented to assist with the high levels of air tightness demanded.
The windows were used in vertical combinations with a unique flashing kit element to allow them to sit upright in the wall and neatly into the curve of the green roof. The windows that faced in an easterly direction were fitted with AMZ external awning blinds to offset solar gain.
The Green Unit's Jonathan Finnerty commented "The requirement to be carbon neutral meant that procurement for every element was considered in great depth and detail. FAKRO worked with us to achieve what we required and provided highly valuable and in depth technical knowledge".
The Green Unit has more recently been used to provide an ARC eco-building for the Almshouse Charity, Lench's Trust in Birmingham. This has resulted in a 130m2 building that is used as their Head Office.
The design brief for the building was to provide an open, light space that combined comfort and high performance. On this particular project FAKRO FTP P2 non-vented double glazed roof windows were used to meet the required level of thermal performance and air tightness.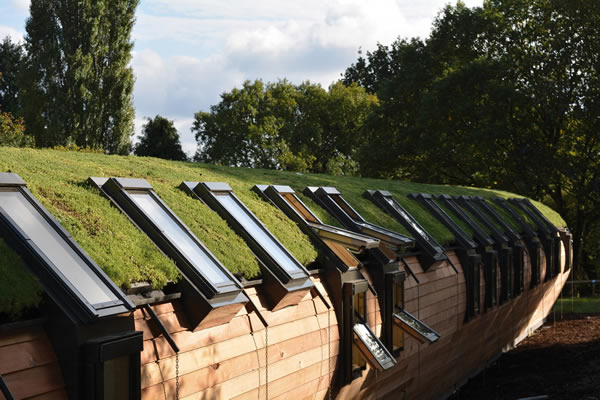 A total of 10 interconnecting pods have created a 32m long building that blends in with the natural environment and was readily accepted by the planning committee without objection thanks to the assistance of Heath Avery Architects.
The attraction to the planners was not only the performance of the building, but the fact that the green roof of the building has a stunning visual impact on the immediate environment and particularly from the adjacent multi storey buildings.
Being an "off-site" construction meant that the project was completed quickly and on time, with the building being made fully watertight in just 2 days.
The Green Unit is founded on deep ecological and ethical principles which influence every thought process, from design to final construction.
This includes the "off-sites" manufacturing which has long since overcome the objections and prejudices based on the sub-standard insulation properties of post-war prefabrication principles.
With its barrel-vaulted shape and design, the Green Unit Pod is a perfect example of contemporary design that not only achieves Grade A/A under SAP testing , but is eco-friendly and aesthetically pleasing as well.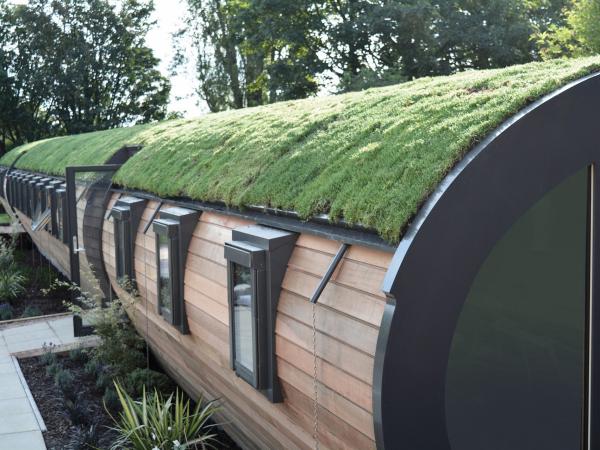 600
450
www.fakro.com
2017-04-13T08:40:00
FAKRO Thermally efficient roof windows win race for PASSIVE modular construction
glassonweb.com