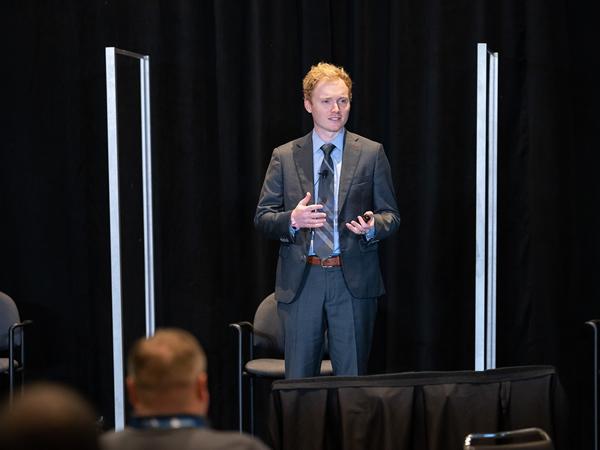 Photo source
Connor Lokar at 2021 Glazing Executives Forum | Photo: www.glassbuildamerica.com
While the overall U.S. economy may see a deceleration in growth in 2022, the North American glass industry can expect "a pretty appealing runway" with "years of growth," says Connor Lokar, senior forecaster for ITR Economics.
Lokar delivered the economic forecast address on Sept. 13 during the 15th Annual Glazing Executives Forum, held in conjunction with GlassBuild America.
NONRESIDENTIAL IS POISED FOR GROWTH IN 2022
Nonresidential construction is a lagging indicator in the overall U.S. economy. So, while many sectors, such as residential construction, have been "red hot" since the pandemic shutdowns of second quarter 2020, nonresidential construction hasn't seen the same growth, Lokar says. 
"We are actually back to all-time high from U.S. GDP," he says. "But you don't see that in the nonresidential commercial sector, because of that downside [of the pandemic], and delayed capital projects, and ongoing uncertainty. We've seen that linger into 2021. However, we're going to see that solidifying economic environment set the table for more projects to proceed and ultimately move forward."
Lokar projects steady, more manageable growth for commercial glass companies in 2022 and 2023.
'SANITY' WILL RETURN TO HOT RESIDENTIAL MARKET
"The housing market, the residential markets have been on absolute fire," Lokar says.
He attributes the high demand for housing to the demographic shift awarded by remote work. "There has been a massive displacement of residential demand, largely at the expense of multifamily. People in high-cost urban geographies—people in Boston, New York, Chicago—have been moving into suburban markets," Lokar says.
However, he notes the market is starting to reach its peak, and 2022 will see a slowdown in growth for residential. "It's not a bursting bubble. We're just seeing sanity returning to single family in 2022," he says. "Home sales are already markedly decelerating. Inventories are starting to tick up."
SUPPLY CHAIN WILL CATCH UP TO DEMAND
The glass industry, like all industries, has struggled in 2021 with supply chain issues, leading to delays for some materials and cost increases. The supply chain problems are easily traced back to the pandemic shutdown. "The world stopped overnight," Lokar says. "Demand came back much more quickly than the supply side of the economy could."
As the pace of growth tempers and returns to more normal levels, supply will be allowed to catch up to demand, Lokar says. "Supply chains are trying. … In fact, if you look at container throughput, we are pulling more containers through than we ever have before, it just doesn't feel that way," he says. "The problem is, relative to demand, it feels like the supply chain isn't moving. That will change in 2022."
ITR anticipates the global economy is going to peak in first quarter of 2022, then see a deceleration. "The global slowdown will facilitate some of that improvement [in supply], improving port congestion," Lokar says. "You'll see gradual improvement as the year wears on."
INFLATION IS REAL, BUT NOT PERMANENT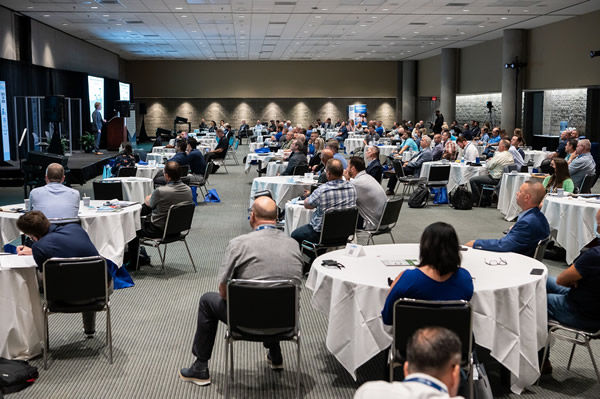 The imbalance of supply and demand throughout 2021 has led to price inflation "higher than anything we've seen in the 21st century," Lokar says. The consumer price index has risen 5.4 percent during the year; the producer price index has risen 10.5 percent.
"ITR understands inflation is very real, but we don't think it's ruinous, and we don't think it's permanent," he says. "Slowing demand is going to change this. The new floor for inflation is not where it was." As supply chains normalize, so will pricing increases, Lokar says.
LABOR WILL CONTINUE TO CHALLENGE 'FOR THE NEXT DECADE'
"Price and supply chains will get better in 2022. What's not going to get better: labor," says Lokar. "This is probably my worst news for you. The demand will be there for you next year. But labor is going to be a headache that sticks with you for the next decade."
The glass industry, along with many economic sectors, have struggled with an ongoing labor shortage that has only worsened with the pandemic. "This is one area where I don't have a silver bullet for you. Even with the fading away of some unemployment benefits, we don't have good news here," Lokar says.
The construction and manufacturing industries face a "structural imbalance" in terms of employment, Lokar says. Workers in these industries have high average ages, which means a large percentage will be leaving the workforce in the coming years, making an already challenging labor situation even worse, he says. "As challenging as the labor market has been, it is going to get worse from an aggregate perspective," Lokar says. "This has to be a constant, constant priority."
MORE TIME TO RUN YOUR BUSINESS
The more regulated supply chain will remove pressures from glazing companies in the next two years. "You can spend more time running your business," Lokar says.
This will be particularly beneficial as companies look to capitalize on the strong nonresidential building market for 2022 and 2023. "You're going to like the way you look next year," Lokar says. "It will be an easier year to manage. It will be easier to manage growth. Though labor will be a challenge."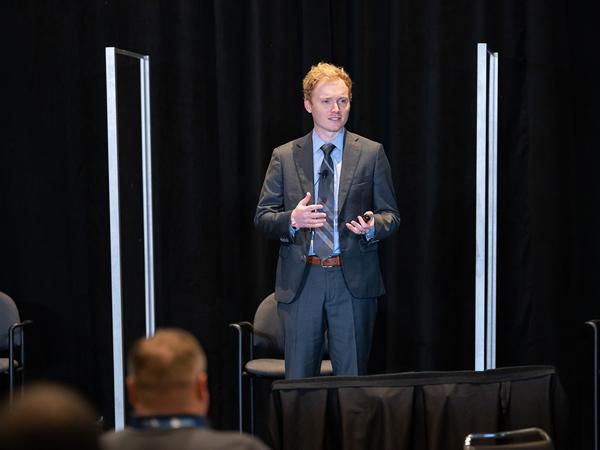 600
450
www.glassbuildamerica.com
2021-09-15T08:10:00
Economist: 'We Are Looking Forward to Years of Growth'
glassonweb.com