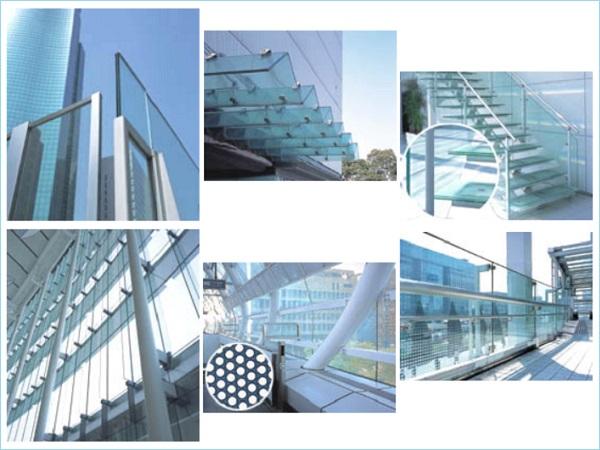 Bridgestone Corporation was founded in 1931 in Tokyo, Japan and subsequently has grown to become one of the world's largest tyre producing company with 179 production facilities in 25 countries and sales networks in over 150 countries.However, Bridgestone is not only a tyre producer.
A very significant percentage of Bridgestone's overall turnover comes from the Bridgestone 'Non-Tyre-Group' which offers a very wide range of specialised products and services.
In this respect, one of the growing products offered by the Electrical Division of the 'Non-Tyre-Group' is high performance EVA (Ethylene Vinyl Acetate) interlayer films. This under trading name EVASAFE™ for specialised laminated glass applications.
EVASAFE is a thermo-set interlayer film which cross-links during lamination cycle. It can be used in normal ovens with vacuum system and also together with nipper roll and autoclave. Using EVASAFE specialist glass laminating companies are able to produce versatile and high value adding products.
EVASAFE offers many advantages compared to other well-known interlayer materials in the following aspects:
1) Mechanical and structural strength, even over wider temperature ranges
2) Reliability and quality consistency
3) Ease of use, storage and handling because EVASAFE can be stored up to 35°C with humidity lower than 80%
4) Very high adhesion and compatibility to PET or other insert media and much higher shear modulus, especially at high temperatures
5) Low melt viscosity enables EVASAFE to fill hollows between glass and insert media. Sensitive inserts and tempered glass are easier to laminate and less material layers are needed
6) Low temperature – high cure process capability and genuine non-autoclave capability
7) Optical properties: lower yellow index especially after aging, lower haze, higher light transmission, good UV cut-off
8) Heat and moisture durability
9) No plasticisers (sticky, rolling, hazardous)
10) Offers better properties for electrical applications, e.g. photovoltaic, LCD, etc.
11) High moisture and sealant resistance
12) Good sound insulation values, especially in combination with insert media
To develop new insert opportunities combined with EVASAFE, a company called Insert Solutions was founded. Insert Solutions is in charge of testing different insert materials in combination with EVASAFE - being able to offer a variation of possible applications like much higher impact resistance or different design issues. Testing laboratories are located all around the world. So Insert Solutions is able to assist customers with special requests and development issues. Result could be very high value adding end-products.
For working with EVASAFE the right lamination equipment and also right lamination processes are required. Technical Service Distributors of EVASAFE offer to do a thermo mapping of customer's ovens to improve the quality of customer's products made with EVASAFE.
With regards to the BIPV market, over the last months Bridgestone have been busy testing and developing. In this respect, there are some interesting possibilities with the so-called EVASAFE Electrical compound – especially when combining various decorative effects. Bridgestone have over 23 years of experience in developing EVA films for electrical products, especially for photovoltaic modules and plasma displays. So they made use of their experiences to develop the special EVASAFE Electrical EVA film for BIPV projects. This application of course has very special requirements. The customers will use the product in this particular case in a location where safety is very important. Also good electrical insulation and moisture resistance is a must-have for laminating photovoltaic cells or different thin film technologies. Electrical properties have to stay stable over time to be able to guarantee high efficiency after many years.
Indeed, Bridgestone believe that with the EVASAFE Electrical technical base, very much higher strength glass can be safely possible for roofing, etc. This is because of the high compatibility EVASAFE Electrical has with some polymer materials. These may be used as very effective high strength internal reinforcement or for optical issues – if needed. Technically, therefore, Bridgestone see no actual real barriers in this respect – and are currently interested in applying its EVASAFE Electrical materials in BIPV applications on a trial basis with interested parties around Europe. Relative to PVB – which is so far the main material used in this respect – Bridgestone believe that they will be able to offer a number of important advantages.
EVASAFE Interlayer Film for Laminated Safety Glass exists in different blends: Clear with UV-cut-off at 380 nm and milky-white. Other colours and printings can be achieved by inserting a PET film in the desired colour or printing on it.
Standard widths are 1260 mm, 1800 mm and 2200 mm for the clear EVASAFE as well as 2200 mm for the milky-white EVASAFE. Standard length is 130 m for clear EVASAFE and 65m for milky-white EVASAFE. Clear EVASAFE in double thickness (0.8 mm) is available in 1800 mm width and 65 m length.
Bridgestone Industrial Limited
Berliner Ring 89, 64625 BENSHEIM () - Germany
Telephone: +49/6251.690396  Fax: +49/6251.690397 
Exhibits at:  Vitrum 2009 
Stand location:  Pav 22 Stand U01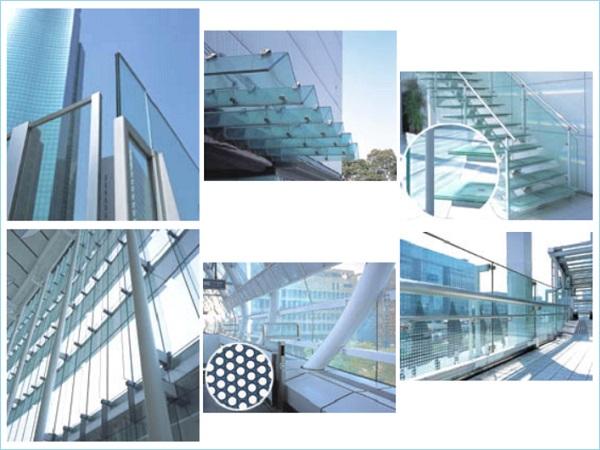 600
450
Bridgestone
2009-10-21T13:00:00
Bridgestone High Performance Interlayer Film EVASAFE™
glassonweb.com