Photo source
www.pilkington.com
Technology already plays a huge part in our work and social lives, but in 2016 we're seeing an emerging trend for tech products that aim to simplify our home lives.
The 'Smart Home' concept is gaining traction as technology becomes more affordable and consumers begin to look for products that resonate with their desire to make life easier. 
78% of respondents to the Consumer Lifestyle and Home Environment 2016 report said technology is not disruptive in the home, but in fact has the power to bring families together.
Products that take the pain out of everyday chores and do the work for us are particularly important, and our Pilkington Activ™ self-cleaning glass is a great example of this.
Its special coating is activated by UV light to breakdown organic dirt and reduce the adherence of inorganic dirt, which is then washed away by rainwater, reducing the need to manually clean your windows. 
Smart technology is becoming integral to daily life and consumers rely heavily on appliances that free up time to spend on more valuable activities.
Alongside the time-saving element of the Smart Home, consumers also look for products that support emotional wellbeing and help our homes adapt to our psychological needs. 
Like Pilkington MirroView™, a product that has been developed to conceal video and digital screens, allowing them to be used as reflective surfaces where and when necessary.
The highly reflective mirror coating provides a modern, transitional look for homeowners. When the screen is turned off, Pilkington MirroView™ maintains a mirrored appearance, concealing the display and allowing the homeowner to step away from technological distraction – something that's proven to be hugely important for wellbeing.
When the screen is turned on, the picture on the digital image shows through, making the product ideal for use in living rooms, bedrooms, bathrooms, studies, or any space in which a homeowner may want to conceal the traditional appearance of a television screen. 
If you'd like to know more about Pilkington Glass, click here.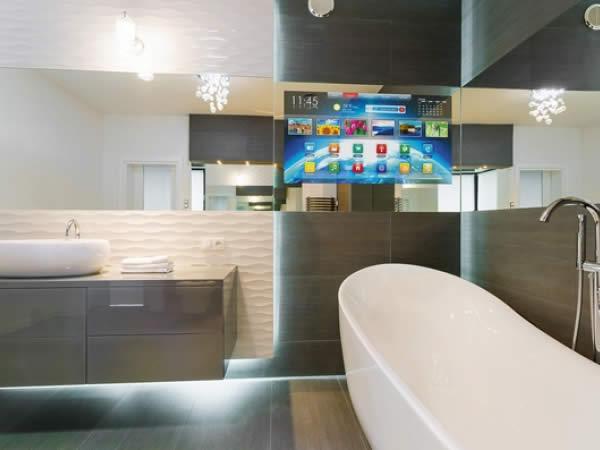 600
450
www.pilkington.com
2016-09-27T11:26:00
2016 is the year of the 'Smart Home' with technology to make life easier
glassonweb.com