Photo source
www.edgetechig.co.uk
Dr.-Ing. Benjamin Krick of the Passive House Institute, with Managing Director Joachim Stoss and authorised signatory Johannes von Wenserski of Edgetech Europe GmbH upon receiving the Component Award.
Dr.-Ing. Benjamin Krick, head of the Component Certification working group at the Passive House Institute in Darmstadt, presented the Passive House official component seal to Edgetech Europe GmbH for the flexible, foam-based Super Spacer® spacer systems at the BAU 2017 exhibition in Munich.
Edgetech Europe Managing Director Joachim Stoss personally expressed his gratitude for the award.
"As an independent authority, the Passive House Institute provides architects and planners with guidance on all questions relating to energy-efficient and sustainable construction. Therefore, we are very pleased to receive the component seal award following the successful Passive House certification of our Super Spacer warm edge spacers last January."
The Passive House Institute tests and certifies products in terms of their suitability for use in passive houses. At the moment more than 870 certified products are contained in the component database.
In this process the Passive House Institute also makes the verified thermal characteristics visible, thus making it possible to predict the future energy performance of a building.
All three certified Super Spacer® products exceed the required minimum levels of specific edge resistance for arctic climates and every climate zone lower. Super Spacer® Premium was classified in the highest efficiency class of phA+.
"Components have to fulfil high requirements in terms of their energy efficiency before they may bear the Passive House certificate. Through this successful certification, the building client then can also rest assured that these products will significantly contribute towards energy savings, improved levels of comfort and, last but not least, climate protection," said Krick.
Edgetech has focused on energy efficiency for the past 28 years. Edgetech ranks among the pioneers in the warm edge technology field, and also for sustainable products in architecture.
"When we were the first manufacturer in the world to launch flexible, foam-based spacer systems onto the market in 1989, the topic of energy efficiency was at best a marginal issue," added Johannes von Wenserski, authorised signatory at Edgetech Europe GmbH in Heinsberg.
"Now the company supplies approx. 300 million metres annually throughout the world to more than 90 countries, with different climatic zones ranging from Arctic to tropical climates."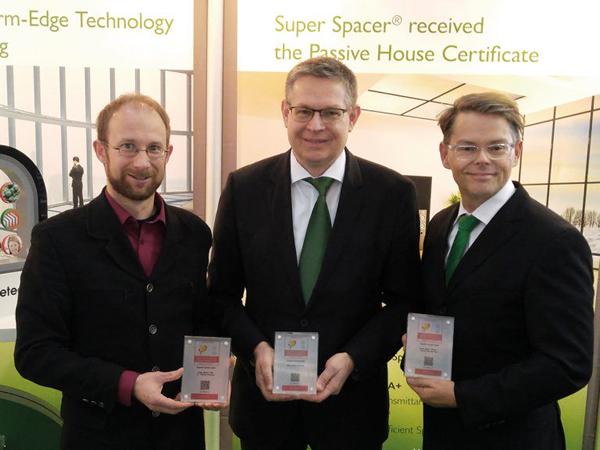 600
450
www.edgetechig.co.uk
2017-02-06T09:00:00
Super Spacer® receives award from the Passive House Institute
glassonweb.com