Photo source
www.wddalliance.org
Hosted by WDDA, Window & Door Dealer Day provides a unique opportunity for owners and top management of retail window and door businesses to come together to learn about current market conditions and best business practices specific to the residential window and door market.
September 13, 2018 | 8:00am – 5:30pm | Encore at Wynn – Las Vegas
PROGRAM 
(As of July 5, 2018; subject to change.)
Program includes: education, breakfast, lunch, reception.
8:00 am-8:30 am: Continental Breakfast
8:30 am-9:00 am: Introductions and Icebreaker
Presenter: Ken Mariotti, President, Woodland Windows and Doors and Chairman of the National Glass Association/Window & Door Dealers Alliance
9:00 am-10:00 am: Keynote Speaker: Build Depth and Create a Succession Plan in 8 Steps!
Presenter: Liz Weber, CMC, CSP, Weber Business Services, LLC
Does your company need a workforce plan for the future?
In this informative, nuts & bolts presentation, Liz Weber, CMC, CSP presents straightforward ideas on why and how to build depth and develop an on-going succession planning process - not just a plan. The process is more than just creating a plan. The plan is more than just filling slots. Liz's presentation shares logical insights with her eight-step process for linking succession plans with the company's strategic plan to ensure alignment, proper workforce planning, and growth for your organization as well as with your staff.
10:00 am-10:15 am: Networking Break
10:15 am-11:00 am: Dealer to Dealer Discussion: Workforce Development
Moderator: Emily Thompson, Editor-in-Chief, Window & Door magazine 
Presenter: Scott Brown, COO & New Construction Specialist, Franklin Window & Door
The problem is clear: the construction industry is booming at a time when labor is scarce. The causes are just as well known: experienced workers are retiring faster than new hires can fill jobs, and skills are going with them; young people aren't interested in the trades, nor do they possess the necessary skills. This discussion will explore how changing the training, the approach, and the perception can lead to solutions 
11:00 am-Noon: Dealer to Dealer Forums
Roundtable peer-to-peer discussions led by experts in their respective fields.
Topic choices are:
Regulations, Legislation, and Other Challenges to Business
Leader: Matthew Johnson, Attorney, The Gary Law Group
Discover best practices and preventative strategies as attorney Matthew Johnson explores hot topic and time sensitive issues such as tax laws, tariffs, and liabilities. Attendees will also review the spectrum of legal issues impacting the window and door industry including supplier contracts, distribution issues, product warranties, and claims. 
Building Your Business: Old School Versus New School
Leader: Madeleine MacRae, CEO, MM MacRae Coaching and Consulting
Discover how to take the best of both worlds and create a winning sales and marketing strategy. Attendees will take an in-depth look at the old-school marketing methods that have worked for dealers just like you. Find out what still works and why and how you can add some modern twists, updates, and support to create a marketing plan that supports your desired sales outcomes. 
Noon-1:15 pm: Networking Lunch
1:15 pm-2:00 pm: Peer Performance Groups: Best Practices and Best Profits
2:00 pm-3:00 pm: General Session: What's the Truth about Trial and Error? 
Presenter: Madeleine MacRae, CEO, MM MacRae Coaching and Consulting
Join us for this session to get a new perspective on the role of trial and error within your business. Explore three fundamental aspects of your business and how to strike a balance between the urge to wing it and the need to follow a formula. Attendees will discover how to:
Solve the staffing problem
Build out advertising campaigns that produce results
Establish business goals that create success
3:00 pm-3:15 pm: Networking Break
3:15 pm-4:15 pm: Industry Benchmarking Report
Presenter: Grant Farnsworth, Director of Business Strategy, The Farnsworth Group
Find out how your business stacks up as The Farnsworth Group presents their findings from the WDDA market research survey. Be the first to see highlights from the report including industry trends and statistics, market analysis, financial information, and more. A printed copy of the report will be available at the session.
4:15 pm-5:30 pm: Dealer of the Year Celebration and Networking Reception  Presenter: Rick Locke, President, Windows, Doors & More and board member of the National Glass Association/Window & Door Dealers Alliance
Celebrate excellence as we honor outstanding projects and innovation in the window and door industry with WDDA's Dealer of the Year awards. The prestigious awards are designed to recognize companies for excellence in the areas of marketing, customer service, showrooms, and community service. Join us to honor this year's recipients and to recap a day of valuable programming with your industry peers.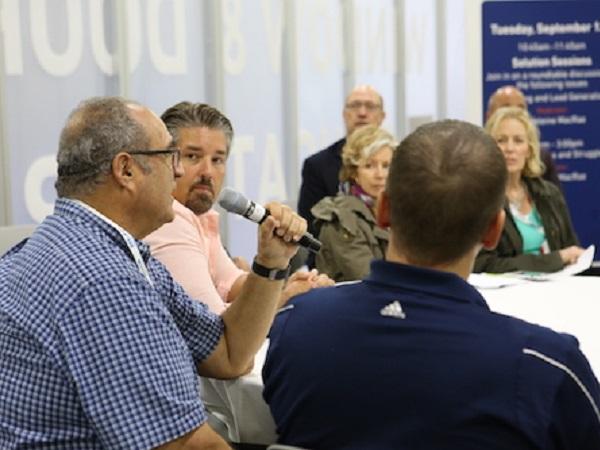 600
450
www.wddalliance.org
2018-07-09T11:00:00
Keynote Speaker and More Agenda Details Added for Window & Door Dealer Day
glassonweb.com