Expocentre and the Russian Union of Architects invite you to participate in Mir Stekla'2012, the 14th International Exhibition for Glass Products, Manufacturing, Processing and Finishing Technology! Exhibition will be held at the Expocentre Fairgrounds, Moscow, Russia on June 13-16, 2012.
June 13-15 from 10.00 to 18.00
June 16 from 10.00 to 16.00
The event gives the opportunity to maintain business reputation, find new customers, increase market share, enter new market and take part in the market related activities, analyze market potential and launch new products etc.
250 exhibitors from 25 countries: Germany, Italy, China, Hungary, etc.

19 000 sq m of total floor area

8 600 visitors

over 180 foreign manufacturers

more than 14 000 visits, 96% of whom are industry professionals from Russia, the CIS, Germany, Italy, Poland, the Czech Republic, Belgium, the Netherlands, Austria and the USA

a wide audience of glass industry professionals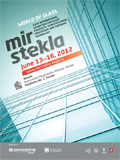 PROGRAMME OF EVENTS 2012:
13 June 2012
12:00 OFFICIAL EXHIBITION OPENING
Forum Pavilion
13:00 — 15:00 Reports by the participants in the Glass in Architecture: Capabilities and Innovations International Conference and presentations of the participants in the Glass in Architecture Competition
— Safety, Comfort and Energy Saving: Comprehensive Approach to Glazing
Lev Shakhnes, Deputy Executive Director of the Union of Glass Companies
— Safety of Glass as Construction Material and Eurocode
Igor Kirillov, Lead Researcher, Kurchatov Institute
— Application of Bent Glass in Modern Architecture and Interior
Igor Fisin, Director, Moscow Glass
— Glass in Modern Shanghai Architecture. Architectural and Decorative Glass at China Glass'2012
Nikita Glazkov, PhD Student of the Design of Architectural Environment of the Moscow Architectural Institute
Forum Pavilion,
Presentation Zone FD072
Presentations of the participants in the Glass in Architecture'2012 Competition
— School No.1414 with enhanced education in English, Sovetskoy Armii Str., Moscow
Oleg Konovalstev, ARST Architecture Workshop
— Application of glass in construction of shopping malls and entertainment centres, which shape the city image
— Application of glass in reconstruction of former industrial facilities
Aleksandr Balabin, Director of SEVERIN PROJECT Silver Diploma of the Glass in Architecture'2012 Competition
— Grand-prix: Ermitazh Plaza Business Centre
Igor Shvartsman, Director General of the Sergey Kisilev and Partners Architecture Workshop
Forum Pavilion,
Presentation Zone FD072
15:00 The Grenzebach Group Presentation
Forum Pavilion,
Presentation Zone FD072
14 June 2012
10:00 — 18:00 CONFERENCE, TOWN PLANNING – ARCHITECTURE – DESIGN – EXPERT EVALUATION. MOSCOW 2012
Organized by Non-Commercial Organization of the Association of Energy-Efficient Window Manufacturers (APROK) http://www.aprok.ru, E-mail: info@aprok.ru
Co-organized by Expocentre ZAO
— Development Prospects of the Moscow Metropolitan Area in the New Borders
— General Project Organizations:
Architectural, and Building and Technical
Centres of Project Activities in Russia
Andrey Bokov, President of the Russian Union of Architects, Director General of GUP Mosproyekt-4
— Development Strategy of the Moscow Project Network
— Expert Evaluation in Construction: Russian Sample'2012
Sergey Sokolov, Vice President of the Rosstroyexpertiza Russian Chamber of Building Experts, Head of the Rosstroyexpertiza Moscow Office, Director of GUP Mospromproyekt
— Revival of Creative, Technical and Economic Consistency of General Design. Case Study: Institute of Design of Moscow Industrial and Transport Facilities
Maxim Budko, First Deputy Director of GUP Mospromproyekt
— Moscow Industrial Belt: Problems of Renovation and Inclusion into the Moscow Metropolitan Area
Narine Tyutcheva, Director and Chief Architect of the Rozhdestvenka Architectural Bureau, Member of the Russian Union of Architects
— Relevant Problems of Expert Evaluation of Construction in Russia
Sergey Stepanov, Director of ANO Akademstroynauka, Member of the Rosstroyexpertiza Russian Chamber of Building Experts
— Energy Saving Technologies in Design and Construction
Ernst Vinokur, Chief Engineer of Mosproekt-3
Conference Hall, Pavilion No. 7
11:00 — 14:00 Conference:
Hot End Innovations
Mr. Ernst Bornemann
Cold End Innovations
Mr. Michael Nisius
Organized by Heye International GmbH
Forum Pavilion, Presentation Zone FD072
15:00 — 16:00 Seminar on modern types of coatings for flat glass: advantages and shortcomings
Organized by Stekloservis
Forum Pavilion, Presentation Zone FD072
15 June 2012
10:00 — 18:00 CONFERENCE, ACTIVE HOUSE. ENERGY SAVING MATERIALS AND TECHNOLOGIES
Organized by Non-Commercial Organization of the Association of Energy-Efficient Window Manufacturers (APROK)
E-mail: info@aprok.ru
Co-organized by Expocentre ZAO
— Design of Energy Efficient Translucent Envelope Structures with the Set Level of Heat Insulation
Lavrentiy Kim, Candidate of Technical Sciences, Chief Researcher of CNIIEP of Housing
— The First Active House in Russia. Construction and Maintenance Experience
Oleg Panitkov, Development Director of VELUX (Denmark), Vice President of NP Association of Wood Housing
— Energy Efficiency Management
Grigoriy Latyshev, Candidate of Technical Sciences, Director General of StroyGruppAvtomatika, Executive Director of NP LonMark, ТК 439 Expert
— Energy Saving Technologies in Cottage
Andrey Osipov, Sales Engineer, Danfos (Denmark)
— Building Envelopes of Passive Houses
Aleksandr Elokhov, Director of Passive House Institute
— Modern Glass for Energy Saving in Buildings
Vyacheslav Scheredin, Specialist of the Technical Department of Guardian Steklo Ryazan (USA – Russia)
— Energy Saving Materials and Technologies for Modern Multiple Glass Panes
Oleg Marinov, Director General of APROK INFOCENTER, Executive Director of NKO APROK
Conference Hall, Pavilion No.7
12.00 Award Ceremony for Winners of the Competitions of the Mir Stekla'2012 International Exhibition
Nominations:
High Consumer Qualities of Products Successful Promotion of High Quality Products
Organized by ANO SOYUZEXPERTIZA
Pavilion Forum, Presentation Zone FD072
16:00 AWARD CEREMONY FOR WINNERS IN THE GLASS IN ARCHITECTURE'2012 COMPETITION
Organized by the Russian Union of Architects
Supported by Expocentre ZAO and the Moscow City Government
Forum Pavilion
600
450
www.mirstekla-expo.ru
2012-06-13T13:00:00
14th International Exhibition MIR STEKLA' 2012
glassonweb.com