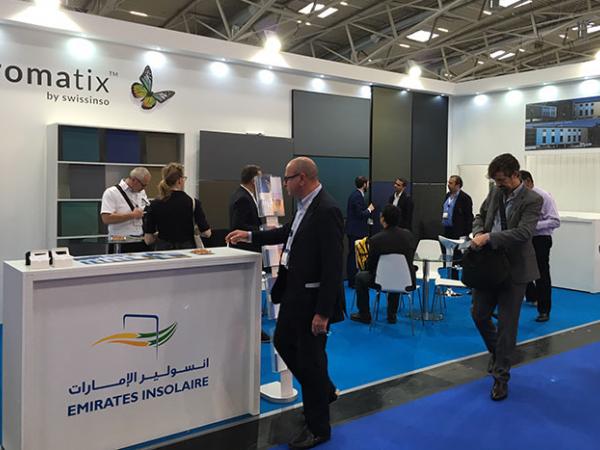 Emirates Insolaire LLC, a pioneer in the development of new solar technologies and a joint venture of Dubai Investments PJSC and SwissINSO Holding Inc., is expecting strong growth for its sustainable, energy-efficient coloured solar panel technology amidst surging demand for BIPV across the globe.
Over 1,000 exhibitors and 40,000 trade visitors attended the exhibition.
As the demand for energy-efficient solar technology surges in Europe, GCC and the globe, Emirates Insolaire is expecting sales of 50,000 square metres of coloured Kromatix solar glass.
In 2015, total installed output in Europe rose to almost 100 GW, making the continent one of the largest markets for photovoltaics. A total of 50 gigawatts [GW] of new photovoltaic capacity were added worldwide in 2015 in the midst of a strong growth phase, which will witness the global photovoltaic capacity increasing to over 300 GW in 2016 and 500 GW by 2019.
Rafic Hanbali, Managing Partner of Emirates Insolaire, said: "Emirates Insolaire's world's first coloured solar glass is optimized for both photovoltaic modules as well as thermal collectors. The solar PV industry has reached a critical tipping point, with end-market demand hitting record levels almost every quarter. Emirates Insolaire completed the installation of KromatixTM solar PV modules in Lausanne, Basel, Leysin, Austria and currently installing 12,000 solar glass panels covering 6,600 square metres at Copenhagen International School Nordhavn in Denmark to create one of the largest photovoltaic buildings-of-its-kind in the world. The company is making significant inroads in Europe and across the Gulf."
The coloured solar panels from Emirates Insolaire offer high efficiency, with each photovoltaic module capable of generating 170 to 190 watts per square metre for roof or 110 to 130 watts per square metre for facades. Emirates Insolaire's coloured solar panels and photovoltaic modules enhance the design of any building and can be easily integrated to any façade or roof. KromatixTM is becoming the reference, and simply put, becoming just the building envelope to efficiently produce energy from roof to bottom.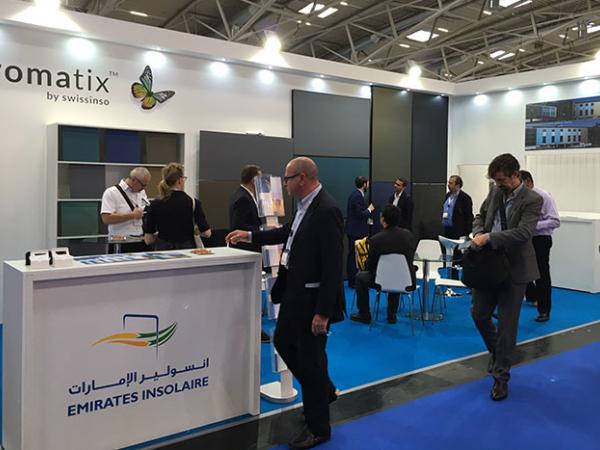 600
450
www.dubaiinvestments.com
2016-06-28T13:00:00
Emirates Insolaire gets strong enquiries at Intersolar Europe
glassonweb.com