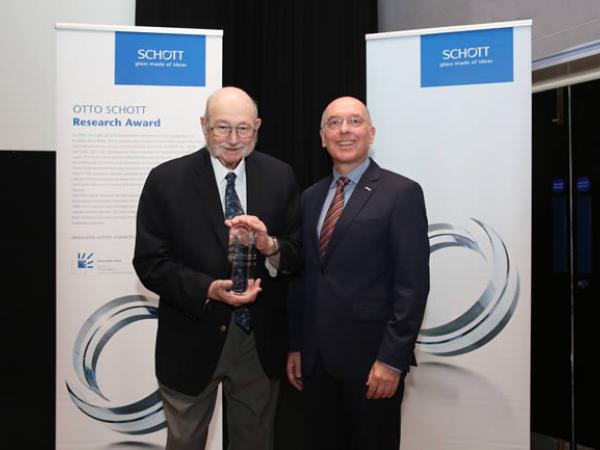 Photo source
Sheldon Wiederhorn, Ph.D. of the National Institute of Standards and Technology in United States received the 14th Otto Schott Research Award | Photo: SCHOTT
The 14th Otto Schott Research Award recognizes three researchers for their diverse findings on the strength of glass.
Why, and how, does glass break? The answer is complex, which is why three scientists have spent their careers trying to understand this simple question.
For their contributions to this glass research, Sheldon Wiederhorn, Ph.D. (National Institute of Standards and Technology, United States), Professor Satoshi Yoshida (University of Shiga Prefecture, Japan), and Jean-Pierre Guin, Ph.D. (Université de Rennes, France) were all recognized with the 14th Otto Schott Research Award, conferred at Society of Glass Technology conference in Sheffield, Great Britain, in early September.
The sum of their research will help industrial engineers and material scientists use glass to meet global challenges in fields like energy, medicine, and communications, as well as the next generation of organic semiconductors and flexible electronics.
"Glass and glass-ceramics are incredible materials, but like everything, they have limitations, and one of the fundamental questions glass poses is why it shatters in certain situations," said Roland Langfeld, Ph.D. and Research Fellow for SCHOTT.
"These three scientists have spent years studying the physical properties of glass in order to comprehensively understand the circumstances under which glass breaks, and how. By better answering these important questions, researchers, scientists, and engineers can advance designs in dozens of industries, from consumer electronics to energy generation."
In its normal state, a piece of glass has microscopic cracks on its surface, and when glass is subjected to critical tensile stress, these micro-cracks continue fracturing and cause the glass to break.
Sheldon Wiederhorn, of the National Institute of Standards and Technology (NIST) in Gaithersburg, Maryland, has spent decades analyzing why glass cracks and ultimately breaks.
On a practical level, his pioneering work is the scientific basis for ensuring the reliability of glass windows in airplanes, spacecraft, and related industrial applications.
"Wiederhorn's work to explain the fundamentals of fatigue in glass and his persistence in understanding crack growth has dramatically changed our scientific thinking about the strength of glass, the mechanical testing and design of special-purpose glass, and the ability to predict the performance of advanced glasses," said Professor Tanguy Rouxel, Board of Trustees member of the Ernst Abbe Fund.
The award-winning Japanese and French scientists also study glass's mechanical properties. Professor Satoshi Yoshida, of the University of Shiga Prefecture in Hikone, Japan, was honored for his outstanding research of the elastic behavior of glass surfaces under mechanical stress, how these stresses result in cracks, and other defects that affect its strength.
Jean-Pierre Guin, from the University de Rennes in France, was recognized for his work on nanoscale aspects of crack growth and fatigue thresholds, as well as structure-property relationships of mechanical properties in glass, including hardness, toughness, and scratch resistance.
Established in 1991, the Otto Schott Research Award has been conferred to researchers and scientists every two years by the Ernst Abbe Fund.
The award bears the name of Otto Schott, the founder of modern glass science, and recognizes glass and glass-ceramics research excellence and technological development for use in optics and electronics, renewable energy, health care, and other fields.
The award is intended to encourage cooperation between science and industry; individuals and small teams are recognized for their special achievements.
Past winners include physicists and chemists from China, Germany, France, Great Britain, Japan, the Netherlands, the United States, and other European countries.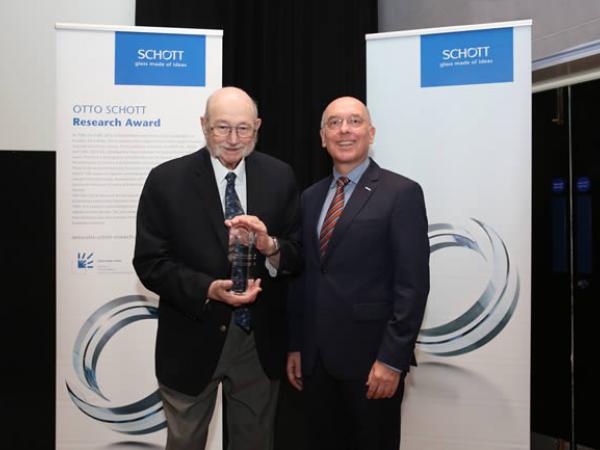 600
450
www.us.schott.com
2016-09-27T09:30:00
SCHOTT Honors 3 Scientists for Research on Glass's Strength
glassonweb.com