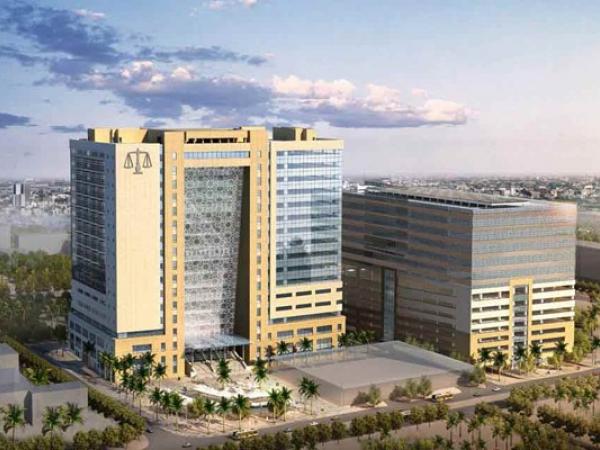 Photo source
www.scheuten.com
At the end of 2015, Scheuten supplied 1,040 Optisol® BIPV panels for the building of the Farwaniya Courts Complex Kuwait.
The solar panels with a total surface of 1,500 m² generate an output of 109 kWp.  The complex consists of a "Main Building" and a "Car Park". In the court building there are 80 courtrooms, administrative and governmental offices and 23 conference rooms. The design of the building should reflect both the strength and transparency of the Kuwait justice system. The use of a considerable amount of glass illustrates this transparency.
The Optisol® panels are delivered in four different designs of which some also have a silkscreen print that is adapted to the facades. The glass-glass modules are built from an extra clear top pane, type Scheuten Super White, pvb films with polycrystalline cells and a greyish bottom pane. Both panes are heatstrenghtened. The panels are used as energy generating sun blinds.
Roy van Leeuwen, responsible for the sales of the Scheuten Optisol® products: "Much attention has been paid to the aesthetic aspect. We have had intensive discussions with all parties involved in Kuwait. An excellent balance has been found between aesthetics, output and implementation details. It is very good to experience that the western European quality and delivery reliability of our products is greatly valued.
After approval of the definitive mock-up we immediately started full production in Venlo. The logistics involved in such a project is extensive and complex. Fortunately we already have developed the necessary experience with various export projects in the field of glass and solar. Our project manager has accompanied the first delivery on site and instructed the people how to install the panels.
The blinds, of which the largest one measures 3450 x 750 mm, are applied both horizontally and vertically in the main building and the car park.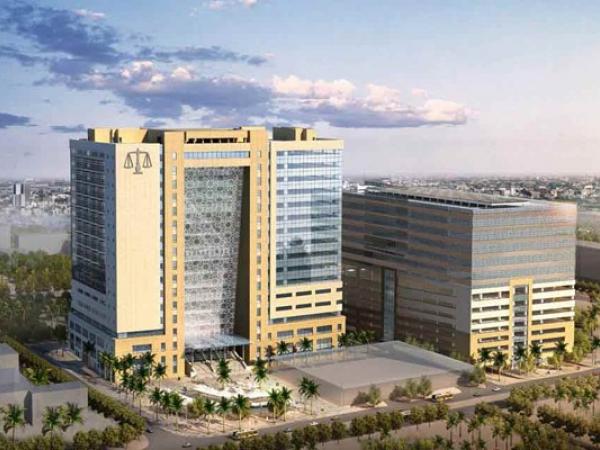 600
450
www.scheuten.com
2016-03-17T12:00:00
Scheuten supplies over 1,000 Optisol® BIPV panels for the Courts Complex Kuwait
glassonweb.com