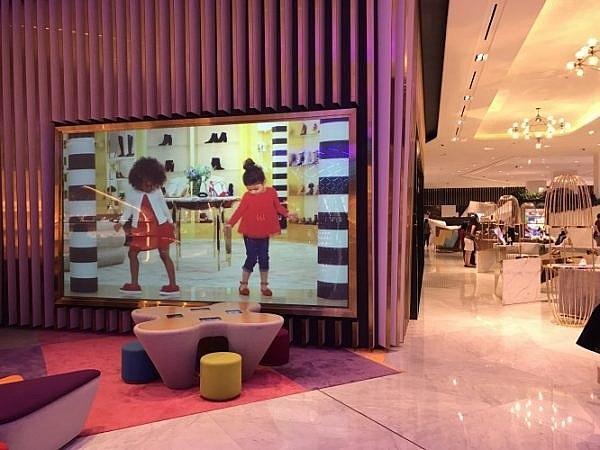 Photo source
Digital Glass in Level Shoes, The Dubai Mall | Photo: prodisplay.com
The development of Pro Display's large format display range marks a revolutionary new era in display technology, as high-end large format display solutions become more affordable and more effective than ever before.
Large format screens have long been used in a variety of applications that make the most of their advantages on a grand scale. Recent innovations in display technology have given rise to certain developments that have changed the face of large format screen technology forever.
The development of Pro Display's large format display range marks a revolutionary new era in display technology, as high-end large format display solutions become more affordable and more effective than ever before.
An ideal display solution to convey scale and gravitas, large format projection is an easy way to send a message to your customers that you are a credible and large organisation – an organisation that can be trusted.
But this message can be shattered even easier with the use of poor projection technology, which is likely to significantly underperform under scrutiny.
Don't let this become a metaphor for your business.
By dealing with only the best projection system technologies, businesses are able to display their messages as intended – unimpeded by the technological and practical restraints often faced with inferior large format projection systems.
Digital Glass is a rear projection screen solution with a revolutionary twist. Manufactured using a special process that coats an advanced optical projection layer directly onto toughened glass or acrylic, a Digital Glass screen provides an extremely robust and versatile projection solution.
One of the things that sets this solution apart from the rest is its bezel-free composition, allowing for huge seamless screens up to a whopping 8x3m in acrylic and 6x3m in glass, suitable for a range of applications from high-end projection to edge blending.
The bezel-free design of Digital Glass allows it to serve as a superior and incredibly cost-effective solution to popular LCD video walls. A great example of this can be found at The Dubai Mall, where a Digital Glass screen currently resides in Level Shoes – the largest rigid rear projection screen in the Middle East.
One of the most competitive technologies to large format projection is LED screens, which provide large format screens with a range of specialist options available. However, upon closer inspection, anyone can easily spot that LED screen quality is not ideal for up-close applications; often with a pixel pitch of several millimetres and producing an image using RGB coloured LEDs.
Whilst a great solution when considering distance and compatible specialist options, large format LED screens are not a great solution for up-close applications. Indeed, common applications of LED screens do often put them at a distance, but the comparison remains that the constraints of LED technology force many users to compromise between image quality and size – a compromise that Digital Glass does not require.
Large format projection is a display solution that traditionally relies upon a passive audience; that is, by projecting an image onto the screen, the audience passively receive it without any engagement.
In many cases, this is highly effective if the screen or content draws the attention of passers-by. However, in some cases, especially where competition is fierce, even the impressive size of the screen is not enough to draw attention, bring the worthiness of your investment into disrepute.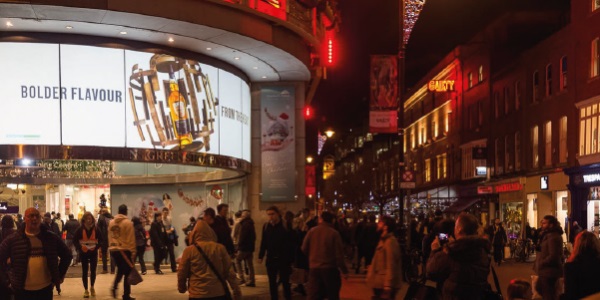 Digital Glass boasts additional specialist options that makes it far superior to many other large format display solutions, allowing you to engage customers in a way simply unachievable using most other large format projection solutions. Digital Glass is not only a robust high-quality projection screen, it's also versatile.
First of all, it is important to mention the bespoke attention Digital Glass enjoys; Pro Display is able to produce this screen to exacting requirements. It is also important to mention that Digital Glass offers users an Ultra Short Throw (UST) rear projection solution, making it ideal for environments where space is at a premium – the throw distance required to accommodate a UST projection system is significantly smaller than standard projection systems.
Combine this with Pro Display's Platinum Vision® UST Laser projector and these products offer a high-end projection system with superior performance, a maintenance free projector and a screen that provides high brightness and unsurpassed contrast, even in brightly lit environments.
What's more is that Digital Glass can also be granted touch and sound capability. By producing the screen combined with a Pro Display Touch Frame, it can be given interactivity, broadening its capabilities compared to what is achievable with a standard screen. Pro Display surface sound Soundpods are also an incredible addition, interacting with customers on an extra level, exciting as many senses as possible.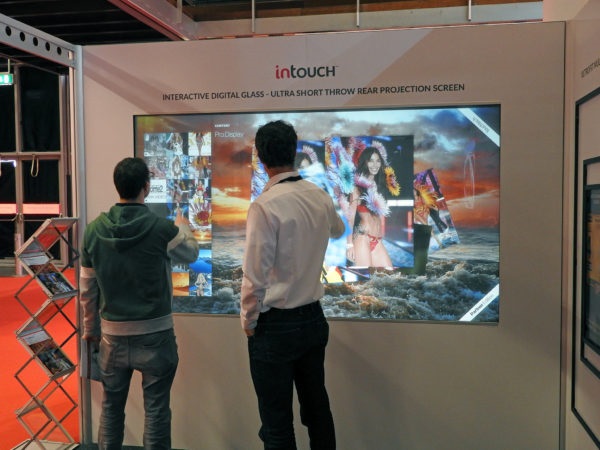 With the addition of these functions, you can be a lot more creative with how your screen can be used. From merchandising games to presentation screens, Digital Glass offers a highly functional high-quality HD/4K projection screen that is sure to leave your customers 'wowed'.
However, as revolutionary as Digital Glass is, Pro Display offers many other solutions for large format display applications. Dependent upon the application, Pro Display are able to recommend a range of products that may be suitable. For example, as mentioned earlier, LED screens offer an ideal solution at distance.
The specialist options available for LED screens make them a serious contender, allowing for greater creative applications using transparent display options – making it ideal for glass buildings, protective fascia's – making it ideal for sports stadiums and IP ratings, meaning they can be used outdoors.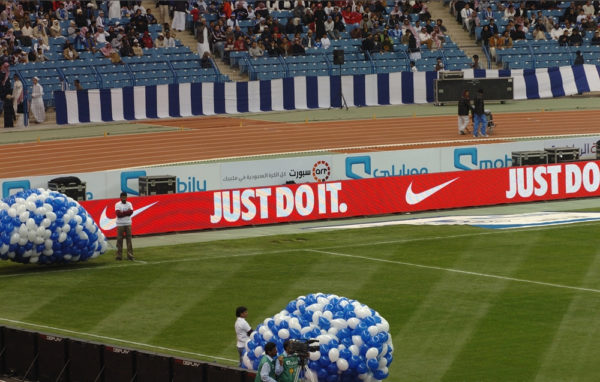 If projection is the preferred system, Pro Display's wider specialist large format projection range offers more innovations than just rear projection Digital Glass.
Both front projection and dual image projection screen equivalents are available with a seamless design on screens up to 8x3m in acrylic (6x3m in glass) and boasting all the technical benefits of Digital Glass.
Large format front projection screens are available with a range of projection screen coatings, including high gain, high contrast, wide viewing angles, 3D and sun readable options.
For highly specialist simulation applications, Pro Display's large format projection products are ready to impress with a range of solutions made to requirements. The popular use of projection technology for CAVE systems and simulation screens is a true testament to the quality Pro Display boasts.
In a huge show of confidence in the quality of these projection screens, large format projection displays are often used to achieve the effect of simulating a completely different environment. It can also be used to explore spatial and big data in a way that allows researchers to identify trends and anomalies visually in a way that is normally difficult to do.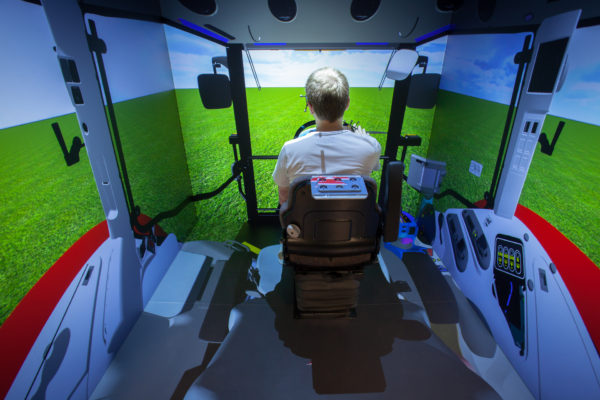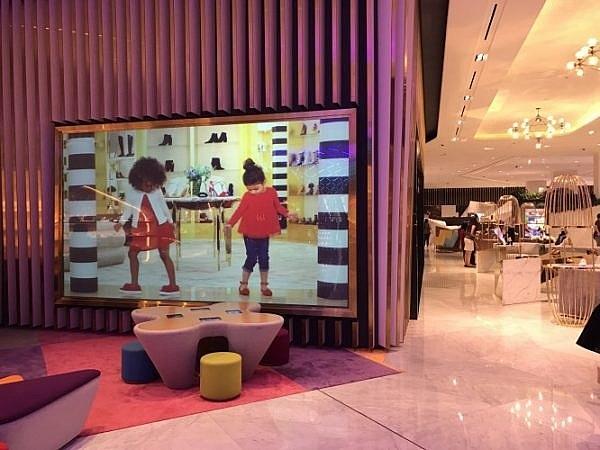 600
450
prodisplay.com
2018-05-04T07:30:00
Revolutionary Large Format Screens from Pro Display
glassonweb.com