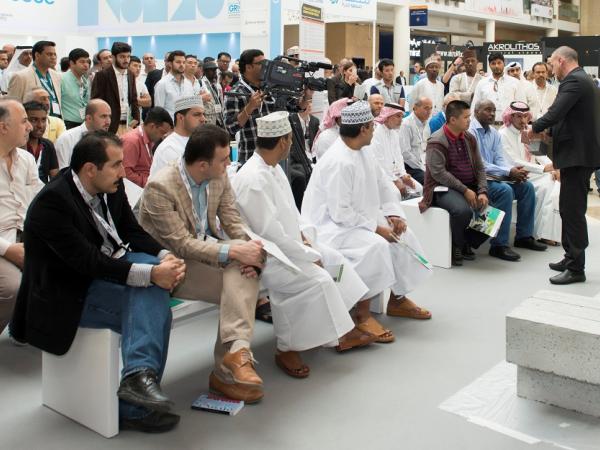 Growing demand for windows, doors and façades as UAE prepares to embrace new health and safety laws.
A new dedicated three-day trade show for the windows, doors and façades industry has been announced as the local construction sector prepares for the implementation of the new Dubai Civil Defence laws governing the health and safety of building façade materials.
Windows, Doors and Façades Event, organised by dmg events Middle East, Asia and Africa, the organiser of The Big 5, has been created to meet the growing demands of the GCC's US$10billion market, amidst rising building construction activities in the Middle East region.
Running from 18-20 September at the new Za'abeel Halls 4 & 5, Dubai World Trade Centre, the event will be positioned as the central meeting place for global manufacturers and distributors of window, door and façade products to network and develop business leads with more than 5,000 buyers of construction products.Ammar Alul, General Manager of Schüco Middle East and a key founding member of Windows, Doors and Façades Event, said: "The façade industry is a critical aspect of the construction sector right now, and I think that this event will be a great opportunity for visitors to see and meet the suppliers from the industry. 
This is a segment within the construction industry that deserves the attention of a dedicated exhibition."International and regional exhibitors alike will be showcasing their products at the event including Alumil, Platinum Sponsor, Reynaers, Executive Associate Sponsor and Founding Partners Schüco, Elumatec, Cladtech International, Orgadata and Gulf Extrusions.
Hossam Mahmoud, Commercial Director of Gulf Extrusions, said: "Windows, Doors & Façades Event will be a great opportunity to meet peers, potential customers and end users showing them who we are and what we do.  This event will effectively create a shortcut between us and the end users."The exhibition will open with The Middle East Façades Summit centred around the theme, 'innovation, efficiency, security and quality control in façade design and engineering', which will feature two distinctive keynote speeches delivered by government representatives outlining the latest updates to fire and safety codes, and offering insight on sustainability in design. 
The summit will include a number of panel discussions by leading experts in the industry on a wide range of topics including acoustic design and energy sustainability as well as more than 12 CPD certified workshops and case studies. 
The content will be designed specifically for professionals from the building and construction sector, including architects, façade consultants, façade designers, builders, developers, dealers, distributors, door, façade and window contractors, glass and metal contractors, facility managers as well as investors and wholesalers.
Muhammed Kazi, Exhibition Director of Windows, Doors & Façades Event, added: "We have been monitoring the demand within this segment for the last few years as part of The Big 5 Dubai, and the launch of the show as an independent trade exhibition is a direct response to feedback from the industry and its great potential for growth.
"With an emphasis on environmental and energy ratings, safety requirements, and climatic considerations, the façades market has created an important niche in the GCC construction market."
Organised by dmg events, new exhibition and summit Windows, Doors & Façades will make its debut later this year at the Dubai World Trade Centre
About Windows, Doors & Façades:
Hosted by The Big 5, Windows, Doors & Façades is the region's only dedicated exhibition within the construction industry. With hundreds of windows, door and façades products being showcased, the event brings together international manufacturers, developers, government officials and construction professionals. A full exhibitor list and more information on registering and attending the event is available at www.windowsdoorsandfacadeevent.com
About dmg events
An international exhibition and publishing company, dmg events produces market-leading exhibitions and conferences for the global energy, construction, coatings, hospitality and interior design industries.
As a leading supplier of face-to-face business information, with a customer-centric focus that localizes operations and relationships, our objectives are to keep businesses informed and connect them with relevant consumers to create vibrant marketplaces across multiple event platforms and communities.
dmg events is a wholly-owned subsidiary of the Daily Mail and General Trust plc (DMGT) an international portfolio of information, media and events businesses listed on the London stock exchange.
dmg events Middle East, Asia & Africa
Founded in 1989, dmg events has operated in the Middle East since 1995 and owns many leading brands including The Big 5 portfolio of construction events, INDEX – the Middle East's largest event for the interior design industry and The Hotel Show, the longest running and most important event for the hospitality industry.
Headquartered in Dubai, UAE and with satellite offices in India, South Africa and the UK, dmg events Middle East, Asia & Africa organizes over 45 events across the Middle East, Africa, Asia, North America and Europe. The events attract more than 250,000 customers every year and provide opportunities for trade professionals to do business, network and learn. For more information visit www.dmgeventsme.com
600
450
www.windowsdoorsandfacadeevent.com
2016-06-22T13:00:00
New façades exhibition to launch as GCC market reaces US$10billion
glassonweb.com