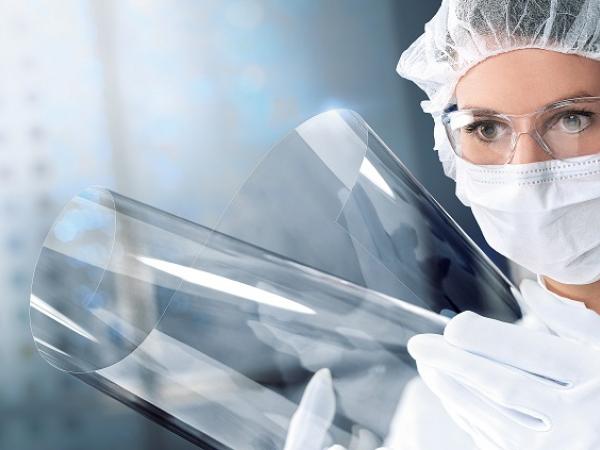 The special glass expert SCHOTT is presenting ultra-thin glasses that enable various functionalities in printed electronic components as a flexible substrate material (Hall B0, Booth 106) at the leading international trade fair for printed and organic electronics LOPEC 2016 in Munich
SCHOTT is also unveiling concepts on how it plans to transfer ultra-thin glass substrates into mass production for applications in organic and printed and organic electronics together with development partners.
With respect to the prestigious "Innovation Award of the German Industry", which will be awarded on April 16, 2016, SCHOTT managed to make it among the four finalists in the category large companies with its ultra-thin glass.
OLED lighting component made of ultra-thin glass from SCHOTT. Photos: SCHOTT
With a minimum thickness of 25 micrometers (microns), these innovative glasses are thinner than a human hair, flexible and yet robust. Thus they offer many advantages over other substrate materials such as plastics, metals or silicon. With properties such as minimum thickness and flexibility that only polymers have offered in the past, the ultra-thin glasses from SCHOTT combine the classic chemical, physical and mechanical advantages of the inorganic material of special glass.
Improved edge strength makes ultra-thin glass more robust and more flexible
SCHOTT is currently the only company in the world that can offer chemically strengthened ultra-thin glass made in a continuous melting process. Due to chemical strengthening, the edge strength is four times higher than glasses that are not treated in this way.
"This means a significant improvement in the robustness and reliability during further processing and in the final application," explains Dr. Rüdiger Sprengard, Director New Business Ultra-Thin Glass at SCHOTT AG. "Our ultra-thin glass is an ideal substrate for use in printed electronics. Its high temperature stability enables the sintering of conductive inks. Its unsurpassed hermeticity protects organic materials, which are extremely sensitive to moisture and oxygen. Its excellent optical quality and scratch resistance make it the best choice for the interface to the user," says Sprengard.
Huge  potential for use in "flexible electronics"
For the application field of organic electronics, SCHOTT is working to build up a manufacturing equipment eco-system together with industry partners. For instance, SCHOTT has been partnering with the adhesives specialist tesa SE, the equipment manufacturer VON ARDENNE GmbH, and the Fraunhofer Institute FEP in the consortial project KONFEKT since 2015.
The aim of the project funded by the German BMBF, Federal Ministry of Education and Research, is to refine ultra-thin glass on a roll by laminating it with functional adhesive tapes and by applying special functional layers so that a substrate that is easy to process and offers unique properties can be provided for use in organic electronics.
Various functionalities in printed electronics can be realized using ultra-thin glasses, such as touch sensors, flexible displays, lighting components, solar cells, and smart labels. "This will allow for pioneering innovations in various industries. We are thinking about the areas of consumer electronics, packaging, white goods, and automotive, for example," says Rüdiger Sprengard.
Initial market successes for ultra-thin glasses
Regardless of the application field in printed electronics, ultra-thin glass from SCHOTT hit the market in November 2015 in first products, such as in the functionality of the cover for fingerprint sensors of high-quality smartphones, improving the authentication reliability of the sensor due to unique material properties of the glass. In the near future, SCHOTT expects to see its ultra-thin glass used in camera modules of smartphones and in semiconductor electronics in the field of chip packaging.
SCHOTT is the only supplier that has five different ultra-thin glasses with various chemical, mechanical, thermal and electrical properties in its portfolio. Thus, the company can provide its customers with a customized product as a sheet, a wafer or wound on a roll, depending on the application.
More information: 
SCHOTT film on ultra-thin glass
SCHOTT microsite on ultra-thin glass
http://microsites.schott.com/milestones/english/solutions/irt/ultrathinglass.html?dimsdetected=1&ref=no-referer
 
600
450
www.schott.com
2016-04-12T13:00:00
Flexible Glass for Printed Electronics
glassonweb.com