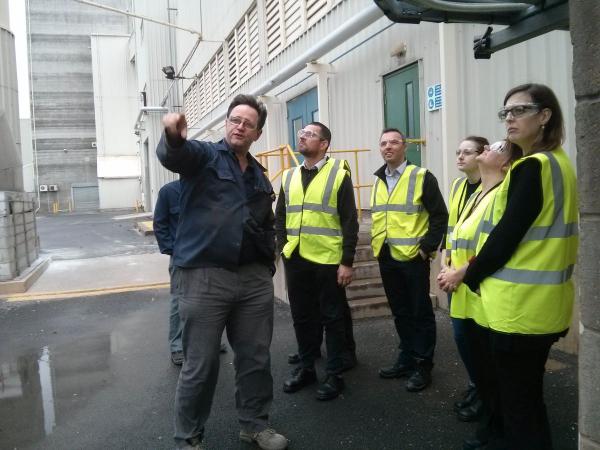 Photo source
www.britglass.org.uk
British Glass and its member Guardian were pleased to host a visit for DEFRA's air quality team – showing them the Goole flat glass production line and explaining the glass industry's emissions-related achievements and challenges.
The Department of Environment, Food and Rural Affairs (DEFRA) team was keen to learn more about glass manufacturing and management of emissions ahead of consulting with industry later this year on ways to continue improving air quality.
Because effective policy-making depends on recognition of specific production processes, British Glass regularly invites teams from central government and local authorities to come and see glass making for themselves.
None of the DEFRA staff on this visit had ever been inside a glass plant, and some were new to the area of industrial emissions.
This tour of the Guardian production line – from raw materials, to the finished product – was an invaluable opportunity to understand flat glass production and the industry's emissions-related achievements and challenges.
Both hosts gave technical presentations. British Glass Senior Technical Advisor Mark Pudner provided an overview of emissions regulation in UK glass industry and the technology available for reducing emissions.
This included CO2 and the importance of waste heat recovery in decarbonisation of the glass sector.
Guardian's Engineering and Float Manager Chris Duguid gave an overview of Guardian Glass products and the history of the Goole site – which in 2015 invested £4million in waste heat recovery technology to provide around half of the plant's electricity needs.
Nicola Leeds, Head of Industrial Pollution Control for DEFRA, said:
"It's been very helpful to see the glass manufacturing process, understand where the emissions come from and discuss the technical issues the industry faces. Getting a greater understanding of the interaction between the flue gas abatement systems and waste heat recovery technologies was particularly useful."
Mark Pudner said:
"The UK glass industry has substantially reduced its emissions in the past 10 years. We're keen to keep building on that success and to not just explain, but to actually show our colleagues in government the opportunities and challenges for our sector. British Glass firmly believes that effective solutions come from a joined-up, evidence-based approach – and I think this visit will support that way of working."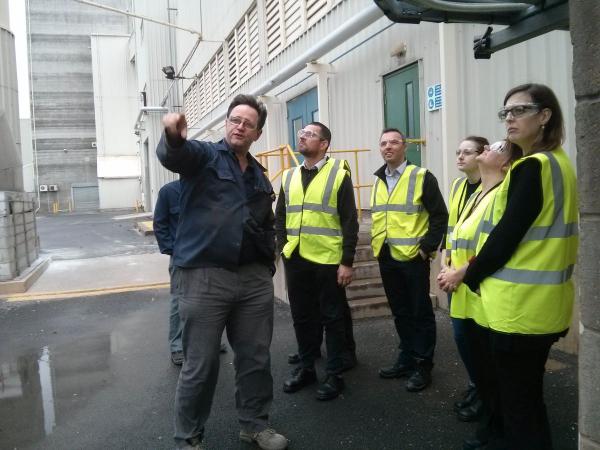 600
450
www.britglass.org.uk
2017-03-21T09:10:00
DEFRA visit with British Glass and Guardian gives greater understanding of sector air quality work
glassonweb.com