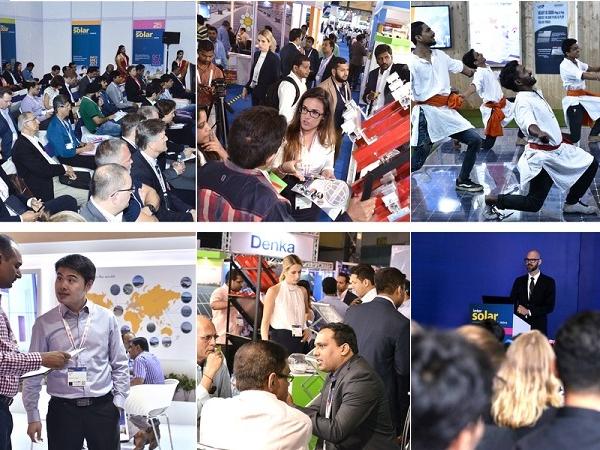 Photo source
www.intersolarglobal.com
The Indian solar market is experiencing strong growth, bringing it ever closer to the Indian government's goal of increasing the installed photovoltaic capacity to 100 gigawatts (GW) by 2022.
Against the backdrop of this progress, Intersolar India opens today in the Bombay Exhibition Center in Mumbai. Over 260 exhibitors are presenting their products, services and solutions for the solar industry until December 7.
More than 12,000 international visitors are offered a free of charge program at the exhibition stage with three presentations on smart renewable energy, a forum on skill council for green jobs and further exhibitor presentations.
The exhibition is accompanied by the Intersolar India Conference, where the Indian solar market as well as ground-mounted and rooftop installations are the center of attention.
Inaugural Ceremony and Conference Session Highlights
Intersolar India as per tradition starts its program with the Lamp Lighting Ceremony today at 10:30am and will be followed by the Welcome Notes of distinguished speakers, including Shri.
Upendra Tripathy, Interim Director General of International Solar Alliance, Kuljit Singh Popli, Chairman & Managing Director of Indian Renewable Energy Development Agency Limited (IREDA), Dr. R. Harikumar, Director of the Agency for Non-conventional Energy & Rural Technology (ANERT), Govt of Kerala, Dr. Thomas Reindl, Deputy-CEO of the Solar Energy Research Institute of Singapore (SERIS) and Gregory Taevs, Commercial Consul, Consulate General of the United States of America Mumbai.
The Intersolar India Conference once again takes place at the same time as the exhibition from December 5-7, 2017. There are 26 conference sessions covering topics that will be of interest to industry professionals across the value chain, researchers, consultants, policy makers and others.
The Conference starts with a Solar PV Intensive Technical Training Course at 11:00 am and with a market session titled "India-A Neck Breaking Boom" at 11.30 am where leaders from the industry will share their insights on the market, challenges and opportunities in India.
Furthermore Intersolar India's Knowledge Partner, Mercom India (a subsidiary of Mercom Capital Group) will exclusively release a white paper on the drivers and challenges of India's PV market today at 2:00 pm. This white paper will cover details of the 7 GW of solar added as of Q3 and the cumulative installations that touched 17 GW in September 2017.
Also covered is the pipeline of utility-scale projects, which stands at 11.5 GW with another 5.6 GW of tenders that are pending auction.
It captures the conditions, that have slowed down the installations in the Indian solar market and the challenges faced during the third quarter such as a spike in Chinese module prices, the pending anti-dumping case, PPA renegotiations in some states, issues surrounding incomplete infrastructure and evacuation, and confusion about the Goods and Services Taxes (GST).
Based on these factors, Mercom India forecasts in the white paper that total solar installations in India will be approximately 9.5 GW-10 GW in the 2017 calendar year.
Today's Executive Panel discussion at 4 pm will focus on "The Future of Renewable Energy" in which six renowned experts drawn from different sectors of RE will be sharing their insights and suggestions. Further topics that will be covered at the Intersolar India Conference include floating and agro PV, financing, rooftop market, manufacturing, quality assurance, operation and maintenance.
Over hundred speakers drawn from the developer and EPC communities, banking and financing institutions, manufacturing companies, consulting and policy making bodies, besides government officials will speak at the conference. The conference provides a great opportunity to meet with experts and to learn, share and update knowledge.
Exhibition and free of charge Presentation Stage Program
Over 260 exhibitors, covering the entire value chain will showcase their latest products and solutions. Visitors can meet senior executives from the exhibiting companies and explore mutually benefiting business collaborations.
Some of the leading exhibitors will present their products and solutions free of charge to solar professionals at the Presentation Stage.
The central focus of this year's exhibition program is Smart Renewable Energy with 3 key topics mini-/micro grid, electrical energy storage and e-mobility being covered at the Presentation stage –accessible free of charge to all visitors.
At the end of the day, Intersolar India sincerely invites all visitors to network in a relaxed atmosphere while enjoying drinks and finger food at the official networking reception "Solar Power Developers Night" scheduled for today at 5:30 pm.
For more information and program details, please visit Intersolar India's website: www.intersolar.in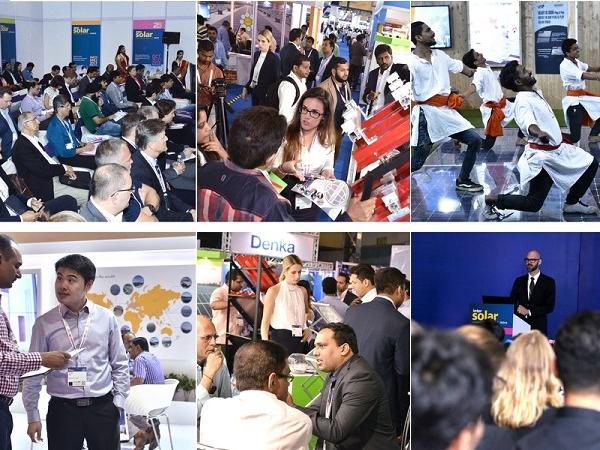 600
450
www.intersolarglobal.com
2017-12-05T09:10:17
Intersolar India 2017 opens its doors to 260 exhibitors, 12,000 international visitors and over 500 conference delegates
glassonweb.com