Mir Stekla 2018
Date:
28.05.2018 - 31.05.2018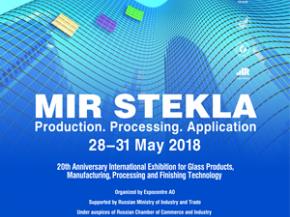 20th Anniversary International Exhibition for Glass Products, Manufacturing, Processing and Finishing Technology.

Mir Stekla is an international exhibition for the glass industry and will take place in Moscow. It offers companies the opportunity to present their products for manufacturing, processing and refining of glass and glass products.

The exhibition attracts visitors from all over Russia and the CIS, looking for information about the latest technologies and achievements for the industry.

A very special event is the 20th anniversary edition of the Mir Stekla, which takes place on 4 days from Mon., 28.05.2018 to Thur., 31.05.2018 in Moscow.