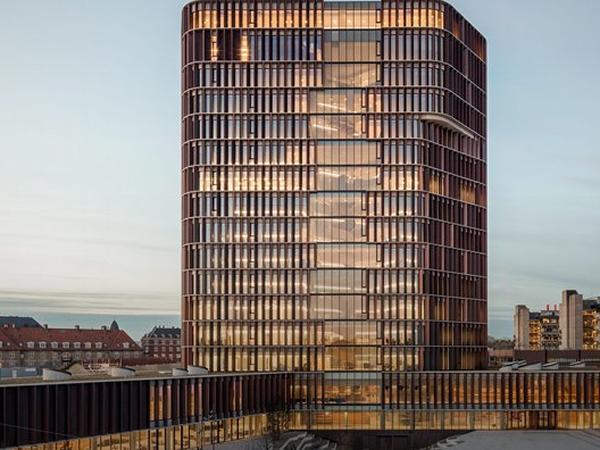 Photo source
www.waagner-biro.com
The 15-storey façade completed here by Waagner-Biro in 2016 is an aluminium element façade with storey-high glass and panel fields.
Horizontal elements made of GFRC (glass-fibre reinforced concrete) as well as vertically arranged shading elements clad in copper are installed over these façade elements.
Integrated into the shading elements are movable panels expanded with copper mesh which can be moved to cover the glass panes.
The building will break new ground in the field of energy consumption for Denmark's most energy-efficient laboratories as an unprecedented level of  "waste energy" from the ventilation system will be fed back into the building's total energy balance.
The building was completed by Waagner-Biro in September 2016 and officially opened by Queen Margrethe II of Denmark on January 18, 2017.
Place/Country: Copenhagen/Denmark
Completion: 2016
Business area: Steel-Glass-Structure
Project Type:Envelopes & Facades
Client: Bygningsstyrelsen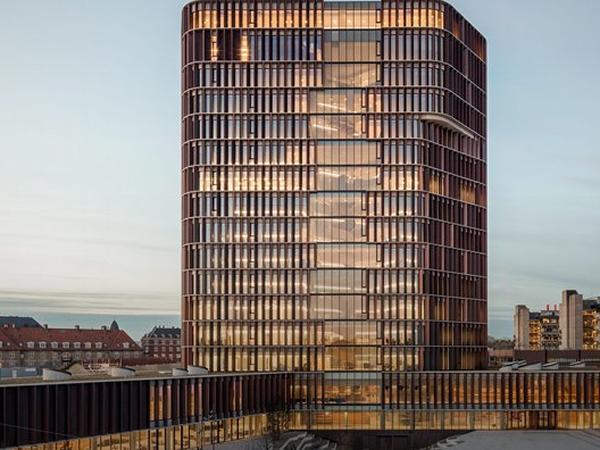 600
450
www.waagner-biro.com
2017-04-14T08:40:00
Waagner-Biro | Maersk Tower, University Copenhagen
glassonweb.com