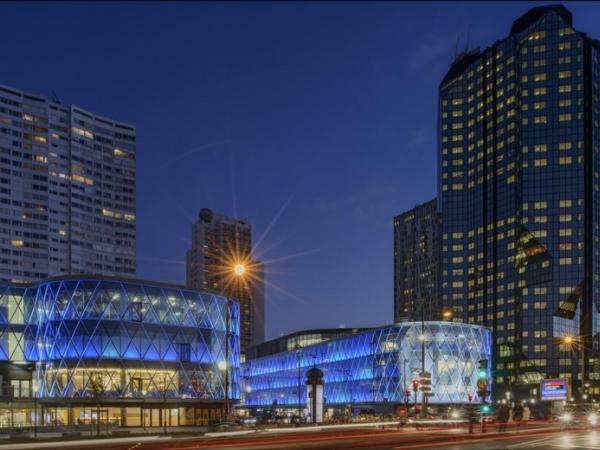 Paris is no stranger to juxtaposing the old and the new – the classical and the futuristic. The glass pyramids outside the Louvre, and the controversy they sparked at the time, are all the proof that is needed to confirm that. 
On a slightly lesser scale – if not in size then in difference of time frame – the rejuvenated Beaugrenelle shopping centre in the 15th arrondissement (the Front de Seine district) reopened its doors in October 2013, some 40 years after its first opening and after a facelift costing 450 million euros.
Much more than just a shopping centre
Covering an area of 60,000m², Beaugrenelle is more than just another large, modern shopping centre, housing department stores, boutiques, cinemas and restaurants.
Designed by architects Valode et Pistre, it represents a redefining of urban life by also connecting it to nature. On the roof of the shopping centre is a huge garden, spanning a remarkable 7,000m² – the largest of its kind in Paris. It is used by local schools, colleges and community groups for ecological projects.
The entrance to Beaugrenelle is grand and significant. With a silk-screened glass façade, shoppers enter the building via one of two huge atriums, named Panoramic and Magnetic, which span two city blocks. Situated on the Rive Gauche (Left Bank) next to the Pont de Grenelle, they form a symbolic gateway to the 15th arrondissement and add a distinctive contemporary edge to Paris's urban design.
Contemporary design with roots in the Grands Magasins
As for the interior design, Beaugrenelle is certainly very modern and designed with customer experience in mind. Reminiscent of the vertical, spiralling shopping centres often found in Asia, there is a fluidity to the spherical layout that makes everything much more visible and accessible.
Even the relatively simple detail of angling the escalators diagonally rather than side by side means that users are always given an excellent view of the shops and amenities when they travel between floors. To an extent, this multi-level experience is a return to the shopping experience that first started in Paris's 19th-century Grands Magasins.
With the inclusion of restaurants and cinemas, Beaugrenelle offers much more than simply a fluid and friendly retail experience; it also provides a central venue for social and cultural enjoyment as well. Not only that, but it has fulfilled the need to find a harmonious connection between the commercial and residential districts on the Left Bank of the River Seine – and it is one of the most eco-friendly buildings in the city.
Safety if the worst happens: no smoke, no risk, no panic
With such a high volume of pedestrian traffic, safe evacuation should a fire break out is a key consideration when designing shopping centres. A major part of fire control is down to panic control. It is vital to have an effective smoke barrier in place so that people can be evacuated swiftly and calmly, with minimum fuss.
Vetrotech provided its powerful Pyroswiss® Smoke Barrier System (SBS) for the rebuilding of Beaugrenelle, a highly adaptable smoke-channelling and smoke-containment system.
Pyroswiss® SBS is a clear, frameless, fire-resistant glazing solution that guarantees comprehensive smoke protection for up to 120 minutes – providing a safe escape route wherever fire strikes.
Ensuring a safe exit for shoppers, it keeps escape and access routes free from smoke and hot, toxic gases; prevents fire from spreading; facilitates firefighting operations; and reduces the thermal effects on structural components.
Beaugrenelle is leading the way in consumer experience in Paris. For years to come, it will stand as an eco-friendly monument that effectively and beautifully unites the commercial and residential districts on the Left Bank.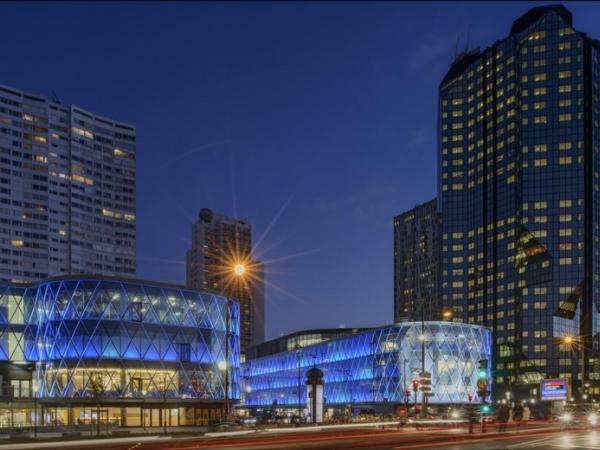 600
450
www.vetrotech.com
2016-06-08T13:00:00
Vetrotech showcase - Beaugrenelle shopping centre
glassonweb.com