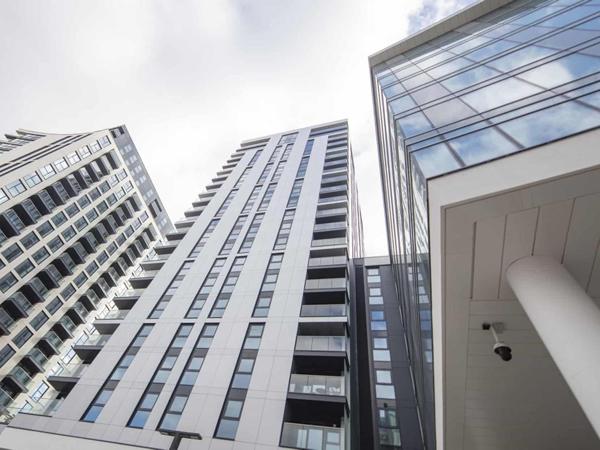 Photo source
fgs-uk.co.uk
Responsible for the design, manufacture and installation simultaneously across three towers, of Sutton Point's façade, FGS helped Ardmore Group deliver on the mixed-use development which sits adjacent to Sutton train station.
Within the London Borough of Sutton, on the fringes of South West London, Sutton Point is a mixed-use project over three tower blocks providing 332 new residential units alongside 4,500m2 office and commercial space and a 150-bedroom hotel.
Sutton Council has named Sutton Point as the number one site in its unitary development plan, which guides development, conservation, regeneration and environmental improvement activity in the borough. The project has seen the existing Sutton Point Tower office blocks demolished to accommodate the £90m development.
Sutton Point is located directly adjacent to Sutton train station which provides access to and from Central London. A shining addition to the skyline of suburban London, the landmark 11,000m2 scheme is expected to initiate regeneration of the local area with the creation of a vibrant, new community.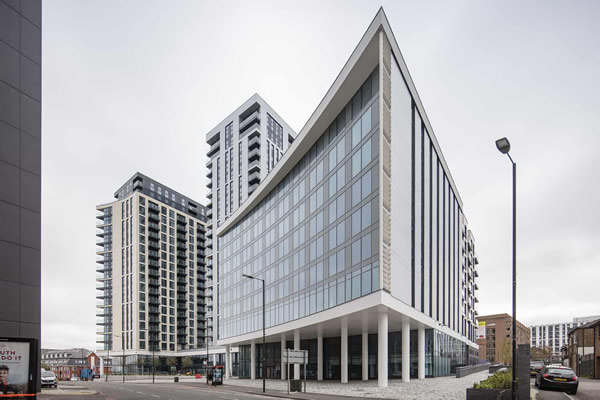 FGS was brought to the project by main contractors Ardmore Group, commissioned to design, manufacture and install Sutton Point's façade simultaneously across all three towers delivering the vision of PRC Architects.
Restricted access was a key consideration due to the close proximity of the development to the train station and busy train line. To ensure neither materials or workforce were standing for extended periods, manufacture was prioritised two months ahead of programme dates for installation and were held offsite until required. FGS worked with suppliers and issued bulk order phases for glass and metal profiles and bolstered orders on long lead time items in order to streamline supply.
To overcome the challenge of limited space to the perimeter and undertaking the works at extreme height, FGS made full use of cranes to lift materials to loading decks on floor slabs. Working in often excessive wind conditions, FGS was able to close floors off from the elements by installing all areas per floor with fully glazed areas thus reducing the risks to other contractors.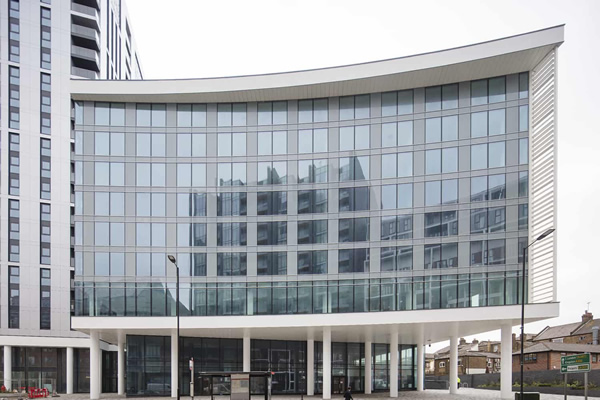 Products Used
FGS' WICONA WITEC 50 aluminium curtain wall system was specified by PRC for the top floors of each tower to provide the main feature glazing with spandrel glass and vision with glass to glass corners. For the hotel front, a curved structurally glazed screen over seven floors was specified.
For the residential, office, retail and health and fitness accommodation, glazing products used included COOL-LITE SKN 165 glass with a solar control coating to reduce heat transfer without compromising light transmittance; and STADIP PROTECT, laminated safety glass which retains some residual strength when broken.
FGS provided and installed WICONA WICSLIDE 160 lifting sliding doors combining excellent thermal insulation with highest functionality and design along with WICLINE 75 EVO windows featuring a high insulation multi-chamber system in symmetric design.
Seven-metre high curtain wall screens providing a clean, professional finish to the project provide great aesthetics to the building both internally and externally.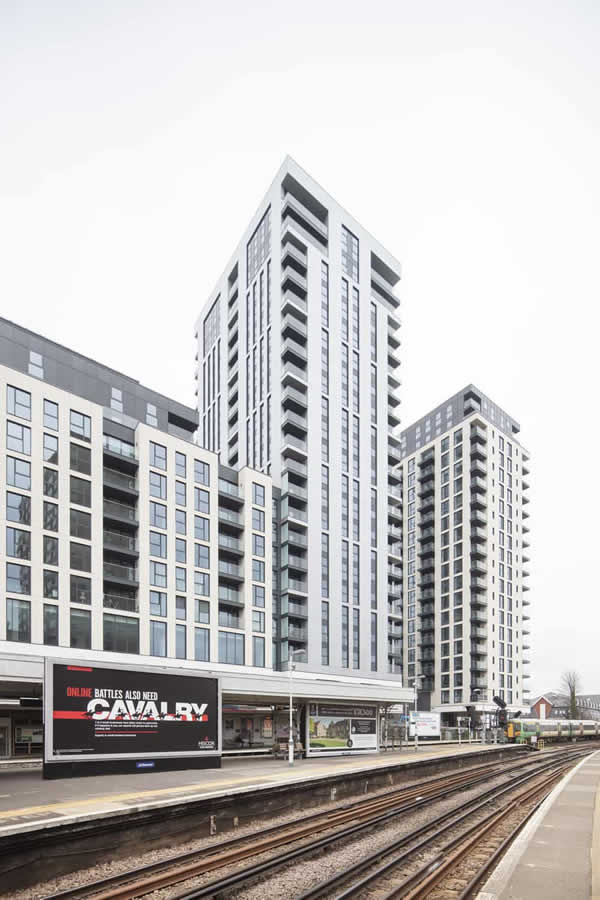 Outcomes
Work on the 68-week Sutton Point scheme commenced in March 2017. FGS' installation was completed in September 2018.
FGS' contracting project manager, Jeremy Chung, said: "Sutton Point is a prestigious project for FGS to be involved in. We were tasked with having to service three towers at the same time during most of the construction phase which we addressed by manufacturing all materials per floor in advance of the actual on-site date which optimised the scheduling of both labour and materials throughout the project.
"Restricted access due to the close proximity to Sutton train station and working at extreme height were also two of the key challenges we successfully overcame. All glazing, aluminium curtain walling, doors and rooflights were well-designed and well-rounded products which suited the design criteria and architect's specifications well."
Hitesh Dhorajiwala, Technical Director, PRC Group, says: "FGS understood the aspired design aesthetics well, and came up with optimum design solutions in delivering the project. Which has resulted in a scheme that is very sharp and well detailed contributing greatly to a spectacularly finished building.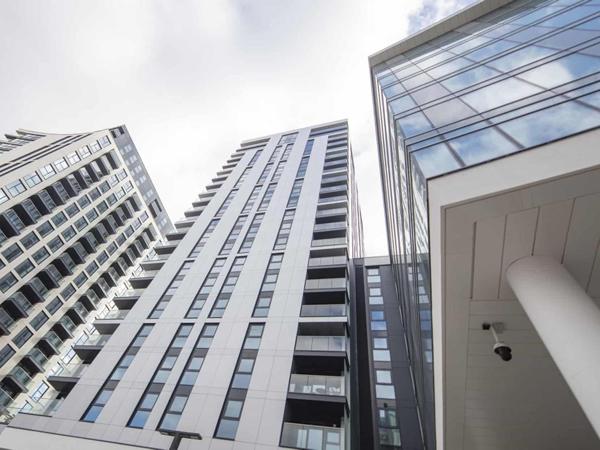 600
450
fgs-uk.co.uk
2019-09-25T07:15:00
Sutton Point - Sutton | Façade & Glazing Solutions UK Ltd
glassonweb.com